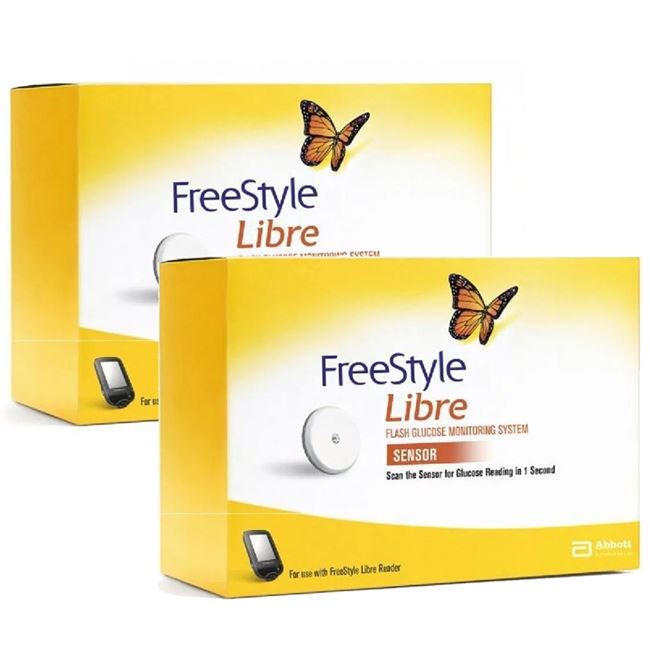 Freestyle Libre Sensors (2 packs)
Automatically measure and continuously record accurate, stable and consistent Flash Glucose Monitoring readings 24 hours a day
More Details
SKU Code:
Freestyle Libre
Description
Freestyle Libre Sensors automatically measure and continuously record accurate, stable and consistent Flash Glucose Monitoring readings 24 hours a day for 14 days, without the need for finger prick calibration.
No blood or lancets
1 second scan
Anytime, anywhere
Night time monitoring without waking
Sensor that automatically monitors glucose every 15 minutes – not just one moment in time
The discreet sensor stores up to 8 hours of data meaning a scan is only required every 8 hours to maintain a continuous reading throughout the day. Pre-calibrated at the factory, with minimal sensor-to-sensor variation eliminates the need for any finger prick calibration.
Flash Glucose Monitoring readings measure the glucose in the interstitial fluid (ISF), a thin layer of fluid surrounding cells of tissue below the skin, which is proven to be reliably reflective of the glucose levels in the blood. There is a 5 to 10 minute delay on ISF response to changes in blood glucose.
Choosing the Site
It is important to choose the site correctly and apply with care
Select an area of skin on the back of the upper arm that generally avoids bending or folding during normal daily activities
Moles, scarring or tattoos should all be avoided at a site which is at least 2.5cm away from an insulin injection site
Discomfort or skin irritation can be prevented by alternating the site
Applying the Sensor
Browns Pharmacy only provide packs that include a Sensor Pack and Sensor Applicator
Prepare the Sensor Applicator by unscrewing the cap, then set the cap aside.
Line up the dark mark on the Sensor Applicator with the dark mark on the Sensor Pack
On a hard surface, press down firmly on the Sensor Applicator until it comes to a stop. The Sensor Applicator now contains a needle. DO NOT TOUCH THE INSIDE
Place the Sensor Applicator over the prepared site (using the alcohol wipe provided) and push down firmly to apply the sensor to your body
Gently pull the Sensor Applicator away from your body, and the Sensor should now be attached to your skin
Make sure the Sensor is secure after application. Place the cap back on the Sensor Applicator. Discard the used Sensor Pack and Sensor Applicator
Understanding what my readings actually mean
Every scan using the Freestyle Libre Sensor will upload the previous eight hours of data either to the app or the Freestyle Libre Device. This will include;
A current glucose level reading providing an up to date reading
A trend arrow indicating the direction that your glucose is heading based on previous readings
Your blood glucose level reading history allowing you to see how food, activity and insulin affect your glucose levels day and night
Each scan will also provide the following information:
Daily patterns – providing information about the variability of glucose levels over multiple days to offer a snapshot of glycaemic control

A thick black line will show the average reading
The grey shading will show the range of readings (10-90 percentiles)

Low glucose events – provides information on any low glucose events or hypoglycaemic attacks you have experienced

This is when the reading is below 3.9mmol/L for over 15 minutes

Time in target – provides a percentage of time when sensor readings are above, below or within the target range
Delivery
Delivery and Returns
Postage and Packaging
Postage and packing will be added to the cost of your order and will depend on
The total cost of the items you order
The delivery option you choose
Items may be dispatched separately (P&P only charged once)
Delivery times are estimated. Notify us if your delivery does not arrive within 10 days.
Standard Delivery
Standard postage and packing on all orders up to £35 - £3.99
FREE standard postage and packaging on all orders over £35 (Includes the cost payable for any prescriptions in the same order)
Orders are sent by Royal Mail 1st Class post.
Your delivery may require a signature.
Orders are dispatched within 1 working day and are normally delivered to your chosen address within 3 working days.
Express Delivery
Next Day Delivery will cost £5.99 and will only be offered if all items in your basket are available for Next Day delivery.
Orders placed before 2pm Mon-Fri will be delivered the Next Day,
Orders placed after 2pm Mon-Fri will be delivered the following working day.
Please note Next Day Delivery is only available to mainland UK.