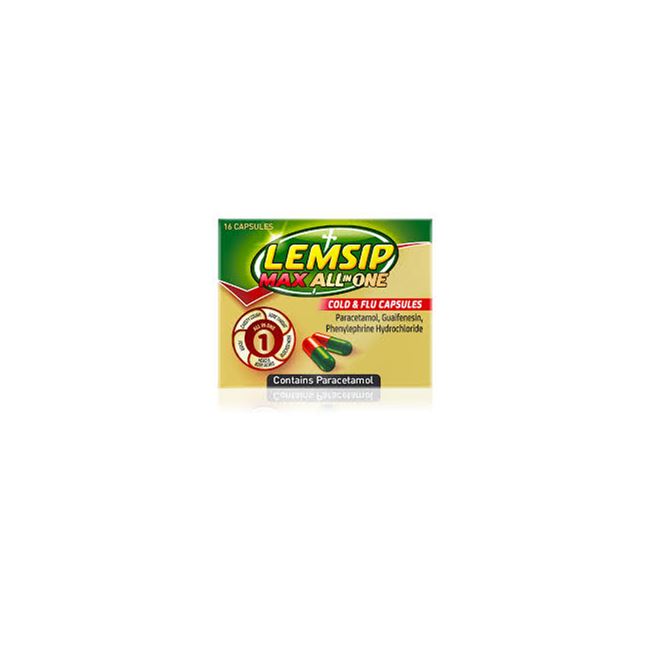 Lemsip Max All in One Cold & Flu Capsules 16
Lemsip Max All in One offers a combination of three active ingredients to help fight the symptoms of cold and flu
More Details
Description
Ingredients
Warnings
Delivery
Description
The combination of three active ingredients in Lemsip Max All in One Cold & Flu relieve symptoms associated with cold and flu. Paracetamol helps ease pain, aches and headaches, with antipyretic properties meaning it lowers fever. When suffering from a chesty cough the expectorant guaifenesin breaks up mucus allowing you to bring it up more easily, shortening the time you have to suffer with it. Phenylephrine hydrochloride relieves congestion by reducing the swelling in the nasal passage which additionally eases the pressure resulting in headaches.
How to use Lemsip
Adults, the elderly and children over 16 years:
Take two capsules every 4-6 hours as required. No more than 8 capsules (4 doses) in 24 hours.
Do not give to children under 16 years of age.
Too much paracetamol can cause delayed but serious liver damage. Signs include dizziness, palpitations (irregular or forceful heartbeat), stomach pain, high blood pressure with headache, unhealthy pale appearance (pallor), feeling sick (nausea) or vomiting.
Possible side effects:
Allergic reactions such as skin rashes Nausea and Vomiting Abdominal discomfort Difficulty in passing urine (especially in males) Blood disorders
If you have any further questions about this product call our Browns Online Professional Pharmacist on 02476 364 586
Ingredients
Active Ingredients: paracetamol 500mg, guaifenesin 100mg and phenylephrine hydrochloride 6.1mg
Other Ingredients: maize, starch, croscarmellose sodium, sodium laurilsulfate, magnesium stearate, talc, gelatin, titanium dioxide (E171), yellow and red oxide (E172), brilliant blue – FD&C blue I (E133) and shellac (E904)
Warnings
Do not take more than the recommended dose.
Do not take with other paracetamol-containing products.
Do not take with large quantities of alcohol.
Do not take this medicine if you:
are allergic to any ingredient in this product
have a serious heart condition
have high blood pressure (hypertension) or an overactive thyroid
are taking or have taken, within the last 14 days, monoamine oxidase inhibitor (MAOI), usually used to treat depression.
are taking other sympathomimetic decongestants
have an enlarged prostate
Talk to your doctor or pharmacist if you:
are intolerant to some sugars
have Raynaud's syndrome (poor blood circulation which makes the fingers or toes pale and numb), or diabetes mellitus
have liver or kidney problems
have non-cirrhotic liver disease (liver disease that is not associated with changes in the structure of the liver)
have closed angle glaucoma
are suffering from porphyria (a rare blood disease).
are pregnant or breast feeding
take any other medication, particularly:
beta-blockers
tricyclic anti-depressants, other decongestants or barbiturates
cholestyramine
metoclopramide and domperidone
blood thinners such as warfarin
Delivery
Standard Delivery
Free Delivery on all orders over £35.00
Orders below £35.00 are at charged at just £3.99
Delivery is within 2-3 days via Royal Mail 1st Class post.
Express Delivery (UK Mainland)
Next Day Delivery will cost £5.99
Cut off for Next Day is 2pm (Mon-Fri)
Orders placed after 2pm Mon-Fri will be dispatched the next working day.