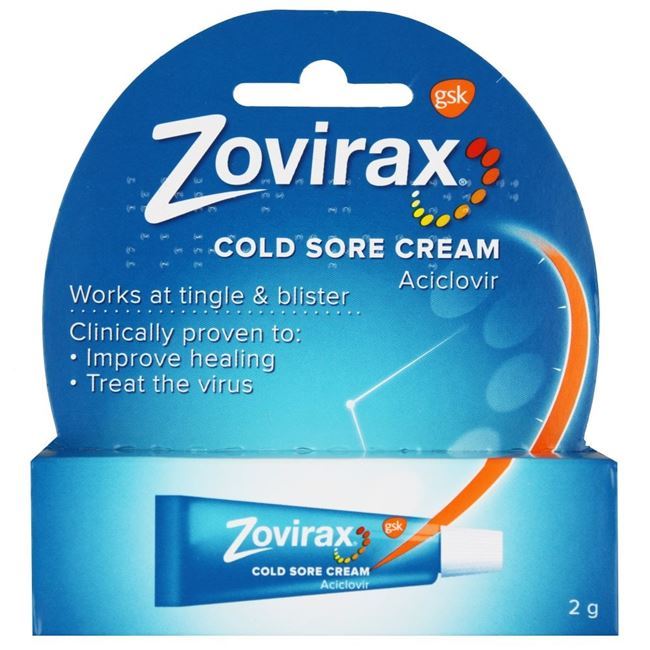 Zovirax 5% w/w cold sore cream 2g
Zovirax treats cold sores at first sign of tingling or when a quick remedy is required
More Details
Description
Ingredients
Warnings
Delivery
Description
Zovirax cold sore cream helps fight the virus that causes cold sores by delivering the active ingredient aciclovir, an antiviral agent, efficiently into your lip for a fast response. It can be applied at first signs of a cold sore (such as tingling and itching) or when one has appeared, and you need a quick remedy.
How to use Zovirax Cold Sore Cream?
Always wash your hands before and immediately after application of Zovirax.
Apply the cream to the cold sore liberally 5 times a day.
Treat your cold sore for 4 full days to ensure rapid healing.
The cream can be used for a maximum of 10 days.
To prevent transferring or the worsening the infection, avoid touching the cold sore.
Do not use the cream with someone else even if symptoms are the same.
If you get cream in your eye, wash out thoroughly with warm water. Consult your doctor if you are concerned.
Possible side effects
Common side effects you may experience:
Mild burning or stinging after application. This should go away quickly.
Redness, itching or a mild drying or flaking of the skin, skin rashes, hives or weal's.
If you have any further questions about this product call our Browns Online Professional Pharmacist on 02476 364 586
Ingredients
Active ingredient: 5% w/w Aciclovir
Other ingredients: Dimeticone, propylene glycol, poloxamer 407, cetostearyl alcohol, sodium laurilsulfate, white soft paraffin, liquid paraffin, arlacel 165 (glycerol monostearate, macrogol stearate 100) and purified water.
Warnings
Do not use more than recommended / For external use only / Do not use if you have had an allergic reaction to aciclovir or any other ingredients / Do not use inside the mouth, nose, eyes or genital area / Speak to your doctor if you have a weak immune system or are pregnant or breastfeeding
Delivery
Standard Delivery
Free Delivery on all orders over £35.00
Orders below £35.00 are at charged at just £3.99
Delivery is within 2-3 days via Royal Mail 1st Class post.
Express Delivery (UK Mainland)
Next Day Delivery will cost £5.99
Cut off for Next Day is 2pm (Mon-Fri)
Orders placed after 2pm Mon-Fri will be dispatched the next working day.