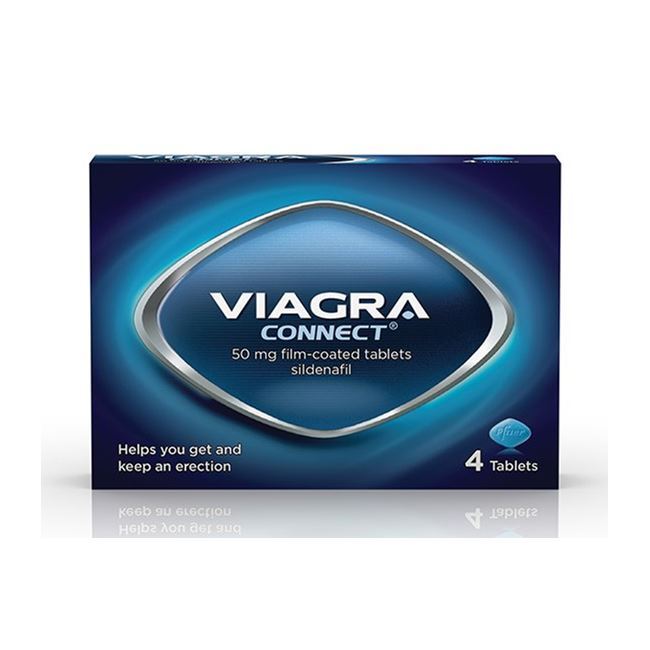 Viagra Connect (Sildenafil) 50mg Tablets Prescription Free 4 Tablet Pack
Prescription free, working within an hour, lasting up to four
More Details
Description
Ingredients
Warnings
Delivery
Description
Browns Pharmacy know that erectile dysfunction can be embarrassing, and we want to make it easier and more subtle for you to get the help you need. No physical examination is required but we will ask you a few questions about your general health and medication, to make sure that Viagra Connect is suitable for you.
We offer free advice, discreet packaging and as a registered online pharmacy can provide the assurance that we will never use counterfeit products.
Erectile dysfunction is a common condition that affects men of all ages, if you cannot get or maintain an erection hard enough for sex, you may be experiencing ED.
ED can occur for many different reasons including psychological or as a side effect to some medication, but the main cause is restricted blood flow to the penis. Capillaries, small blood vessels, in the penis can become narrowed or blocked as a result of smoking, high cholesterol or lack of exercise.
Viagra Connect is the only over the counter treatment for ED in men over 18 years old. It works by relaxing blood vessels, thereby increasing the blood flow to the penis to help get an erection and maintain hardness for sexual intercourse. It is important to follow the directions on the patient information leaflet.
Viagra Connect typically acts within 30 minutes to 1 hour but can take longer than this if taken alongside a high fat meal, such as chips. Sexual arousal is required for Viagra Connect to produce an erection which will then last for up to four hours, but the effects tend to reduce following the end of sexual intercourse. Headaches are a common side effect, affecting 1 in 10.
Getting the most out of your tablet
For optimal results when taking Viagra Connect
Get in the mood – You need to be sexually aroused for Viagra to work
Take your time – Stress can result in ED so be patient and relax
Eat smart – Viagra can be taken with or without food but high fat meals will slow its action
Practice – If it's been a while since you have had an erection, masturbate with an erection prior to sexual intercourse
If Viagra is not working first time don't worry, try again and follow the optimal tips. If it continues to fail you, then speak to the pharmacist or your GP.
Viagra Connect should only be used for ED and should not be used for premature ejaculation. It also does not contain any aphrodisiac and therefore will have no effect on sexual desire.
If you are not suitable for Viagra Connect speak to your GP who can give a check-up and suggest the best treatment for you.
If you have any further questions about this product call our Browns Online Professional Pharmacist on 02476 364 586
Ingredients
Each tablet contains 50 mg of sildenafil (as citrate) Other ingredients include: microcrystalline cellulose, calcium hydrogen phosphate (anhydrous), croscarmellose sodium and magnesium stearate, hypromellose, titanium dioxide (E171), lactose, triacetin and indigo carmine aluminium lake (E132)
Warnings
Please read the patient information leaflet for the full warnings and precautions. The information below is just a summary of the warnings which is provided on the back of the pack.
Do NOT take if you:
Do not have an erection problem
Take any nitrate medicine for chest pain or heart failure
Take riociguat (or other guanylate cyclase stimulators) for high blood pressure in the lungs
Take ritonavir for the treatment of HIV
Have been advised by your doctor to avoid sexual activity because of a problem with your blood vessels
Have a severe heart or liver problem
Have low blood pressure
Have ever had severe vision loss or a rare inherited eye disease
Have a deformed penis
Have an allergy to any of the ingredients in this product
Talk to you doctor or pharmacist before taking if you:
Get very breathless or feel chest pain with light or moderate physical activities
Have a heart problem
Have high blood pressure that is not controlled
Take any other medicines listed in the package leaflet
Take any other treatment for erectile dysfunction
Ever had a persistent erection that lasted for more than 4 hours
Have a stomach ulcer or bleeding disorder
Have diagnosed mild to moderate liver problems
Have diagnosed severe kidney problems
Delivery
Standard Delivery
Free Delivery on all orders over £35.00
Orders below £35.00 are at charged at just £3.99
Delivery is within 2-3 days via Royal Mail 1st Class post.
Same Day Delivery
Receive your order on the same day, hand delivered by one of our delivery drivers.
A single charge of £5.99 per order
Available Monday to Friday - Cut off for same day delivery require orders to be placed before 3pm
Click and Collect
Order your product for same day collection at the branch closest to you FREE OF CHARGE
This service is currently in the process of being rolled out across all branches, however, during this time certain branches may not appear on the drop down menu.