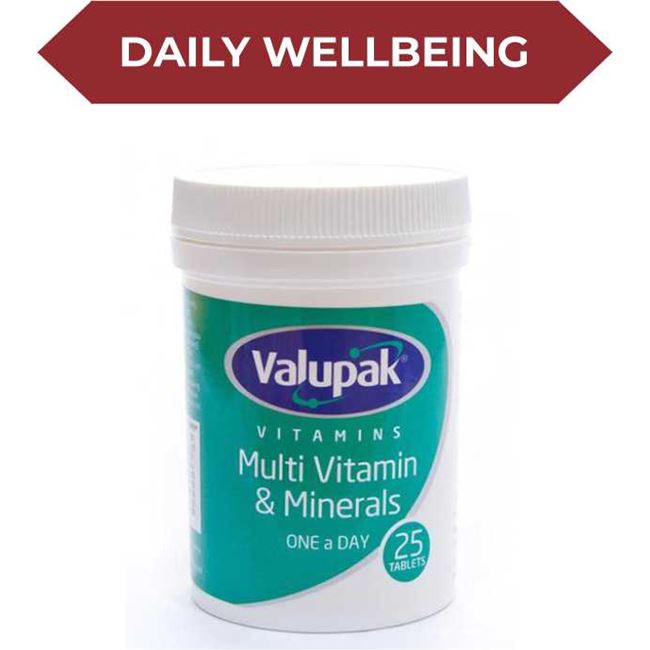 Valupak Multi Vitamin & Minerals One Daily Tablets 25
Description
Ingredients
Warnings
Delivery
Description
Micronutrient dense tablet formulated to support a balanced and varied diet and healthy lifestyle. Micronutrients play an important role in all bodily function, growth and development. Deficiencies such as vitamin A, folic acid, iodine, iron and zinc are prevalent worldwide of which a multi vitamin can contribute positively towards alleviating; for use by children over 12 years, adults, the elderly and infirm. Fortified with Iron for haemoglobin formation and proper muscle and brain function.
Vegetarian Society approved.
Adults and children over 12 years tak one tablet per day with food or liquid.
Ingredients
Dicalcium phosphate, Ascorbic acid, Dextrose, Microcrystalline cellulose, Ferrous fumarate, Dl-alpha tocopherol acetate, Magnesium oxide, Niacin, Zinc oxide, Vitamin A, Pantothenic acid, pantothenate, Maganese, Silicon dioxide, Stearic acid, Magnesium stearate, Copper sulphate, Cholecalciferol, Pyridoxine hydrochloride, Riboflavin, Thiamine, Potassium Iodide, Folic acid, Cyanocobalamin.
Warnings
Suitable for vegetarians.
Delivery
Standard Delivery
Free Delivery on all orders over £35.00
Orders below £35.00 are at charged at just £3.99
Delivery is within 2-3 days via Royal Mail 1st Class post.
Same Day Delivery
Receive your order on the same day, hand delivered by one of our delivery drivers.
A single charge of £5.99 per order
Available Monday to Friday - Cut off for same day delivery require orders to be placed before 3pm
Click and Collect
Order your product for same day collection at the branch closest to you FREE OF CHARGE
This service is currently in the process of being rolled out across all branches, however, during this time certain branches may not appear on the drop down menu.