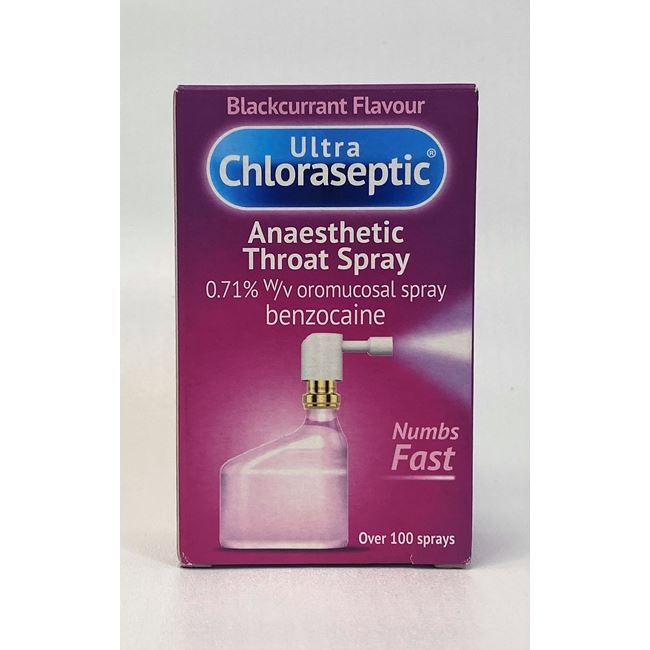 Ultra Chloraseptic Blackcurrant 0.71 w/v Throat Spray 15ml
Fast acting numbing throat spray that is simple and easy to use to reach the back of the throat quickly
More Details
Description
Ingredients
Warnings
Delivery
Description
Ultra Chloraseptic contain the local anaesthetics benzocaine that works by numbing the pain of a sore throat. The product is fast acting and is designed to get the medication directly to the back of the throat treating the pain at its source.
How to use Ultra Chloraseptic ?
Remove and rotate the spray head around so that the nozzle extends beyond the bottle.
Before fist use activate the pump by spraying 3 times away from your face into a sink.
Point the spray nozzle towards the back of your throat, nozzle should be inside the mouth.
Hold your breath and then press the pump spray.
Adults and Teenagers aged over 12 years
Three sprays to the back of your throat every 2-3 hours if required. No more than 8 times daily.
Children 6-12 years
One spray to the back of the throat every 2-3 hours if required. No more than 8 times daily.
Do not use for more than 3 consecutive days.
Possible side effects
Common side effect with this medication is numbness of the throat. There is a small quantity (less than 0.006 units per spray) of alcohol (propylene glycol) in the product to dissolve the other ingredients, this may cause skin irritation.
If you have any further questions about this product call our Browns Online Professional Pharmacist on 02476 364 586
Ingredients
Active ingredient: 0.71% w/v Benzocaine (1mg per spray)
Other ingredients: Ethanol, Glycerol, Macrogol 300, Propylene Glycol, Sodium Dihydrogen Phosphate Dihydrate, Saccharin Sodium, Cetylpyridinium Chloride, Levomenthol, Sodium Hydroxide, Purified Water.
Warnings
Do not use more than the recommended dose / Avoid eating or drinking as long as the numbness lasts / Do not use in a child who is unable to hold their breath whilst spraying / Do not use if you have a rare blood condition methaemoglobinaemia / Speak to your doctor if you have difficulty breathing, noisy breathing or severe difficulty in swallowing or are pregnant or breastfeeding
Delivery
Standard Delivery
Free Delivery on all orders over £35.00
Orders below £35.00 are at charged at just £3.99
Delivery is within 2-3 days via Royal Mail 1st Class post.
Express Delivery (UK Mainland)
Next Day Delivery will cost £5.99
Cut off for Next Day is 2pm (Mon-Fri)
Orders placed after 2pm Mon-Fri will be dispatched the next working day.