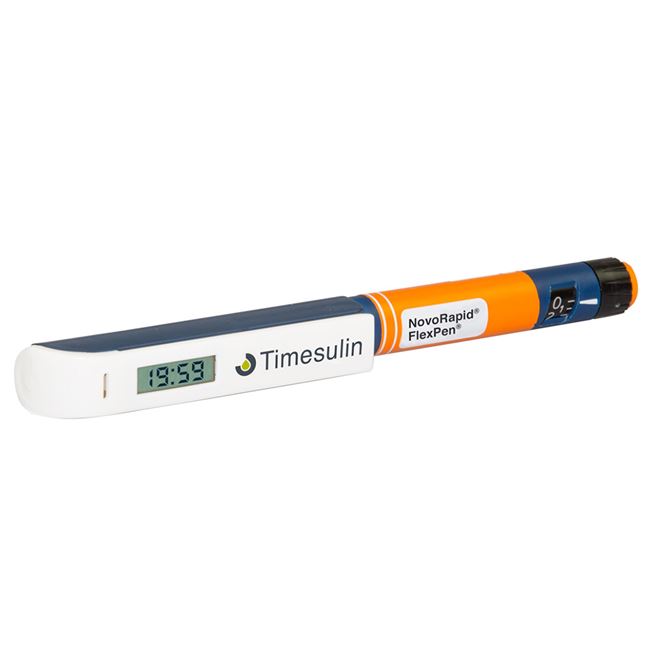 Timesulin Insulin Tracker & Timer FlexPen Pen Replacement Cap
When was your last insulin injection? Keep track now with a FlexPen cap
More Details
Description
Warnings
Delivery
Description

Remembering when you last injected your insulin dose can be tricky, especially if you are newly diagnosed, travelling or just living a busy lifestyle. Stay in control of your diabetes by using Timesulin to keep track for you.
Timesulin is a cap which fits on the top of your insulin pen, informing you quickly and easily how much time has passed since your last insulin injection. A revolutionary design to improve compliance and adherence, ensuring you are getting the most out of your medicines, the timesulin pen cap is great for anyone worried about a family member, friend or even themselves missing an insulin dose or injecting too often.
Timesulin requires nothing more than taking the cap off and putting it on after you have injected. No buttons, no setup, no more missed doses.
Not sure which cap you need? Just click on your pen below
FlexTouch Pen - Fiasp FlexTouch, Levemir FlexTouch, Novorapid FlexTouch, Tresiba FlexTouch, Tresiba 100 FlexTouch, Tresiba 200 FlexTouch
Solostar Pen - Apidra Solostar, Insuman Solostar, Lantus Solostar
KwikPen Pen - Abasaglar KwikPen, Humalog KwikPen, Humalog Mix75/25 KwikPen, Humalog Mix 50/50 KwikPen, Humulin KwikPen
FlexPen Pen - Levemir FlexPen, Novolog FlexPen, Novolog Mix 70/30 FlexPen, Novomix 30 FlexPen, Novorapid FlexPen, Protaphane FlexPen, Victoza FlexPen
How to use Timesulin Replacement Cap
Setting up the Timesulin cap is as simple as it is to use.
1. To activate the cap, remove the plastic tab used to protect the battery. The timer will then start blinking 00:00. Inject the dose of insulin, remove the needle from the pen and then replace the Timesulin replacement cap onto your insulin pen.
2. The timer will then immediately start counting the seconds in MM:SS. When the timer reaches an hour, it will switch mode to show HH:MM and continue up to 99 hours and 59 minutes. If you are not sure whether the current time is in HH:MM or MM:SS hold the pen for a few seconds and if the numbers don't alter then it will be in HH:MM
3. To reactive the timer hold the cap away from the pen for at least 8 seconds. This delay in reactivation allows you to check the insulin levels on the pen even when you are not injecting.
If you have any further questions about this product call our Browns Online Professional Pharmacist on 02476 364 586
Warnings
Always remove the used needle after each injection and store your insulin pen without a needle attached to ensure no insulin enters the Timesulin cap. Do not wash, soak or lubricate the cap as it may be damaged. The Timesulin cap is only a supplement to any system currently used to remind yourself of whether or not you have taken your insulin, the user maintains full responsibility for administering medication at the appropriate times. Always follow your doctor's treatment recommendations. Read the leaflet in the box for more information.
Delivery
Standard Delivery
Free Delivery on all orders over £35.00
Orders below £35.00 are at charged at just £3.99
Delivery is within 2-3 days via Royal Mail 1st Class post.
Express Delivery (UK Mainland)
Next Day Delivery will cost £5.99
Cut off for Next Day is 2pm (Mon-Fri)
Orders placed after 2pm Mon-Fri will be dispatched the next working day.