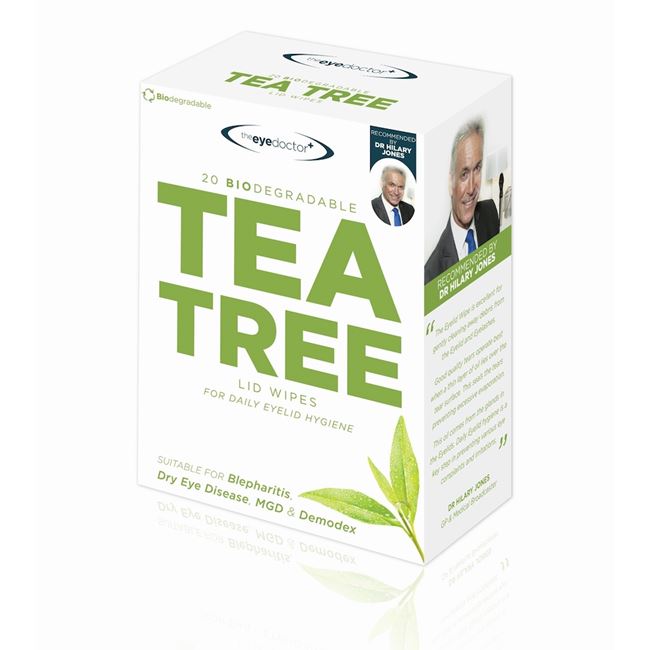 Tea Tree Eye Lid Wipes
Unique and effective formula to clean your eye lids at home
More Details
Description
Ingredients
Delivery
Description
The Eye Doctor Tea Tree Oil Lid Wipes are 100% Biodegradable and consist of a unique and effective formula designed to clean your eyelids at home or on the go, an ideal partner in daily eyelid hygiene.

Directions for use
Wash hands. Remove wipes from sachet, close the eye and wipe from nasal corner outwards across the lashes.

Suitable for:
MGD, Blepharitis, Dry Eye Disease & Demodex
If you have any further questions about this product call our Browns Online Professional Pharmacist on 02476 364 586
Ingredients
Tea tree oil – natural antibacterial properties, controls natural oil levels on the skin and cleans excess meibum in the eyelids.

Argan oil - skin conditioning properties, high vitamin e and fatty acid content, an ideal ingredient to give skin a natural boost.
Micellar water - cleanser & make-up remover, gentle & hydrating.
Coconut oil - a skin conditioning ingredient soothing to the skin with anti-bacterial properties.
Delivery
Standard Delivery
Free Delivery on all orders over £35.00
Orders below £35.00 are at charged at just £3.99
Delivery is within 2-3 days via Royal Mail 1st Class post.
Same Day Delivery
Receive your order on the same day, hand delivered by one of our delivery drivers.
A single charge of £5.99 per order
Available Monday to Friday - Cut off for same day delivery require orders to be placed before 3pm
Click and Collect
Order your product for same day collection at the branch closest to you FREE OF CHARGE
This service is currently in the process of being rolled out across all branches, however, during this time certain branches may not appear on the drop down menu.