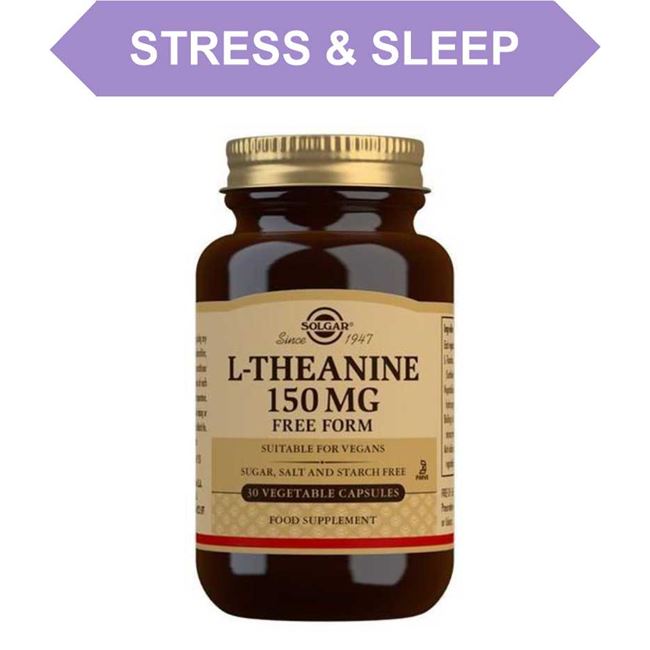 Solgar L-Theanine 150 mg Vegetable Capsules 30
L-Theanine supplements are amino acids that can influence brain wave activity and promote a calm, relaxed mood.
More Details
Description
Ingredients
Warnings
Delivery
Description
Solgar's gold label gives only a small insight into their commitment to provide high quality nutritional support to everyday life, health and wellbeing. Their mission to use researched and responsibly sourced ingredients in their science backed formulas is the reason we at Browns Pharmacy Online have trusted them as our sole supplier of vitamins and minerals. Solgar create what people need, not just what's trending.
L-Theanine is a non-dietary amino acid and natural phytochemical that has a similar structure to the neurotransmitter type of amino acid, glutamine. This means that it can cross the barrier that protects the brain, allowing it to influence brain wave activity. It is commonly found ina variety of tea and improves mood, providing comfort when feeling anxious and stressed, similar to drinking a cup of tea. Research also suggests that L-Theanine could reduce feelings of exhaustion, reducing the need for sleep and may improve sleep efficiency.
How to take SOLGAR L-Theanine 150 mg Vegetable Capsules
Adults
Take ONE capsules twice daily between meals or as directed by a healthcare practitioner
Free from: artificial colours, flavour or sweeteners, preservatives, milk, lactose
Food supplements should not be used instead of a varied balanced diet and a healthy lifestyle.
If you have any further questions about this product call our Browns Online Professional Pharmacist on 02476 364 586
Ingredients
Main ingredient
Amount per 1 capsule

%EC NRV*

Suntheanine® L-Theanine (Free Form)


150mg

*EC NRV= EC Nutritional Reference Value
Other ingredients
Vegetable Capsule Shell: hydroxypropylmethyl cellulose, Bulking Agent: microcrystalline cellulose, Anti-caking Agents: (silicon dioxide, vegetable magnesium stearate).
Warnings
Do not take more than the recommended dose.
Talk to your doctor or pharmacist if you:
 are pregnant or breast feeding
 take any other medication
 have a medical condition
Discontinue use and consult your doctor if adverse reactions occur.
Keep out of reach of children.
Do not use if outer bottle seal is missing or damaged.
Store at room temperature.
Delivery
Standard Delivery
Free Delivery on all orders over £35.00
Orders below £35.00 are at charged at just £3.99
Delivery is within 2-3 days via Royal Mail 1st Class post.
Same Day Delivery
Receive your order on the same day, hand delivered by one of our delivery drivers.
A single charge of £5.99 per order
Available Monday to Friday - Cut off for same day delivery require orders to be placed before 3pm
Click and Collect
Order your product for same day collection at the branch closest to you FREE OF CHARGE
This service is currently in the process of being rolled out across all branches, however, during this time certain branches may not appear on the drop down menu.