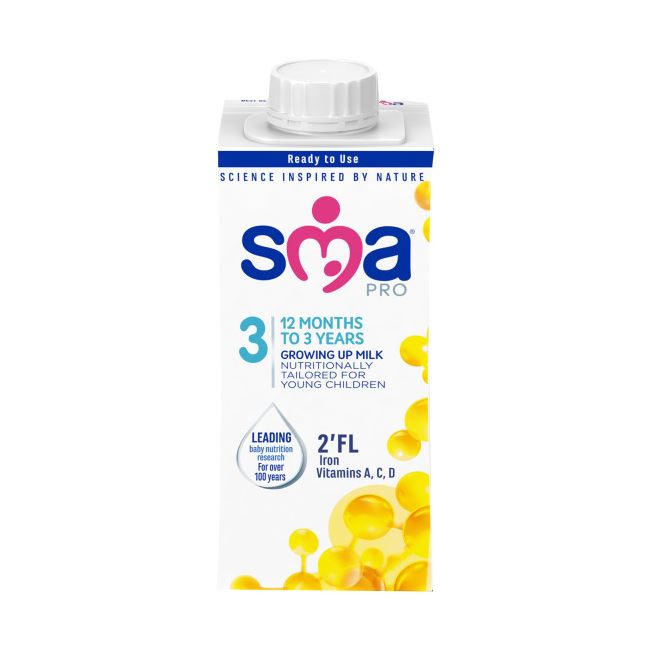 SMA Pro First Infant Milk from Birth 200ml
Description
Ingredients
Warnings
Delivery
Description
Ready to alternative to breast milk. It is nutritionally complete with omega 3 and helps support your baby for healthy growth.
If you have any further questions about this product call our Browns Online Professional Pharmacist on 02476 364 586
Ingredients
Water, Skimmed Milk, Lactose (Milk), Vegetable Oils (Sunflower, Coconut, Rapeseed), Whey Protein (Milk), Calcium Citrate, 2'-Fucosyllactose (2'FL), Emulsifier (Soya Lecithin), Potassium Citrate, Fish Oil (DHA), Choline Bitartrate, Potassium Chloride, Magnesium Chloride, L-Phenylalanine, Sodium Chloride, Vitamin C, Calcium Phosphate, Taurine, Inositol, L-Histidine, Nucleotides (Cytidine-, Disodium Uridine-, Adenosine-, Disodium Guanosine-5'-Monophosphate), Antioxidants (Tocopherol-Rich Extract, Ascorbyl Palmitate), Ferrous Sulphate, Zinc Sulphate, L-Carnitine, Vitamin E, Niacin, Pantothenic Acid, Copper Sulphate, Vitamin A, Thiamin, Vitamin B6, Manganese Sulphate, Riboflavin, Potassium Iodide, Folic Acid, Sodium Selenate, Vitamin K, Vitamin D, Biotin, Vitamin B12
Warnings
Check best before date
Once open reseal and store in fridge and use within 24 hours
For hygenic reasons discard unfinished feed in the bottle as soon as possible. always within 1 hour
Do not alter or add to formula unless medically directed
Do warm feed in microwave
Do not freeze
Delivery
Standard Delivery
Free Delivery on all orders over £35.00
Orders below £35.00 are at charged at just £3.99
Delivery is within 2-3 days via Royal Mail 1st Class post.
Same Day Delivery
Receive your order on the same day, hand delivered by one of our delivery drivers.
A single charge of £5.99 per order
Available Monday to Friday - Cut off for same day delivery require orders to be placed before 3pm
Click and Collect
Order your product for same day collection at the branch closest to you FREE OF CHARGE
This service is currently in the process of being rolled out across all branches, however, during this time certain branches may not appear on the drop down menu.