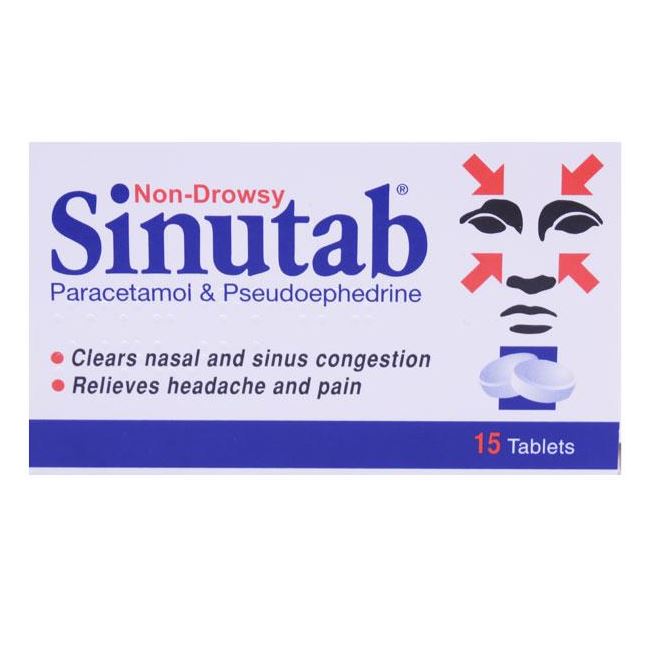 Sinutab Non-Drowsy Tablets 15
Clears nasal and sinus congestion and relieves headaches
More Details
Description
Ingredients
Warnings
Delivery
Description
Helps relieve nasal and sinus congestion and pains such as headaches and fever like symptoms associated with the common cold and hayfever.
How to use Sinutab
Adults and children over 16
Two tablets every 4-6 hours (no more than 8 tablets in 24 hours)
Children aged 12-15
One tablet every 4-6 hours (no more than 4 tablets in 24 hours)
If you have any further questions about this product call our Browns Online Professional Pharmacist on 02476 364 586
Ingredients
Pseudoephedrine Hydrochloride (30 mg) and Paracetamol (500 mg).
Other ingredients: Pregelatinised Maize Starch, Crospovidone, Povidone K30, Stearic Acid, Microcrystalline Cellulose, Sodium Starch Glycollate, Magnesium Stearate
Warnings
Do not take with any other paracetamol-containing products.
Immediate medical advice should be sought in the event of an overdose, even if you feel well.
Keep out of the reach and sight of children.
As with all medicines, if you are pregnant or taking any other medicine consult your doctor or pharmacist before taking this product. If symptoms persist consult your doctor.
Drinking alcohol with Sinutab is best avoided because the combination of alcohol and paracetamol could increase the risk of side effects on your liver
Consult your doctor or pharmacist before taking Sinutab if:
You have a heart disease or high blood pressure (hypertension), you have an overactive thyroid gland (hyperthyroidism), you have a tumour of the adrenal gland (phaeochromocytoma),you have diabetes, you have raised pressure in the eyeball, eg glaucoma, you have kidney or liver problems, you have difficulty passing urine, for example men with an enlarged prostate gland, you have blood circulation problems such as Raynaud's disease,you are pregnant or breastfeeding. See below.
The following are some of the side effects that may be associated with pseudoephedrine and paracetamol:
Feeling sick or vomiting, headache,increased heart rate, increased blood pressure, dry mouth, anxiety, difficulty passing urine, skin rash, restlessness, difficulty sleeping, hallucinations (rare).
Delivery
Standard Delivery
Free Delivery on all orders over £35.00
Orders below £35.00 are at charged at just £3.99
Delivery is within 2-3 days via Royal Mail 1st Class post.
Express Delivery (UK Mainland)
Next Day Delivery will cost £5.99
Cut off for Next Day is 2pm (Mon-Fri)
Orders placed after 2pm Mon-Fri will be dispatched the next working day.