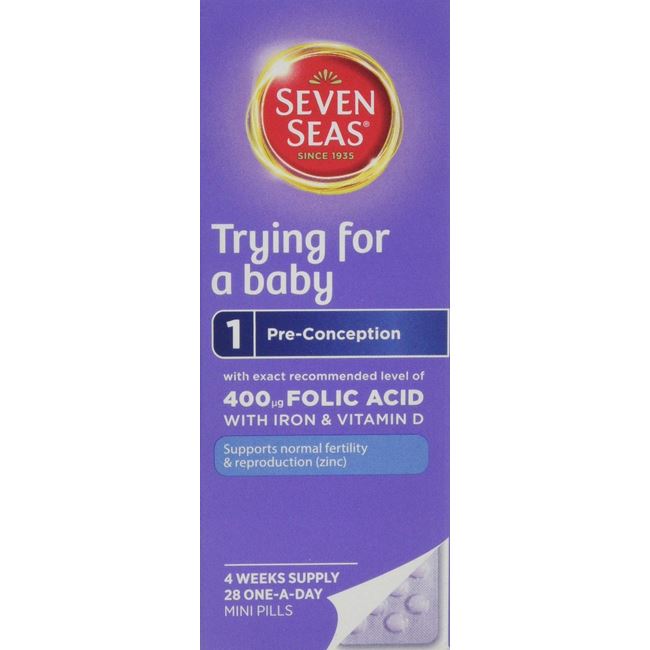 Seven Seas Trying for a Baby 28
Helps regulate hormonal activity and supports normal fertility and reproduction
More Details
Description
Ingredients
Warnings
Delivery
Description
Seven Seas trying for a baby tablets help to regulate your hormonal activity with vitamin B6 and supports normal fertility and reproduction with zinc. It also contains 400mcg of folic acid which contributes to maternal tissue growth in pregnancy.
How to use Trying for a baby
Take one pill a day and best taken with food. If you forget to take it don't worry, just miss a day
If you have any further questions about this product call our Browns Online Professional Pharmacist on 02476 364 586
Ingredients
ferrous fumarate, dicalcium phosphate, microcrytalline cellulose, sodium selenite prep.(calcium carbonate, sodium selenite), zinc oxide, crosslinked sodium carboxy methyl cellulose
tablet coat (hydroxypropylmenthyl cellulose colours: titanium dioxide, anthocyanins; talc, acidity regulator; citric acid), vitamin D prep (maltodextrin, ethylcellulose, mixed tocopherols, cholecalciferol), vitamin B12 prep (mannitol, cyanocobalamine), pridoxine hydrochloride, stearic acid. silicon dioxide, magnesium stearate, folic acid, biotin
Warnings
Do not exceed recommended dosage
Food supplements are intended to supplement the diet and should not be regarded as a subsitute for a varied diet and a healthy lifestyle
This product contains iron which if taken in excess may be harmful to young children
Keep out of reach and sight from children
Delivery
Standard Delivery
Free Delivery on all orders over £35.00
Orders below £35.00 are at charged at just £3.99
Delivery is within 2-3 days via Royal Mail 1st Class post.
Same Day Delivery
Receive your order on the same day, hand delivered by one of our delivery drivers.
A single charge of £5.99 per order
Available Monday to Friday - Cut off for same day delivery require orders to be placed before 3pm
Click and Collect
Order your product for same day collection at the branch closest to you FREE OF CHARGE
This service is currently in the process of being rolled out across all branches, however, during this time certain branches may not appear on the drop down menu.