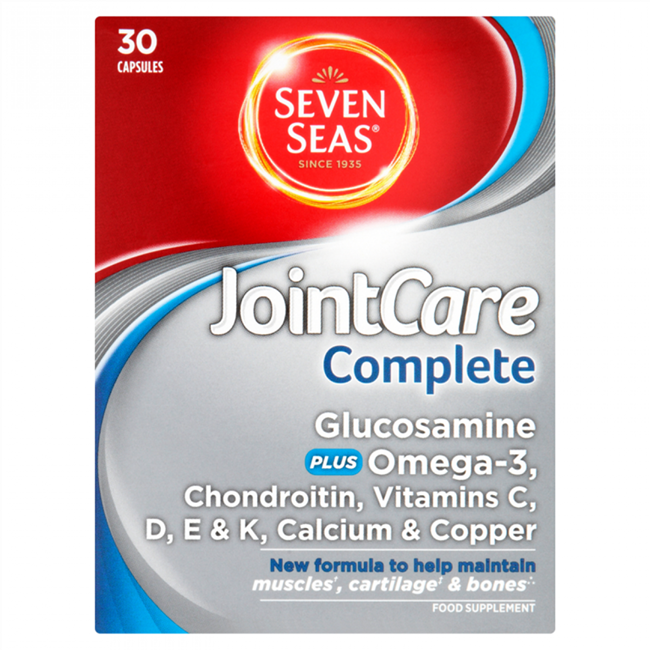 Jointcare Pro Complete 30 Capsules
Supports connective tissue, cartilage, muscle and bones
More Details
Description
Ingredients
Warnings
Delivery
Description
Supports connective tissue, cartilage, muscles and bones.
Calcium and Vitamin D - provides normal bone maintenance and function
Manganese - for normal function of connective tissue
Vitamin C - helps collagen formation for strength, resilience and support of cartilage and bones
How to take Jointcare Pro Complete
Take two capsules a day with a cold drink, if required up to four capsules once a day
If you have any further questions about this product call our Browns Online Professional Pharmacist on 02476 364 586
Ingredients
Capsule Shell (Gelatin, Glycerol, Sorbitol Syrup, Colours: Iron Oxide), Glucosamine Sulphate 2KCl†, Calcium Phosphate, Sunflower Oil, Fish Oil, Concentrate (Triomega®), Vegetable Oil, Magnesium Oxide, Beeswax, Mono and Diglycerides of Fatty Acids

Emulsifier: Sunflower Lecithin, Vitamin C, Vitamin E, Zinc Oxide, Copper Sulphate, Manganese Sulphate, Vitamin D Prep. (Fractionated Vegetable Oil, Vitamin D, DL Alpha Tocopherol), Vitamin K

†From Shellfish
Warnings
Not suitable for vegetarians or vegans
Not suitable for those with a fish or shellfish allergy
Keep out of reach and sight from children
Food supplements are intended to supplement the diet and should not be substituted for a varied diet or healthy lifestyle
Contains active ingredients that work with your body overtime you may need to take up to three months before seeing full benefits
Delivery
Standard Delivery
Free Delivery on all orders over £35.00
Orders below £35.00 are at charged at just £3.99
Delivery is within 2-3 days via Royal Mail 1st Class post.
Same Day Delivery
Receive your order on the same day, hand delivered by one of our delivery drivers.
A single charge of £5.99 per order
Available Monday to Friday - Cut off for same day delivery require orders to be placed before 3pm
Click and Collect
Order your product for same day collection at the branch closest to you FREE OF CHARGE
This service is currently in the process of being rolled out across all branches, however, during this time certain branches may not appear on the drop down menu.