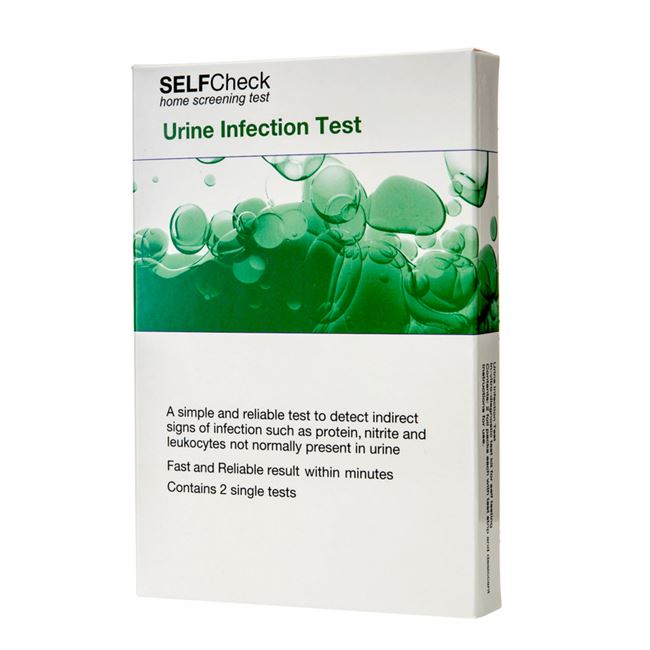 Self-Test Urine Infection Test (UTI)
Description
Ingredients
Delivery
Description
Urine infections are common types of bacterial infection, typically involving the lower urinary tract and including the bladder and urethra

Urinary tract infection is one of the most common reasons for females between the ages of 16 to 50 to visit their GP. It is estimated that 1 in 3 women will have a urinary tract infection before the age of 24 and half of all women will experience an infection in their life time.
A simple home test that checks for a urinary tract infection.

The SELFCheck Urine Infection self-test is ideal for detecting urinary infections and prompting those with a positive result to seek prompt advice and treatment. Historically, urinary infections have been treated with broad spectrum antibiotics, but in recent years the use of antibiotics has declined and, instead, sufferers are advised to drink more water in order to flush the urinary tract of the bacteria. Antibiotics may still be used to increase the rate of recovery or, if the sufferer has any other medical conditions, that may be affected by the presence of a bacterial colonisation of the lower urinary tract. Screening tests are ideal tools for regular screening at home if the user suspects that they may have a persistent or recurrent infection, in which case the user may need to seek further medical advice or a course of antibiotics. Home test kits allow the user to screen for the presence/absence of chemicals that are excreted in the urine: if the lower urinary tract is infected there is strong probability that protein, nitrite and leucocyte esterase will be detected. These chemicals are not normally found in healthy individuals.

The level of the abnormal chemicals present in the urine sample will generate varying degrees of colour changes - the greater the colour change the higher the levels of abnormality. SELFCheck home screening tests are ideal for detecting active bacterial infections and, of course, they can be used equally well to test whether or not the infection has passed. Once the infection has passed the three chemicals will no longer be excreted and will not be detected in the urine.

The benefit of carrying out a urine infection screening test in privacy ensures confidentiality as well as providing the necessary incentive needed to take further steps in terms of managing personal health and earlier consultation with a healthcare professional will facilitate earlier medical intervention should further action be needed.

The SELFCheck Urine Infection self-test test is easy to use, requiring only a small sample of fresh urine collected in a clean container (free of bleach/disinfectants) to perform the test and a visual result is available in less than 5 minutes.
If you have any further questions about this product call our Browns Online Professional Pharmacist on 02476 364 586
Ingredients
The SELFCheck Urine Infection self-test consists of two test strips, each able to monitor three test parameters: protein, nitrite and leucocyte esterase. The test strip is immersed in a fresh early morning urine sample ensuring that all three test pads are covered by the urine; the test strip is then removed from the sample and held vertically to drain excess urine. After a few minutes the result will appear in the form of visual colour changes to the three test pads.
Delivery
Standard Delivery
Free Delivery on all orders over £35.00
Orders below £35.00 are at charged at just £3.99
Delivery is within 2-3 days via Royal Mail 1st Class post.
Express Delivery (UK Mainland)
Next Day Delivery will cost £5.99
Cut off for Next Day is 2pm (Mon-Fri)
Orders placed after 2pm Mon-Fri will be dispatched the next working day.