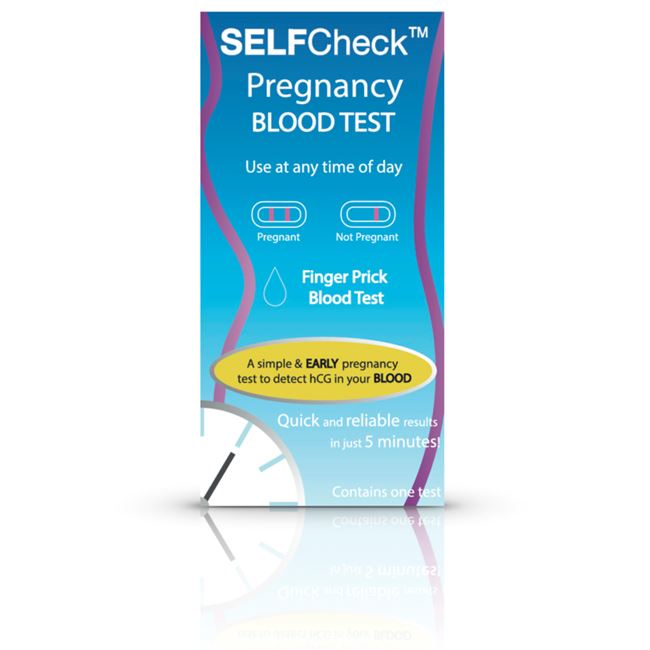 Self-Test Pregnancy Blood Test
A simple and early pregnancy test to detect hCG in your blood
More Details
Description
The SELFCheck Pregnancy Blood Test is a rapid home test for the detection of raised levels (>25 IU/L) of human Chorionic Gonadotropin (hCG) from a finger prick blood sample in just 5 minutes. Urine pregnancy test kits are usually able to detect hCG about 1 week after a missed period, but sensitive blood tests such as SELFCheck can show if you are pregnant just a few days after conception.

Blood tests can be more reliable than urine tests for showing that you are pregnant and, for this reason, are sometimes used in hospital labs to confirm a urine pregnancy test. Unlike urine pregnancy tests, you can use a blood test at any time of the day and are unaffected by dilution from drinks. Because of this, you may get a positive result with the new SELFCheck pregnancy blood test before you would with a urine test.
Unlike urine pregnancy tests where it is advised to use an early morning urine sample, you can use a blood test at any time of the day or night. The SELFCheck Pregnancy Blood Test can detect pregnancy earlier than most urine tests because the hCG hormone produced in the placenta is first released into the blood and then into the urine.
The same device used in the SELFCheck pregnancy test is also used in hospitals
Comparison of the SELFCheck Pregnancy Blood Test with a reference laboratory method shows an overall agreement of at least 98%. Although this test is accurate, all pregnancy tests may give a small number of false positive or false negative results. The same device used by SELFCheck is also used in hospitals to provide a quick and reliable result.
An invalid result is recorded when the control line doesn't appear in the results window. The most common reason for an invalid result is due to not enough drops of diluent solution being added - this can easily be fixed by adding a further 2 drops of diluent.

Other reasons include adding the blood or diluent to the wrong place or not adding enough or adding too much blood. Always read the instructions carefully before touching the components or starting the test.
An early pregnancy test result can help women consider lifestyle and health changes such as stopping smoking or drinking alcohol but should be encouraged to speak with their GP before stopping or changing any medication.
If you have any further questions about this product call our Browns Online Professional Pharmacist on 02476 364 586
Delivery
Standard Delivery
Free Delivery on all orders over £35.00
Orders below £35.00 are at charged at just £3.99
Delivery is within 2-3 days via Royal Mail 1st Class post.
Express Delivery (UK Mainland)
Next Day Delivery will cost £5.99
Cut off for Next Day is 2pm (Mon-Fri)
Orders placed after 2pm Mon-Fri will be dispatched the next working day.