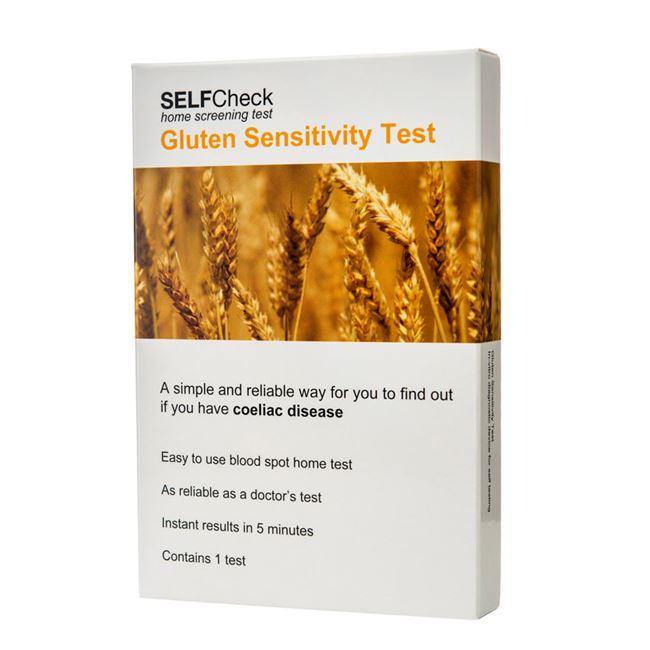 Self-Test Gluten Sensitivity for Coeliac Disease
Simple and reliable way to test for coeliac disease
More Details
Description
Coeliac disease is a lifelong, genetically inherited, intestinal disorder where the inner surface of the small intestine is damaged through eating food containing gluten. Affecting 1 in every 100 people in the UK, the majority are not diagnosed or have been after many years of suffering.
SELFCheck Sensitivity Test offers a simple and quick option to detect specific antibodies in the blood, a proven biomarker for coeliac disease.
Due to the wide variety of symptoms sufferers may present, diagnosis of coeliac is quite often hampered. Symptoms include bloating after eating wheat containing products such as bread and pasta, bouts of diarrhoea and constipation, muscle wastage, fatigue as well as skin complaints.These symptoms can vary in intensity and therefore contribute to an overall deterioration to any individual's wellbeing.
Confidential and private testing can often create the incentive patients need to take the further step towards consultations with a GP, facilitating an earlier medical intervention. Simple to use requiring only a small finger prick blood sample to provide a visual result in less than 15 minutes.
You must be on a normal, gluten containing diet before having a blood test or biopsy for coeliac disease. Most doctors say that you should be on a normal, gluten containing diet for 6 weeks before taking a test. This is because the antibody levels detected in blood tests decrease to undetectable levels if you are on a strict gluten free diet. Even if you get a positive result with a coeliac blood test do not go gluten free until you have spoken with your doctor as you may be referred for further blood tests or a biopsy.


Gluten intolerance or wheat allergy are the most commonly used (but incorrect) terms to describe coeliac disease.
An invalid result is recorded when the control line doesn't appear in the results window.

The most likely reason for an invalid result is due to either;

- too much or too little blood being added to the test cassette, or
- not enough drops of developer solution was added.

Always ensure that you use the plastic safety pipette supplied to collect your blood drop and always fill the pipette to the line marked. Please read the instructions completely before starting your test, even if you are a medical professional and have used similar tests in the past, as procedures can vary from one device to another, even from the same manufacturer. If you get an invalid result, don't worry, just contact us for help.
If you have any further questions about this product call our Browns Online Professional Pharmacist on 02476 364 586
Delivery
Standard Delivery
Free Delivery on all orders over £35.00
Orders below £35.00 are at charged at just £3.99
Delivery is within 2-3 days via Royal Mail 1st Class post.
Express Delivery (UK Mainland)
Next Day Delivery will cost £5.99
Cut off for Next Day is 2pm (Mon-Fri)
Orders placed after 2pm Mon-Fri will be dispatched the next working day.