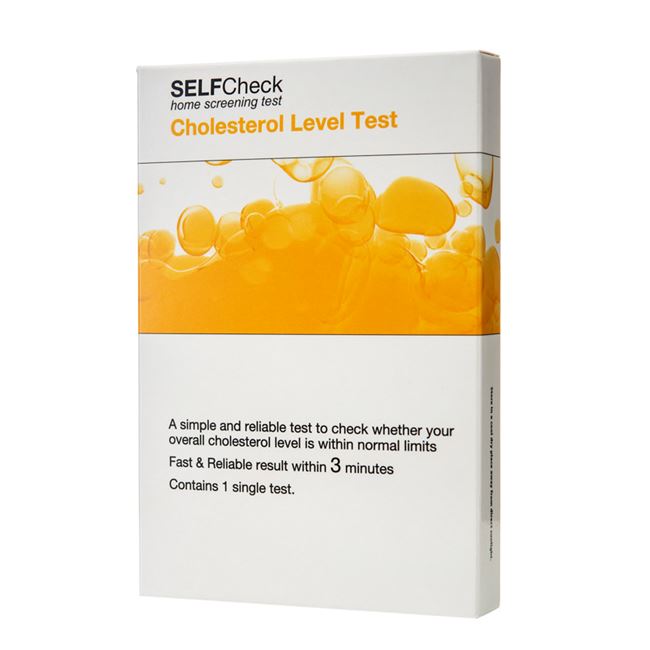 Self-Test Cholesterol Level Test
Simple and reliable overall cholesterol level check in 3 minutes
More Details
Description
Chronic heart disease (CHD) affects both men and women and reports indicate that 2 out of 3 adults in the UK over the age of 35 have raised cholesterol levels. A raised cholesterol level represents a considerable risk factor for stroke, heart attack and vascular dementia. Adults aged 40 years or older, and those suffering with diabetes or have a family history of heart disease are at a greater risk of heart or coronary disease.
High cholesterol can remain undetected for many years and may only be discoverable when it has reached an advanced stage.
Anyone who has two or more indicators of an increased risk should consider getting their cholesterol levels checked. SELFCheck offers a quick and easy option, requiring a simple finger prick blood sample which can be completed in 5 minutes. You will recieve a result indicating your total cholesterol level. A visual, easy to interpret result will give clear information to yourself, which can be discussed with your GP should an abnormal result be shown.
Early detection allows preventative action and management.
Once used simply dispose of all test components within normal household waste.
Speak with your GP for further advice. No medical decisions should be taken without consulting a doctor. Nevertheless, reducing external influences, such as stopping smoking, reducing alcohol intake, regular exercise, eating more fresh fruit, vegetables, oily fish and drinking more water may help to reduce cholesterol levels.
If you have any further questions about this product call our Browns Online Professional Pharmacist on 02476 364 586
Delivery
Standard Delivery
Free Delivery on all orders over £35.00
Orders below £35.00 are at charged at just £3.99
Delivery is within 2-3 days via Royal Mail 1st Class post.
Same Day Delivery
Receive your order on the same day, hand delivered by one of our delivery drivers.
A single charge of £5.99 per order
Available Monday to Friday - Cut off for same day delivery require orders to be placed before 3pm
Click and Collect
Order your product for same day collection at the branch closest to you FREE OF CHARGE
This service is currently in the process of being rolled out across all branches, however, during this time certain branches may not appear on the drop down menu.