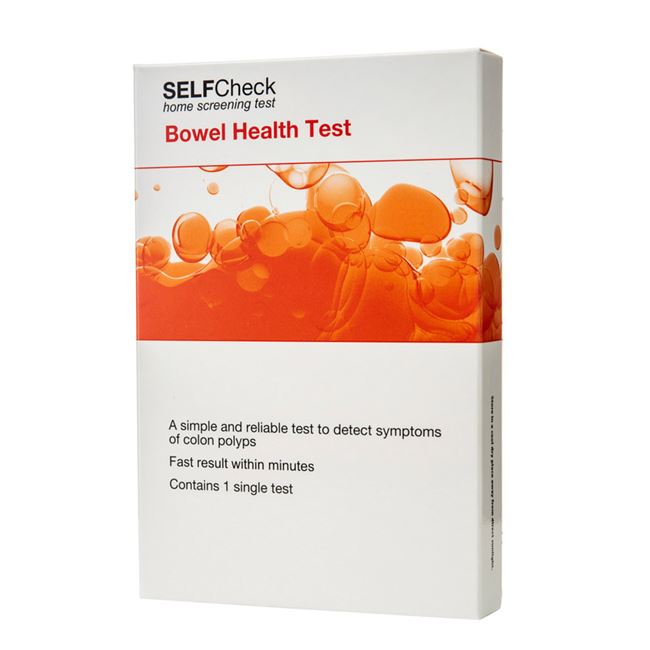 Self-Test Bowel Health Test (FIT)
Simple and reliable test to detect symptoms of colon polyps
More Details
Description
Both men and women may find traces of blood in their faeces caused by a range of conditions from haemorrhoids to bowel cancer. All of the conditions that result in blood in the faeces can be treated more effectively and efficiently if medical advice and intervention begin at the earliest possible moment. Bowel cancer currently stands as the third highest cause of cancer in men and women, and due to the UK's ageing population, this is only likely to increase.
Bowel health screening and other bowel related disorders can be embarrassing or awkward to discuss. SELFCheck home screening test offers a simple and hygienic option to detect abnormal blood in faeces, providing both men and women with help and possibly the incentive needed to seek medical advice and help.
Using the Bowel Health Test at home ensures privacy and confidentiality while facilitating earlier medical interventions should further action be needed.
The SELFCheck Bowel Health test is easy to use and uses the faecal immunochemical principle (FIT), requiring only a small sample of faeces to perform the test, giving an easy to read visual result in less than 10 minutes. As the test uses the FIT detection method, no change in diet or fasting is required prior to test.
The faecal immunochemical test (FIT) is a more recent version of the faecal occult blood (FOB) test. SELFCheck is a FIT test and provides a more accurate result than the common FOB tests used in current NHS screening programmes. The benefits of the FIT test is that it can be more sensitive and does not suffer from interference from diet.
The test detects 30µg/g of faeces which is more sensitive than most NHS screening criteria.
Colon polyps can bleed intermittently so a single FIT or FOB test, although very sensitive, might give a negative result. Using two or more tests on different occasions can statistically give a better chance of detecting blood in the sample.
If you test positive make an appointment to see your GP and mention that you have had a positive result with a FIT test kit.
If you have any further questions about this product call our Browns Online Professional Pharmacist on 02476 364 586
Delivery
Standard Delivery
Free Delivery on all orders over £35.00
Orders below £35.00 are at charged at just £3.99
Delivery is within 2-3 days via Royal Mail 1st Class post.
Express Delivery (UK Mainland)
Next Day Delivery will cost £5.99
Cut off for Next Day is 2pm (Mon-Fri)
Orders placed after 2pm Mon-Fri will be dispatched the next working day.