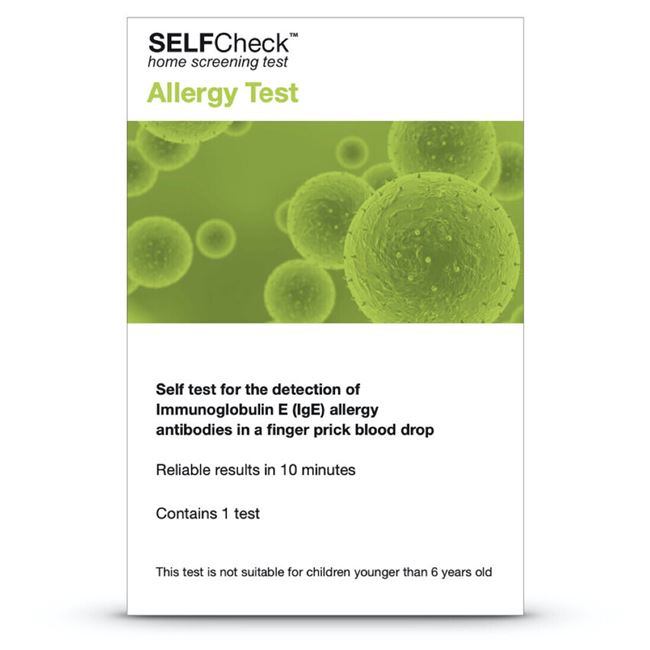 Self-Test Allergy Screening Test
Simple and reliable home testing for allergy antibody levels
More Details
Description
Ingredients
Warnings
Delivery
Description
Allergies can be a trigger for hay fever, eczema, asthma and food sensitivity. People with allergy sensitivities often produce high levels of allergy antibodies in their blood known as immunoglobulin E (IgE). SELFCheck Allergy tests whether the levels of immunoglobulin E antibodies are higher than normal, giving a 97% accurate response within 10 minutes.


You don't need to be having symptoms at the time you do your test.

If you do have a higher than normal IgE antibody level and/or symptoms that you think might be allergy related, speak with your doctor who can arrange for skin testing or further blood tests to pin-point which specific allergens could be triggering your symptoms.
| | | |
| --- | --- | --- |
| | SELFCheck | Imutest Allergy Check |
| Time to result | 10 minutes | 30 minutes |
| Number of timed steps | 1 | 2 |
| Detects total immunoglobulin E (IgE) | Yes | Yes |
| CE certified | Yes | Yes |
| Calibrated against WHO standard | Yes | Yes |
| Accuracy - agreement of at least 97% with laboratory reference methods | Greater than 97% | Greater than 97% |
| RSP | £14.99 | £19.99 |
This test is not suitable for children below the age of 6 years old as the normal range for this age group is different to that of older children and adults.
If you have allergy symptoms and/or a positive result with the SELFCheck Allergy Test you may benefit from further blood tests or skin prick tests from your doctor to find out what the specific triggers could be. Your doctor can use your allergy history to decide which tests, if any, to perform.
If the result is positive, it means that the IgE (Immunoglobulin E) antibody level in your blood is higher than normal. If you also have allergy symptoms, you may benefit from further tests from your doctor to identify the specific allergen triggers.
If the result is negative, it means that the IgE antibody level in the blood is in the normal range. However if symptoms persist, or if you are concerned that you still have an allergy, it is recommended to speak with your doctor as some people can react severely to very small levels of allergens in food or the environment, even when IgE levels are in the normal range.

A total IgE level by itself, unless very low (150 kU/L) is not diagnostic for having clinical symptoms. Very low levels of IgE mean that it is highly unlikely that allergies could be contributing to symptoms and very high levels indicate that allergies are quite likely. Some people with a sensitivity to just one or two allergens can still have a total IgE level within the normal range so, if you have a negative result but still have symptoms, speak to your doctor or pharmacist for further advice.
The SELFCheck Allergy Test is regulated in the same way as NHS hospital laboratory tests. Firstly, the manufacture must have an appropriate manufacturing system to ensure full quality assurance (ISO13485:2016). Secondly, all self-test kits must be independently evaluated by scientists and doctors working for a Notified Body (BSi, TUV, mdc) before they are allowed to be sold in the UK. This ensures that the self-tests give reliable results and are easy to use and interpret by non-medical users.
If you have any further questions about this product call our Browns Online Professional Pharmacist on 02476 364 586
Ingredients
The test kit contains;
1 test device, 1 plastic pipette and 1 desiccant pouch
1 small bottle containing 1ml of diluent
2 sterile single-use lancets to obtain a blood sample
1 instruction leaflet
You will also require a watch or clock with a second hand or a timer, and a clean tissue.
Warnings
Not suitable for children under the age of 6 years old
Delivery
Standard Delivery
Free Delivery on all orders over £35.00
Orders below £35.00 are at charged at just £3.99
Delivery is within 2-3 days via Royal Mail 1st Class post.
Express Delivery (UK Mainland)
Next Day Delivery will cost £5.99
Cut off for Next Day is 2pm (Mon-Fri)
Orders placed after 2pm Mon-Fri will be dispatched the next working day.