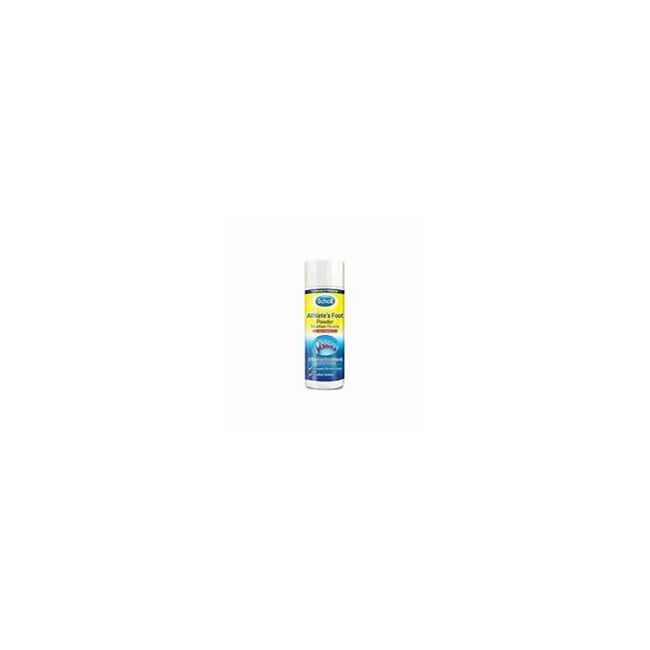 Scholls Athletes Foot (Tolnaftate) 1%w/w powder 75g
Scholl Athlete's Foot Powder treats Athlete's Foot, at its source by killing the fungus causing it.
More Details
SKU Code:
Scholls Athletes Foot Powder
WARNING: Do not take more than the recommended dose. For external use only. Avoid inhaling the powder as it contains talc that can irritate the airways. Do not use this product if you are allergic to Tolnaftate or any other ingredients for nail and scalp infections Talk to your doctor or pharmacist if you are: pregnant or breast feeding taking any other medication
Description
Ingredients
Delivery
Description
Athlete's foot is caused by fungus that gains entry and establishes itself in the upper layer of damaged skin, caused by cuts or grazes. Moist and warm conditions offers ideal conditions for growth leaving feet, particularly the area between the toes, susceptible to infection if they are not kept dry and clean.
Scholl Athlete's Foot Powder is a topical treatment for Athlete's Foot that contains the antifungal medication tolnaftate, which kills the fungus and any associated bacteria treating the problem at its source.
Browns Pharmacy helpful tips to avoid spreading the infection:
Avoid sharing towels with others, and use a separate towel on affected areas, for example, the feet.
Wash your hands before and after touching the affected area, to avoid spreading it to other areas.
Wash and change clothing, such as socks that come in contact with the infected area frequently.
How to use Scholls Athletes Foot Powder
Wash and dry the affected area
Dust liberally, particular between the toes. You can, also, dust the powder inside socks, shoes, and clothing that will be in contact with the affected skin.
After applying the powder, wash your hands
Dose Adults and children:
Dust liberally 2 times daily. Continue treatment for 2 weeks after symptoms disappear.
If symptoms don't improve within 10 days, stop using this product and speak to your doctor.
If you have any further questions about this product call our Browns Online Professional Pharmacist on 02476 364 586
Ingredients
Active ingredient: Tolnaftate 1 % w/w
Other ingredients: corn starch and talc
Delivery
Delivery and Returns
Postage and Packaging
Postage and packing will be added to the cost of your order and will depend on
The total cost of the items you order
The delivery option you choose
Items may be dispatched separately (P&P only charged once)
Delivery times are estimated. Notify us if your delivery does not arrive within 10 days.
Standard Delivery
Standard postage and packing on all orders up to £35 - £3.99
FREE standard postage and packaging on all orders over £35 (Includes the cost payable for any prescriptions in the same order)
Orders are sent by Royal Mail 1st Class post.
Your delivery may require a signature.
Orders are dispatched within 1 working day and are normally delivered to your chosen address within 3 working days.
Express Delivery
Next Day Delivery will cost £5.99 and will only be offered if all items in your basket are available for Next Day delivery.
Orders placed before 2pm Mon-Fri will be delivered the Next Day,
Orders placed after 2pm Mon-Fri will be delivered the following working day.
Please note Next Day Delivery is only available to mainland UK.
Delivery with your next prescription
Receive your item in your next prescription delivery or collection from one our stores across the West Midlands.
To be eligible for this service you must be signed up to our repeat prescription collection or delivery service with a branch, if you wish to sign up to this service click here
We will send your item to the branch and inform you when it is ready for collection or due to be delivered out with your prescription.