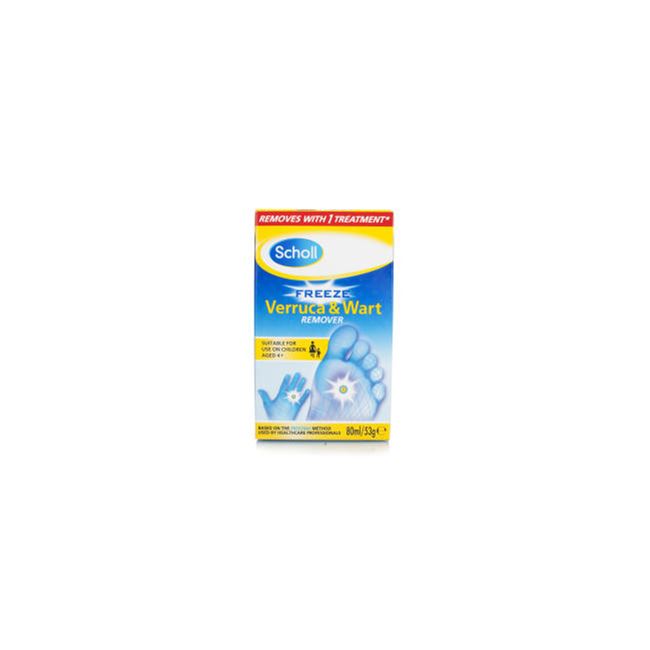 Scholl Freeze Verruca & Wart Remover (dimethyl ether and propane) 80ml/53g
Scholl Freeze removes warts and verruca's with as little as one treatment, by freezing and killing the infected cells
More Details
SKU Code:
Scholl Freeze Verruca & Wart Remover (dimethyl ether and propane) 80ml/53g
WARNING: Do not use more than the recommended dose. For external use only. Do not spray directly onto skin Do not use this product in combination with any other method of verruca or wart removal Avoid inhaling and only use in well-ventilated areas Do not use this product: if you are diabetic or have poor blood circulation if you are pregnant or breastfeeding in children under 4 years Product is flammable do not hold close to an open fire or source of ignition. Also protect from light and temperatures above 50�
Description
Ingredients
Delivery
Description
Warts and verrucas are caused by a type of virus resulting in small excessive growths of skin
Warts appear often on fingers, or the back of the hands. They can be identified by the rough "cauliflower-like" appearance of the surface.
Verrucas are often found on the sole of the foot. They can be painful and appear as small white ring of skin with a black dot in the centre.
The virus is very infectious and warts and verrucas are likely to spread, particularly if left untreated. It can also be transferred from one person to another.
Scholl Freeze Verruca & Wart Remover uses a mixture of two ingredients dimethyl ether and propane (DMEP) to remove verruca's and warts. It rapidly freezes the area killing the virus-infected cells. A blister will form and in about 10 to 14 days the verruca or wart falls off naturally allowing healthy skin to grow back in its place.
Can be used quickly and easily at home
Based on the freezing method used by healthcare professionals
As little as a single treatment may be required
The product can be used on children aged 4 years and older
You won't need any sort of plasters
How to use Scholl Freeze Verruca and Wart Remover
Do not use on children under the age of 4.
Attach an applicator bud to the white plastic cap by firmly pushing it into the large opening.
The can has a clear plastic shield on the side the applicator bud should sit when placing the cap on
Press down cap firmly for 5 seconds away from your face, parts of your body or clothing
Remove the cap with the applicator bud still attached from the can. Do not let any liquid meet your skin or come close to your eyes. Before application WAIT for 15 seconds holding the applicator bud pointing downwards.
Place the tip of the applicator bud on the centre of the verruca or wart for 30-40 seconds
Dispose of the applicator bud after each use
DO NOT hold applicator for longer than 40 seconds use a timer for effective treatment and safe use.
Do not re-use applicators.
Multiple verruca's or warts, need to be treated only one at a time with a 2 week interval between treatments.
The pack contains an 80ml/53g aerosol and 12 disposable applicators.
Misuse of the product can cause burns and scarring of healthy tissue or blindness
May feel a cold and slight aching, stinging and the skin will turn white due to the freezing but will reduce quickly after removing applicator.
If you have any further questions about this product call our Browns Online Professional Pharmacist on 02476 364 586
Ingredients
Active Ingredient: Dimethyl Ether, Propane
Other Ingredients: Isobutane, Propellant: Hydrocarbon
Delivery
Delivery and Returns
Postage and Packaging
Postage and packing will be added to the cost of your order and will depend on
The total cost of the items you order
The delivery option you choose
Items may be dispatched separately (P&P only charged once)
Delivery times are estimated. Notify us if your delivery does not arrive within 10 days.
Standard Delivery
Standard postage and packing on all orders up to £35 - £3.99
FREE standard postage and packaging on all orders over £35 (Includes the cost payable for any prescriptions in the same order)
Orders are sent by Royal Mail 1st Class post.
Your delivery may require a signature.
Orders are dispatched within 1 working day and are normally delivered to your chosen address within 3 working days.
Express Delivery
Next Day Delivery will cost £5.99 and will only be offered if all items in your basket are available for Next Day delivery.
Orders placed before 2pm Mon-Fri will be delivered the Next Day,
Orders placed after 2pm Mon-Fri will be delivered the following working day.
Please note Next Day Delivery is only available to mainland UK.
Delivery with your next prescription
Receive your item in your next prescription delivery or collection from one our stores across the West Midlands.
To be eligible for this service you must be signed up to our repeat prescription collection or delivery service with a branch, if you wish to sign up to this service click here
We will send your item to the branch and inform you when it is ready for collection or due to be delivered out with your prescription.