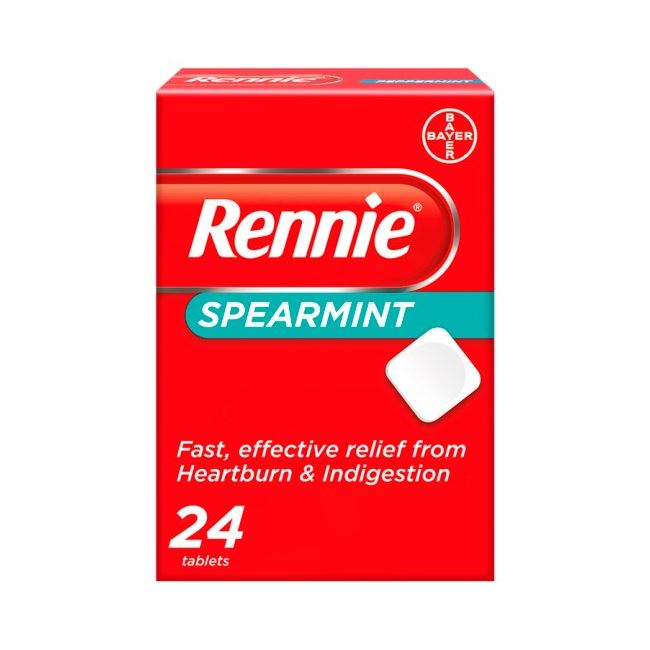 Rennie Spearmint (Calcium Carbonate, Magnesium Carbonate.) tablets 24
Rennie tablets treat indigestion and heartburn, reducing excessive acid production in the stomach.
More Details
Description
Ingredients
Warnings
Delivery
Description
Rennie tablets contain two antacids, calcium carbonate and magnesium carbonate, these drugs work effectively to treat:
Indigestion
Heartburn
Dyspepsia
Hyperacidity
Flatulence
Upset stomach
Indigestion during pregnancy
Antacids work by neutralising excess acid produced in the stomach.
How to use Rennie Peppermint Tablets
Tablets should be sucked or chewed before swallowing.
Take Rennie at least ONE to TWO hours after any other medication.
Adults and children over 12 years:
TWO tablets, as required, preferably 1 hour after meals and before bedtime. For heartburn and extra 2 tablets can be taken between these times.
No more than 10 tablets daily.
Not recommended for children under 12 years.
For no longer than 14 days, if symptoms change, worsen or persist contact your doctor.
Possible side effects :
Allergic reaction: rash, itching, difficulty breathing and swelling of the face.
Long-term use may cause high magnesium and calcium in blood, particularly in people with kidney problems: nausea, vomiting, diarrhoea, tiredness, headaches, muscle weakness, impaired sense of taste
If you have any further questions about this product call our Browns Online Professional Pharmacist on 02476 364 586
Ingredients
Active Ingredients: calcium carbonate 680mg and heavy magnesium carbonate 80mg.
Other Ingredients: sucrose, glucose (250mg), spearmint flavour (mint essential oil, maltodextrin silicon dioxide, Arabic gum), talc povidone, saccharin sodium, magnesium stearate.
Warnings
Do not take more than the recommended dose.
Avoid taking Rennie Spearmint with large amounts of milk or dairy products.
Do not take Rennie Spearmint if you:
Have severe kidney disease
Have high calcium in the urine or kidney stones
Have high calcium or low phosphate levels in the blood
Are allergic to any of the ingredients
Talk to your doctor or pharmacist if you:
Have an intolerance to some sugars (product contains sucrose)
Have moderate kidney problems
are taking any of the following medication:
tetracyclines and quinolones (antibiotics)
levothyroxine (thyroid hormones)
eltrombopag (increases platelet numbers)
digoxin (heart condition)
thiazide diuretics (water tablets)
fluorides (dental caries)
phosphates (for clearing bowel before surgical procedures)
iron supplements
Delivery
Standard Delivery
Free Delivery on all orders over £35.00
Orders below £35.00 are at charged at just £3.99
Delivery is within 2-3 days via Royal Mail 1st Class post.
Express Delivery (UK Mainland)
Next Day Delivery will cost £5.99
Cut off for Next Day is 2pm (Mon-Fri)
Orders placed after 2pm Mon-Fri will be dispatched the next working day.