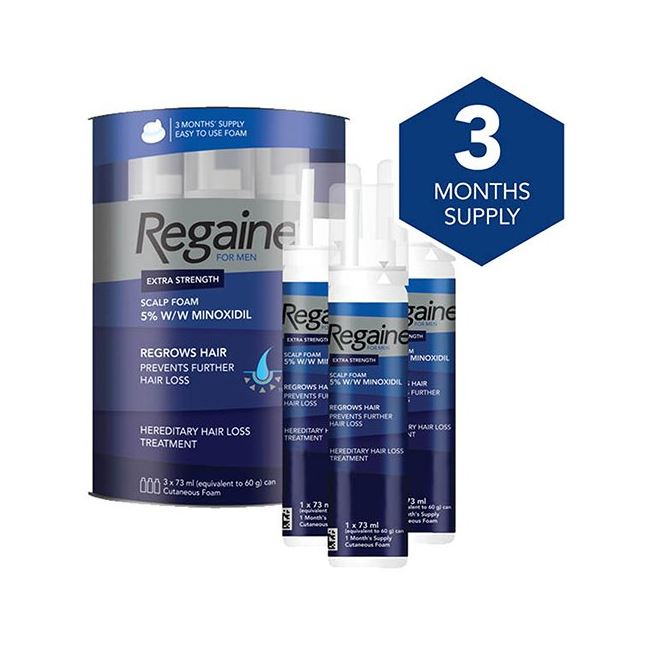 Regaine for Men 5% Minoxidil Extra Strength Scalp Foam THREE month supply
Clinically proven for visible results in as early as 8 weeks of treatment
More Details
WARNING: Do not use if you: Are a woman / Suffer from a problem with blood pressure / Have sudden or patchy hair loss / Have other conditions associated with your hair loss / Have a red, inflamed, irritated, infected or painful scalp or shaven head / Have a dressing or bandage on your scalp. / Are under 18 or over 49 years of age / Are sensitive to any ingredients in this medicine Seek advice from your doctor if you have heart disease (including abnormal heart rhythms or rates, angina or chest pains) and/or circulation disorders before using this product.
Description
Ingredients
Delivery
Description
Regaine For Men Extra Strength Scalp Foam is scientifically proven in promoting hair growth for men aged between 18 and 49 years old, suffering from common hereditary hair loss. 40% of men are affected by hair loss by the age of 35 with this number increasing to 65% by 60 years old. Hair loss can be seen not just by a receding hairline but more hair appearing on the pillow, hair comb or in the shower drain.
Hereditary hair loss is recognisable by:
Pattern of hair loss
Starting gradually and progressing
A family history of hair loss
No other symptoms present with your hair loss
Regaine contains Minoxidil 5%, the only licensed over-the-counter medication clinically proven to promote hair growth. Regaine works by using four methods;
Reverses miniaturisation of follicles
Increases blood flow around the follicles
Stimulates follicle movement from resting to hair growth phase
Extends each follicle's growth phase
But what does that actually mean..
Dihydrotestosterone (DHT) causes the growth phase of new hair follicles to shorten, producing hairs that are unable to grow to full size due to the shorter growth window. This is the process of miniaturisation, causing hair follicles to progressively decrease in size until they are no longer present.
Regaine works by extending the growth window, reducing the number of follicles experiencing the effects of miniaturisation. Regaine also increases blood flow to the follicles, providing more nutrients and oxygen to aid growth. This can be further increased by implementing scalp massages when applying the foam, further improving the action of Regaine.
Regaine For Men Foam is designed to dissolve into the scalp and be rapidly absorbed. Place a single dose of 1g (or half a capful) into your fingers and massage onto the scalp, washing and drying hands thoroughly before and after use. Continued twice daily use is required to see results in order for a sufficient growth window to be developed.
Hair shedding is a normal side effect of Regaine and shows that the hair growth cycle is beginning so if you experience this, it is a sign that the Regaine is working.
Do not exceed the recommended twice daily usage as this will not improve growth but does put you at more risk of developing side effects.
Although colouring or blow drying hair will not cause hereditary hair loss, it can contribute to damaged and receding hair, making them appear thinner and less visible.
If you have any further questions about this product call our Browns Online Professional Pharmacist on 02476 364 586
Ingredients
Active ingredient: Minoxidil 50mg/g Other ingredients: Ethanol Anhydrous, Purified Water, Butylated Hydroxytoluene (E321), Lactic Acid, Citric Acid Anhydrous, Glycerol, Cetyl Alcohol, Stearyl Alcohol, Polysorbate 60, Propane, Butane, Isobutane
Delivery
Delivery and Returns
Postage and Packaging
Postage and packing will be added to the cost of your order and will depend on
The total cost of the items you order
The delivery option you choose
Items may be dispatched separately (P&P only charged once)
Delivery times are estimated. Notify us if your delivery does not arrive within 10 days.
Standard Delivery
Standard postage and packing on all orders up to £35 - £3.99
FREE standard postage and packaging on all orders over £35 (Includes the cost payable for any prescriptions in the same order)
Orders are sent by Royal Mail 1st Class post.
Your delivery may require a signature.
Orders are dispatched within 1 working day and are normally delivered to your chosen address within 3 working days.
Express Delivery
Next Day Delivery will cost £5.99 and will only be offered if all items in your basket are available for Next Day delivery.
Orders placed before 2pm Mon-Fri will be delivered the Next Day,
Orders placed after 2pm Mon-Fri will be delivered the following working day.
Please note Next Day Delivery is only available to mainland UK.
Delivery with your next prescription
Receive your item in your next prescription delivery or collection from one our stores across the West Midlands.
To be eligible for this service you must be signed up to our repeat prescription collection or delivery service with a branch, if you wish to sign up to this service click here
We will send your item to the branch and inform you when it is ready for collection or due to be delivered out with your prescription.