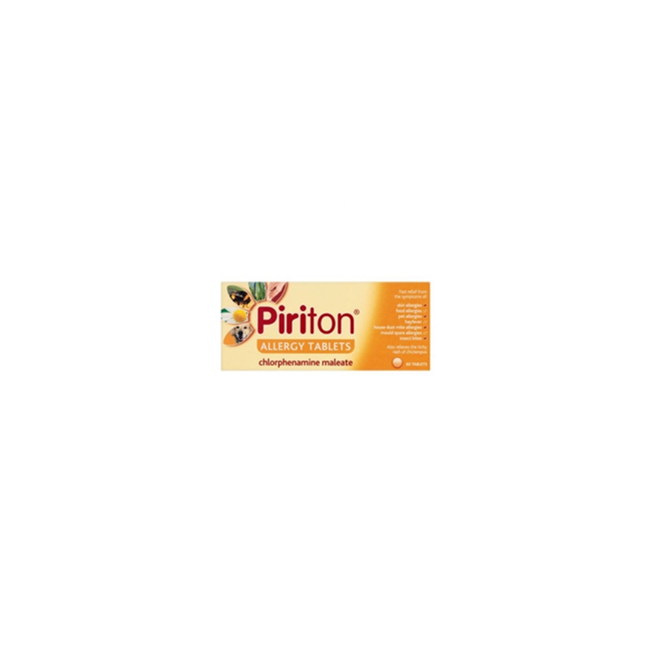 Piriton (Chlorphenamine) 4mg Tablets 30
Quick and effective relief from symptoms of hay fever and other allergies
More Details
SKU Code:
Piriton (Chlorphenamine) 4mg tablets
WARNING: Piriton tablets may cause drowsiness, therefore do not drive or operate machinery if affected / Avoid drinking alcohol / Do not take Piriton if prescribed monoamine oxidase inhibitors (MAOIs) in the last 2 weeks / Let your doctor or pharmacist know if you are pregnant or breastfeeding, taking any other medication; particularly phenytoin or medication for anxiety or to help you sleep or if you have very high blood pressure, heart disease, epilepsy, glaucoma, enlarged prostate, liver disease, kidney disease, bronchitis, asthmas, or bronchiectasis
Description
Ingredients
Delivery
Description
Piriton allergy tablets contain an antihistamine, chlorphenamine, that will provide quick and effective relief from symptoms of hayfever and allergies within 30 minutes. It can be used in the treatment of itchiness, redness, swelling, tenderness and irritation caused by:
Hay fever and other allergies e.g. pet, house dust mite and mold spore allergies
Nettle rash and hives
Skin allergies and dermatitis
Prickly heat and heat rash
Reaction to food, food additives or medicines
Insect bites and stings
Itchy rash due to chickenpox
How to use Piriton Allergy Tablets
Adults and children aged 12 years and over
One tablet every 4 to 6 hours as needed. Do not take more than 6 tablets in 24 hours
Children aged 6 to 12 years
Half a tablet every 4 to 6 hours as needed. Do not take more than 6 tablets in 24
Children under the age of 6 years
This medication is not recommended for this age group
Do not exceed recommended dose. If you are elderly speak to your doctor prior to taking this medication as it may cause confusion and therefore a lower dose may be required.
Possible side effects
Common side effects you may experience include:
Nausea, sleepiness or dizziness
Difficulty concentrating
Dry mouth
Headaches or blurred vision
If you have any further questions about this product call our Browns Online Professional Pharmacist on 02476 364 586
Ingredients
Active ingredient: Chlorphenamine maleate 4mg
Other ingredients: Lactose, Maize Starch, Yellow Iron Oxide (E172), Magnesium Stearate, Purified Water
Delivery
Delivery and Returns
Postage and Packaging
Postage and packing will be added to the cost of your order and will depend on
The total cost of the items you order
The delivery option you choose
Items may be dispatched separately (P&P only charged once)
Delivery times are estimated. Notify us if your delivery does not arrive within 10 days.
Standard Delivery
Standard postage and packing on all orders up to £35 - £3.99
FREE standard postage and packaging on all orders over £35 (Includes the cost payable for any prescriptions in the same order)
Orders are sent by Royal Mail 1st Class post.
Your delivery may require a signature.
Orders are dispatched within 1 working day and are normally delivered to your chosen address within 3 working days.
Express Delivery
Next Day Delivery will cost £5.99 and will only be offered if all items in your basket are available for Next Day delivery.
Orders placed before 2pm Mon-Fri will be delivered the Next Day,
Orders placed after 2pm Mon-Fri will be delivered the following working day.
Please note Next Day Delivery is only available to mainland UK.
Delivery with your next prescription
Receive your item in your next prescription delivery or collection from one our stores across the West Midlands.
To be eligible for this service you must be signed up to our repeat prescription collection or delivery service with a branch, if you wish to sign up to this service click here
We will send your item to the branch and inform you when it is ready for collection or due to be delivered out with your prescription.