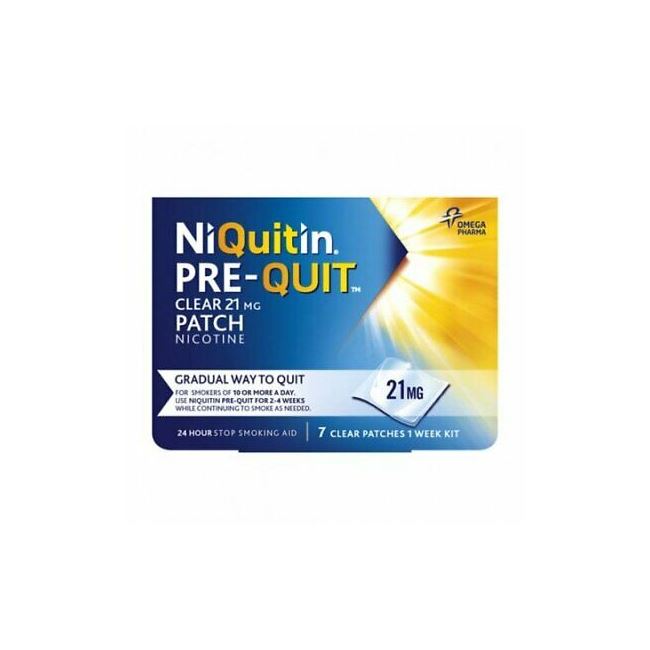 NiQuitin Pre Quit Clear 21mg Smoking Patches (7)
To help those who want to cut down the number of cigarettes they smoke.
More Details
Description
Ingredients
Warnings
Delivery
Description
Relief and prevention of craving and nicotine withdrawal symptoms associated with tobacco dependence. An aid to smokers wishing to quit or reduce prior to quitting. To assist smokers unwilling or unable to smoke or as a safer alternative to smoking. Indicated in pregnant and lactating women making a quit attempt. If possible use in conjunction with behavioural support.
How to use NiQuitin Pre-quit
Adults smokers 18 years and over
Apply one patch daily for TWO to FOUR weeks and continue to smoke as needed. Once the Pre-Quit programme is completed smoking should be completely stopped and the user move on to the NiQuitin step down patch programme. A healthcare professional should be consulted if the number of cigarettes smoked has not been cut down after 4 weeks of using the patches.
If you have any further questions about this product call our Browns Online Professional Pharmacist on 02476 364 586
Ingredients
Clear transdermal patch delivering over 24 hours:
NiQuitin 21mg - 114mg nicotine per 22cm2
Warnings
If you are pregnant, speak to your doctor, pharmacist or nurse before use
Do not use if you are allergic to any of the ingredients listed in the enclosed leaflet
Keep out of sight and reach of children
Consult a healthcare professional if you have serious liver or kidney disease, uncontrolled overactive thyroid gland or phaeochromocytoma
If you get a persistent skin reaction, remove the patch and tell your doctor
Not suitable for those under 18 years of age
Delivery
Standard Delivery
Free Delivery on all orders over £35.00
Orders below £35.00 are at charged at just £3.99
Delivery is within 2-3 days via Royal Mail 1st Class post.
Same Day Delivery
Receive your order on the same day, hand delivered by one of our delivery drivers.
A single charge of £5.99 per order
Available Monday to Friday - Cut off for same day delivery require orders to be placed before 3pm
Click and Collect
Order your product for same day collection at the branch closest to you FREE OF CHARGE
This service is currently in the process of being rolled out across all branches, however, during this time certain branches may not appear on the drop down menu.