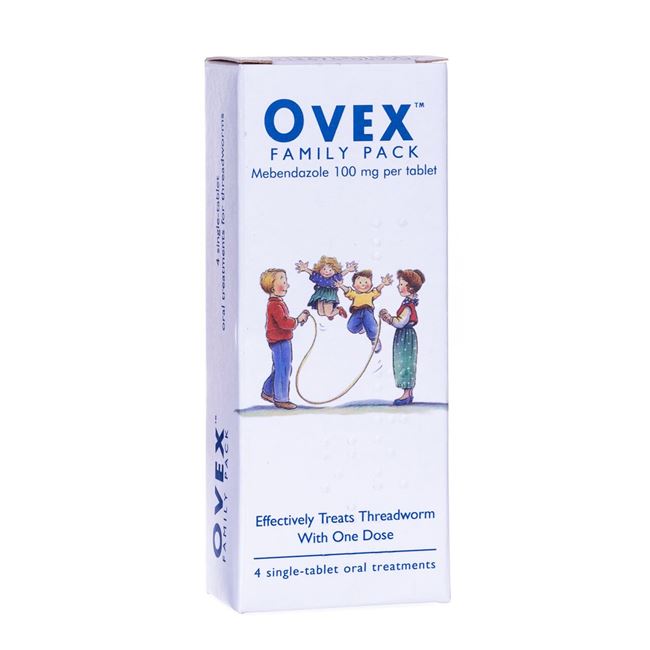 Ovex 100mg Chewable Tablets Family Pack (4)
Description
Ingredients
Warnings
Delivery
Description
Adults and children aged 2 years and over: Take one tablet per family member.
If symptoms do not disappear within a few days, speak to your doctor.
If you are re-infected your pharmacist may recommend that a second tablet is taken after two weeks.
General advice
To ensure that you and your family do not infect others or re-infect yourselves, you should also follow the hygiene measures listed below for at least six weeks:
■ Keep nails short.
■ Discourage nail biting or finger sucking.
■ Wear pyjamas or underclothes in bed.
■ In the mornings, wash thoroughly around the bottom.
■ Provide a towel for the exclusive use of each member of the household.
■ Change clothes regularly.
■ Regularly wash and iron bed linen.
■ Thoroughly wash hands and nails after using the toilet and before each meal.
If you have any further questions about this product call our Browns Online Professional Pharmacist on 02476 364 586
Ingredients
Active ingredient is: Mebendazole 100 mg per tablet.
Other ingredients: Microcrystalline cellulose, sodium starch glycollate, talc, maize starch, sodium saccharin, magnesium stearate, cottonseed oil – hydrogenated, orange flavour, colloidal anhydrous silica, sodium laurilsulfate and orange yellow S (E110).
Warnings
Do not use this medicine...
■ If you have ever had a bad reaction to any of the ingredients. ■ If it is for a child under 2 years.
■ If you are pregnant or think you are pregnant.
If any of these apply to you, get advice from a doctor or pharmacist without using Ovex Family Pack.

Talk to your doctor or pharmacist...
■ If you are taking any other medicines, including:
■ Metronidazole (a drug used to treat bacterial and protozoan infections) as a serious skin reaction can rarely occur.
■ Cimetidine (a medicine used to treat excess stomach acidity).
If you are not sure about any of the medicines you are taking, show the bottle or the pack to your
pharmacist.
Do not take this medicine if you are pregnant. Ask your doctor or pharmacist for advice before taking this medicine if you are breast-feeding.
Since threadworms can spread very easily, it is strongly recommended that all the family (except pregnant, breast-feeding women or children under 2) are treated at the same time and that suitable hygiene precautions are followed to prevent re-infection.
Delivery
Standard Delivery
Free Delivery on all orders over £35.00
Orders below £35.00 are at charged at just £3.99
Delivery is within 2-3 days via Royal Mail 1st Class post.
Same Day Delivery
Receive your order on the same day, hand delivered by one of our delivery drivers.
A single charge of £5.99 per order
Available Monday to Friday - Cut off for same day delivery require orders to be placed before 3pm
Click and Collect
Order your product for same day collection at the branch closest to you FREE OF CHARGE
This service is currently in the process of being rolled out across all branches, however, during this time certain branches may not appear on the drop down menu.