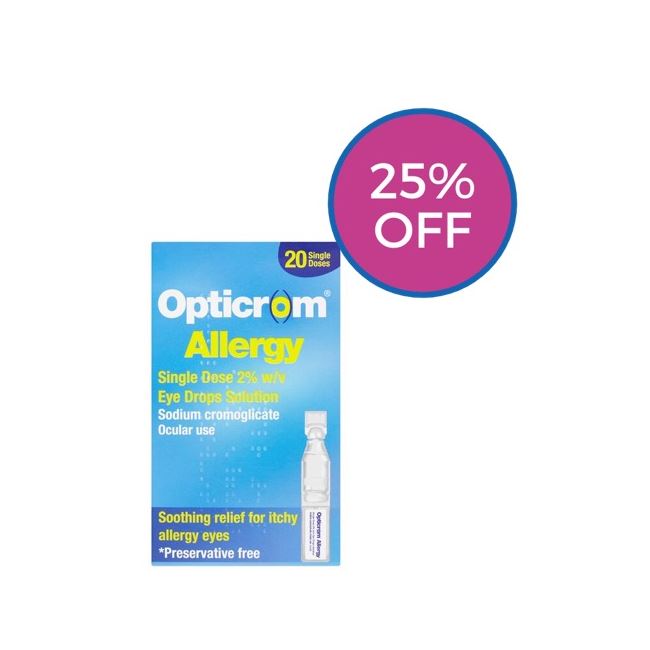 Opticrom Allergy 2% Eye Drops Single Use
20 single doses for soothing relief of itchy allergy eyes
More Details
Description
Ingredients
Warnings
Delivery
Description
What Is Opticrom Allergy Single Dose
Opticrom Allergy Single Dose contains a medicine called sodium cromoglicate. It is used to relieve and treat eye allergies such as hay fever and conjunctivitis in children and adults. These allergies happen anytime of the year or during different seasons caused by different pollens.
Opticrom Allergy Single Dose works by stopping the release of the natural substances in your eyes, these are the cause of the allergic reaction.
How to use Opticrom Allergy Single Dose
The recommended dose is ONE or TWO drops in each eye up to four times a day
Wash your hands
Break off one single dose container from the strip
Open the container by bending or twisting the tab and use it immediately
Tilt your head back
Pull down your lower eye lid
Squeeze 1 or 2 drops inside the eye lid - without touching your eye with the container
Close your eye
Wipe away any liquid from around the eye with a clean tissue
Repeat this process in the other eye. Throw away the container and any medicine left in it after use and do not reuse.
Contact lens wearers: Like most topical eye medications, if you wear contact lenses you should remove them before using this Opticrom product. After using this medicine you should wait 15 minutes before putting your contact lenses back in again
If you use more Opticrom Allergy Single Dose than you should: If you use the eye drops more often than you should talk to a doctor or a pharmacist
If you forget to use opticrom Allergy Single Dose: If you forget a dose, use your drops as soon as you remember. However if it is nearly time for your next dose, skip the missed dose. Do not double up to make up for a forgotten dose
If you stop using Opticrom Allergy Single Dose: If you stop using Opticrom, your signs of allergies may come back. Opticrom keeps your eye allergies from returning. Keep using the drops if you are still around the things that you are allergic to, even if your allergy has got better
If you have any further questions about this product call our Browns Online Professional Pharmacist on 02476 364 586
Ingredients
Active ingredients: Sodium cromoglicate. Each single dose container contains 2% w/v of sodium cromoglicate
Other ingredients: Sodium chloride and purified water
What the medicine looks like and the contents of the pack: Opticrom is a clear colourless to pale yellow solution supplied in single dose containers of 0.3ml packaged in an aluminium sachet. Pack size 20 single doses
Warnings
Do not use if you are allergic to sodium cromoglicate or any of the other ingredients of this medicine, signs of you being allergic include: a rash, swallowing or breathing problems, swelling of your lips, face, throat or tongue. Also the redness, itching or swelling of the eyes or eyelids may get worse.
Once opened use the single dose container immediately. After use throw away the container and any medicine left in it - do not use again. This is because the Opticrom allergy single dose container is sterile and preservative free.
If you are pregnant or breast feeding, think you may be pregnant or are planning to have a baby ask your doctor or pharmacist for advise before using this product.
You may have blurred eye sight just after using this medicine. If this happens, do not drive or use any tools or machines until you can see clearly again
Delivery
Standard Delivery
Free Delivery on all orders over £35.00
Orders below £35.00 are at charged at just £3.99
Delivery is within 2-3 days via Royal Mail 1st Class post.
Express Delivery (UK Mainland)
Next Day Delivery will cost £5.99
Cut off for Next Day is 2pm (Mon-Fri)
Orders placed after 2pm Mon-Fri will be dispatched the next working day.