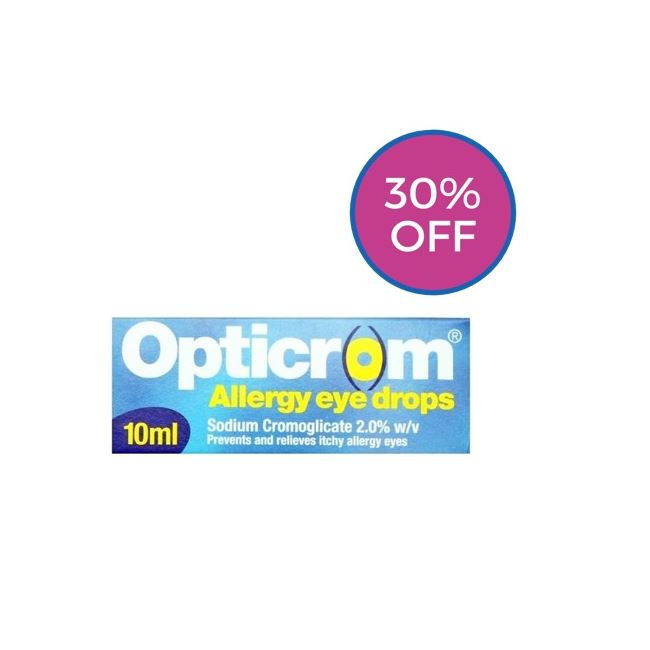 Opticrom Allergy 2% Eye Drops 10ml
To help prevent and relieve itchy eyes without causing drowsiness
More Details
Description
Ingredients
Warnings
Delivery
Description
What is Opticrom
Opticrom is used to help prevent and relieve eye allergies such as hayfever and conjunctivitis. It works by stopping the release of the natural substances in your eyes that can lead to an allergic reaction. Signs of an allergic reaction include itchy, watery, red or inflamed eyes and puffy eyelids.
Allergies can happen at any time of the year due to different pollens dependent upon the season.
How to use Opticrom Eye Drops
One or two drops in each eye four times a day (or as directed by your doctor)
If your symptoms worsen or do not improve talk to a doctor or pharmacist
Wash your hands
Before using this medication for the first time, be sure that the tamper-proof seal on the bottle is unbroken. A gap between the bottle and the cap is normal for an unopened bottle
Remove the cap of the bottle
Tilt your head back
Squeeze one or two drops inside the lower lid without touching your eye
Close your eye
Wipe away any excess liquid from the eyes with a clean tissue
Always put the cap back on the bottle as soon as you have used it
Repeat in the other eye if needed
You should keep using these drops if you are still around the things that you are allergic to. If you stop using this medicine you allergy symptoms may come back
If you have any further questions about this product call our Browns Online Professional Pharmacist on 02476 364 586
Ingredients
Active substance: Sodium cromoglicate. Each 1ml of eye drops contains 20mg of sodium cromoglicate (2.0% w/v). One drop contains 0.7mg of sodium cromoglicate
Other ingredients: Disodium edetate, benzalkonium chloride and water for injections
Warnings
You may have blurred eyesight straight after using this medicine. If this happens, DO NOT DRIVE or use any tools or machines until you can see clearly
THIS MEDICINE CONTAINS BENZALKONIUM CHLORIDE which may cause your eyes to become irritated and may change the colour of your contact lenses. Avoid contact with soft contact lenses. Remove contact lenses prior to application and wait at least 15 minutes before reinsertion
Always read the patient information leaflet
If you use the medicine more than the recommended dose or continuously for more than three months contact your doctor
If you forget to use this medicine than use your drops as soon as you remember. However if its nearly time for your next dose, skip the missed dose. Do not use a double dose to make up for a forgotten dose
DO NOT USE THIS MEDICINE
If you are allergic to any of the ingredients
Have signs of an allergic reaction which include: A rash, swallowing or breathing problems, swelling of your lips, face, throat, tongue and worsening of redness, itching or swelling of the eye or eyelid
Talk to your pharmacist or doctor before using this medicine if you
Wear soft contact lenses. You should not wear contact lenses while using these drops
Have recently taken or might take any other medication
Are pregnant, breast feeding, think you may be pregnant or planning to have a baby ask your doctor or pharmacist for advice before taking this medicine
Delivery
Standard Delivery
Free Delivery on all orders over £35.00
Orders below £35.00 are at charged at just £3.99
Delivery is within 2-3 days via Royal Mail 1st Class post.
Express Delivery (UK Mainland)
Next Day Delivery will cost £5.99
Cut off for Next Day is 2pm (Mon-Fri)
Orders placed after 2pm Mon-Fri will be dispatched the next working day.