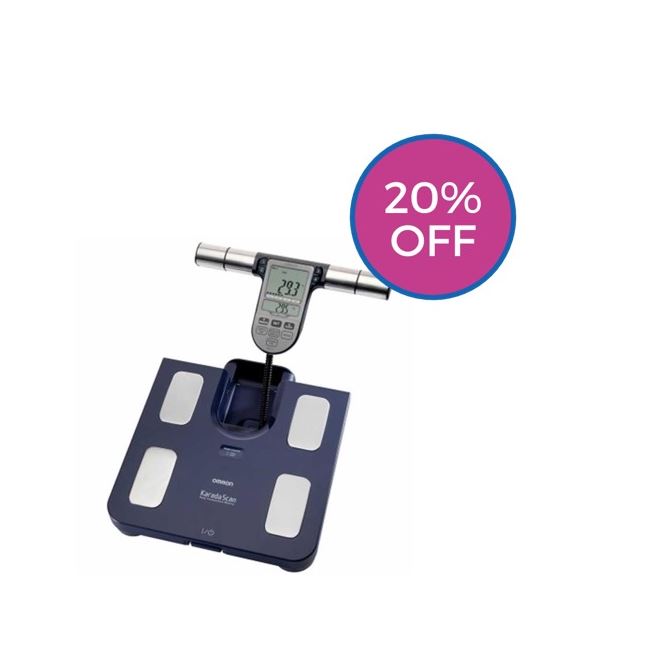 Omron Body Composition Monitor BMI BF511 Dark Blue
Ideal for a healthy lifestyle, helps calculate daily calorie requirements and gives references for weight reduction programme
More Details
Description
Ingredients
Warnings
Delivery
Description
The Omron Body Composition monitor comprehensively measures the whole body to avoid the influence of fluctuations that most scales can't elude. Throughout the day, water tends to progressively shift from the upper body to the lower limbs. This movement varies the electrical impedance of the body; however, the clinically validated device uses eight electrode sensors across both the hands and feet to take measurements to reduce fluctuations in your results. The Omron body composition monitor provides a full body understanding helping you to achieve your fitness goals and manage your weight with precision.
Measures
Body fat percentage using the Bioelectrical Impedance (BI) method

Body fat percentage relates to the amount fat mass in the body compared to the total mass of the body.

Visceral fat surrounding the internal organs

High amounts can increase risks of common diseases such as diabetes

Body mass index using height information stored in your personal setup or when entering the information in guest mode to calculate BMI
Skeletal muscle increased through exercise

Higher amount increases the body's ability to burn energy more easily

Resting metabolism using the information gained from the scales, the monitor can indicate how many calories you need to ingest to provide the body enough energy to function

Gives you a better understanding of your daily calorific intake
Storage
Stores up to 180 days of memory for four profiles
Easy to use
Switch on/off at the base
Quick and simple four-step personal data setup
Guidance pack inside the box to guide you on how to use the machine
Display
Large LCD display for easy reading
Gives current and last previous value for easy comparison of weight gain/loss
Convenient
Retractable cord makes it suitable for almost all adults
If you have any further questions about this product call our Browns Online Professional Pharmacist on 02476 364 586
Ingredients
BF511 Body Composition Monitor
4xAA Batteries
Instruction Manual
3 year Guarantee Card
Warnings
Improper use may result in possible death or serious injury. Never use this unit in combination with a medical electronic devices such as a medical electronic implants such as pacemakers, electronic life support systems (artificial heart/lung), portable electronic medical device such as an electrocardiograph. Never start weight reduction or exercise therapy without the instructions of a doctor or specialist. Do not use on slippery surfaces. Keep out of reach of children, contains small parts that could cause choking hazards if swallowed. The cord of the display may cause accidental strangulation in infants. Do not jump onto the unit, or hop up and down on the unit. Do not use this unit when your body and/or feet are wet. Stand on the main unit bare footed as standing on it with socks on may cause you to slip. Do not step on the edge or display area of the main unit. People with disabilities or who are physically frail should always be assisted by another person when using this unit. Use a handrail or so when stepping on the unit.
If battery fluid should get in your eyes, immediately rinse with plenty of clean water, consult a doctor immediately. When the device malfunctions it may get hot if device malfunctions and does not operate stop using immediately.
Delivery
Standard Delivery
Free Delivery on all orders over £35.00
Orders below £35.00 are at charged at just £3.99
Delivery is within 2-3 days via Royal Mail 1st Class post.
Express Delivery (UK Mainland)
Next Day Delivery will cost £5.99
Cut off for Next Day is 2pm (Mon-Fri)
Orders placed after 2pm Mon-Fri will be dispatched the next working day.