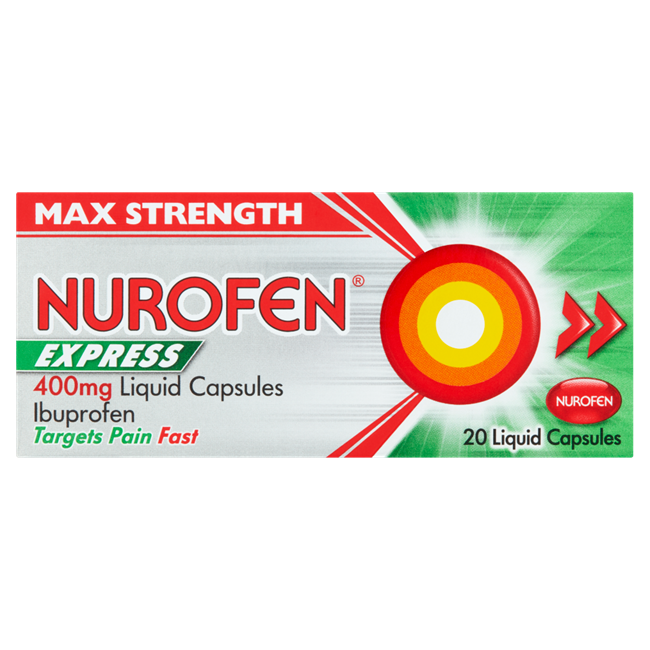 Nurofen (Ibuprofen) 400mg Express Liquid Capsules 20
Nurofen capsules enable effective and targeted pain relief while reducing swelling and redness.
More Details
Description
Ingredients
Warnings
Delivery
Description
Nurofen contains the active ingredient ibuprofen that belongs to a group of medicines called non-steroidal anti-inflammatory drugs (NSAIDs). It provides pain relief and reduces swelling and fever.
It is used for:
Headaches and migraine pain
Dental pain and neuralgia
Period pain
Rheumatic, muscular and back pain
Feverishness and symptoms of cold and flu
How to take Nurofen 400mg Express Liquid capsules
Adults, the elderly and children & adolescents between 12 and 18 years
Take 1 capsule up to three times a day as required. Ensure at least a four hours gap between doses. Do not take more than 3 capsule in 24 hours.
For no longer than 10 days unless your doctor tells you otherwise, no more than 3 days to children and adolescents between 12 and 18 years without consulting a doctor.
Take the lowest dose for the shortest time necessary to relieve your symptoms.
STOP TAKING the medicine and tell your doctor if you experience:
feeling and being sick (nausea and vomiting)
sever chest or stomach pain
feeling tired or sleepy
black poo and blood in your vomit – a sign of bleeding in your stomach
ringing in your ear
difficulty breathing or changes in your heart rate (slower or faster)
swollen ankles, blood in your pee or not peeing at all – these can be signs of a kidney problem
If you have taken more capules than you should, a child has taken this medicine, or have any of the symptoms in bold contact a doctor or nearest hospital.
Possible side effects
Common side effects that you may experience include:
Headaches
Feeling dizzy or sick
Nausea or vomiting
Wind and indigestion
If you have any further questions about this product call our Browns Online Professional Pharmacist on 02476 364 586
Ingredients
Active ingredient: Ibuprofen 400mg
Other ingredients:Macrogol 600, Potassium hydroxide 50% solution (E525), Gelatin, Sorbitol Liquid, Partially Dehydrated (E420), Purified Water, Ponceau 4R (E124), Lecithin (E322), Triglycerides (medium chain), Ethanol, White ink (Titanium Dioxide (E171), Polyvinyl Acetate Phthalate, Macrogol 400, Ammonium hydroxide (E527), Propylene Glycol).
Warnings
Do not take more than the recommended dose / Do not take Nurofen with other NSAID containing products / Speak to your doctor or pharmacist if you have asthma, kidney, liver, heart or bowel problems. High cholesterol or stroke, gastrointestinal disease, systemic lupus erythematous, smoke, pregnant or breastfeeding or take low-dose aspirin.
Delivery
Standard Delivery
Free Delivery on all orders over £35.00
Orders below £35.00 are at charged at just £3.99
Delivery is within 2-3 days via Royal Mail 1st Class post.
Express Delivery (UK Mainland)
Next Day Delivery will cost £5.99
Cut off for Next Day is 2pm (Mon-Fri)
Orders placed after 2pm Mon-Fri will be dispatched the next working day.