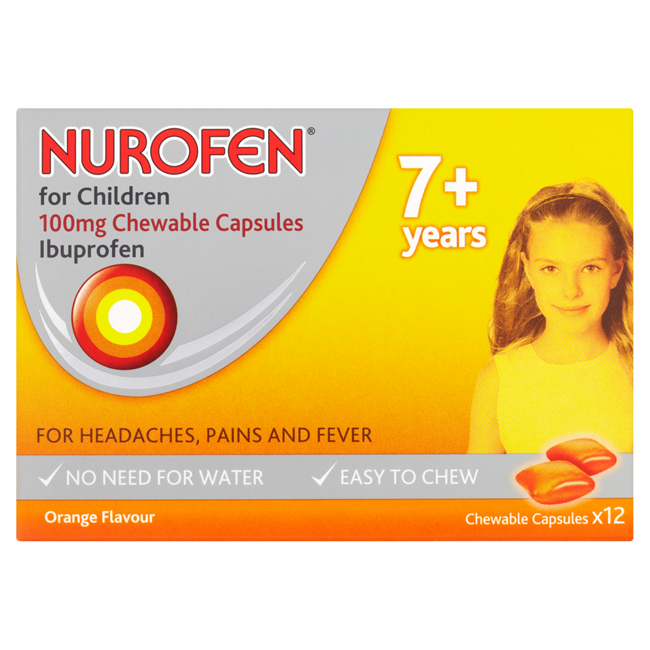 Nurofen Children Soft Chew Orange Flavoured Capsules 12
Description
Ingredients
Warnings
Delivery
Description
Easy to chew tablets with no water needed helps relieve pain such as sore throats, toothaches, earaches, headaches as well as minor aches and sprains and fevers
How to take Nurofen Chewable
Chew before swallowing
Children 7-9 year olds
Take two capsules three times a day (given every 6-8 hours)
Children 10-12 year olds
Take three capsules three times a day (given every 6-8 hours)
If you have any further questions about this product call our Browns Online Professional Pharmacist on 02476 364 586
Ingredients
Active Ingredient:
Each chewable capsule contains 100mg of ibuprofen
Other ingredients:
Gelatin, Purified water, Glucose liquid, Sucrose, Fumaric acid (E297), Sucralose, Citric acid (E330), Acesulfame K (E950), Disodium edetate, Glycerin, Natural Orange Flavour*, Red iron oxide (E172), Yellow iron oxide (E172) and Opacode White NS-78-18011**
Processing aids: Medium chain triglyerides, Soya lecithin, Stearic Acid and Isopropyl alcohol
*The flavour contains: (R)-p-mentha-1,8-diene (d-limonene), Ethyl acetate and Alpha-Pinene
**The ink contains: Purified water, titanium dioxide (E171), propylene glycol, isopropyl alcohol, HPMC 2910/ hypromellose 3cP (E464)
Warnings
Do not give to children under 7 yeras of age
Do not exceed the stated dose of the label
Consult your doctor if symptoms persist of worsen after 3 days
Do not take if you are allergic to ibuprofen, any of the ingredients in the product, asprin or any other related painkillers
Do not use od you have a stomach ulcer or have had two or more episodes f them, perfromation or bleeding
Do not use if you are taking any other NSAID painkillers or asprin with a daily dose above 75mg
Speak to your doctor/pharmacist before taking this product if you, have asthma,diabetes, high cholesterol, high blood pressure, a stroke, heart, liver, kidney or bowel problems
Product intended for use of children 7-12
If you ar ean adult using this product speak to your healthcare proffesional before if you are a smoker. pregnant or trying to become or the elderly
Common side effects - upset stomach, mild heartburn, nausea, vomiting, bloating, gas, diarrhea, constipation, dizziness, headache, nervousness, mild itching/rash, ringing in your ears
Delivery
Standard Delivery
Free Delivery on all orders over £35.00
Orders below £35.00 are at charged at just £3.99
Delivery is within 2-3 days via Royal Mail 1st Class post.
Express Delivery (UK Mainland)
Next Day Delivery will cost £5.99
Cut off for Next Day is 2pm (Mon-Fri)
Orders placed after 2pm Mon-Fri will be dispatched the next working day.