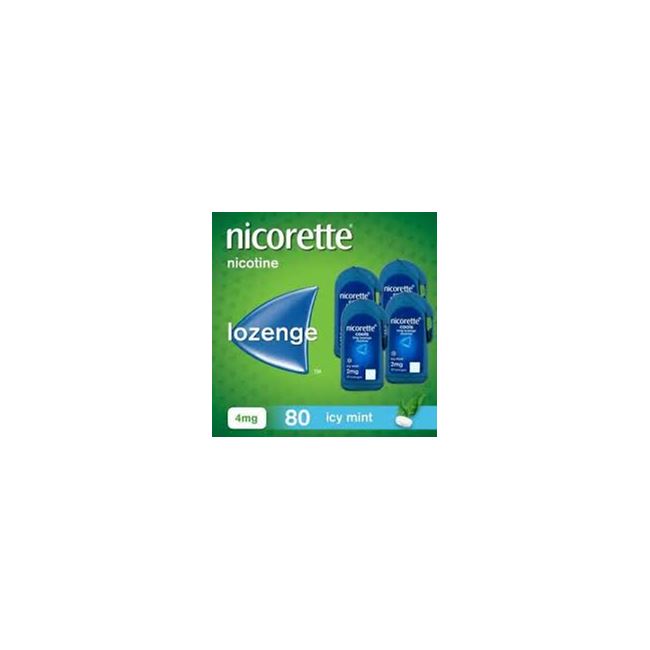 Nicorette 4mg cools Icy Mint 80 Lozenges
Tasty flavoured lozenges to help relieve and/or prevent withdrawal symptoms and reduce cravings
More Details
Description
Ingredients
Warnings
Delivery
Description
What are Nicorette lozenges used for ?
Nicorette cools lozenge is a nicotine replacement therapy (NRT). It is used to relieve and/or prevent withdrawal symptoms and reduce the cravings you get when you try to stop smoking or when cutting down the number of cigarettes you smoke. Browns understand this can be difficult to do and can provide additional pharmacist support with our Online Professional Pharmacist on 02476 364 586. Nicorette lozenges can also be used when you are pregnant or breast feeding to help you stop smoking, as the risks to your baby are far less than if continue to smoke.
You should always aim to stop smoking and you can use Nicorette cool lozenges to achieve this by using it to replace all your cigarettes. However they can be used in other ways
If you feel that you will not be able to stop smoking completely, then it cn help you cut down and reduce the number of cigarettes you smoke
At the times or places where you can't smoke or do not want to for example smoke free areas such as public transport or in areas where you could be harming others such as being around children
It may also help with your motivation to quit. When having support from family, friends, a support programme, doctor or pharmacist it is more likely to increase your chances of success
What Nicorette lozenges do ?
When you stop smoking or cut down the amount you smoke, your body misses the nicotine that it has been absorbing and because of this you may experience unpleasant feelings and have a craving to smoke. This indicates that you were dependent on nicotine
When you use Nicorette lozenges, nicotine is released and passes into your body through the lining of your mouth. The nicotine released is enough to relieve the unpleasant withdrawal symptoms. It will also stop your craving to smoke but without the buzz you get from smoking a cigarette.
Benefits of using Nicorette lozenges
The toxins inside a cigarette such as tar, lead, cyanide and ammonia cause smoking related diseases and death it is not the nicotine so by using Nicorette products to help you stop smoking you are no longer putting toxins in your body that could lead to diseases and death. You may think that cigarettes help relieve feelings of stress and anxiety, but it does not deal with the cause, meaning it still leads to a number of diseases. The feeling of relaxation after smoking is temporary. Nicotine replacement can help with these feelings when used as a replacement. Nicotine replacement therapy may benefit smokers who want to quit by helping to control weight gain that may be experienced when trying to stop smoking.
How to use Nicorette lozenges
Place the lozenge in the mouth
Let it dissolve slowly, this will release the nicotine which you will absorb through the lining of your mouth
DO not chew or swallow the lozenge, SUCK on the lozenge to make it work
When and which Nicorette lozenge to use
If you smoke 20 or less cigarettes in a day, the 2mg Nicorette lozenge will help relieve your cravings
The 4mg lozenge should be used by people who smoke more than 20 cigarettes a day
If you are able to stop smoking you should use the lozenge when needed in place of cigarettes. As soon as you can (this could be after weeks or months) you should reduce the number of lozenges until you have stopped using them completely.
If you feel as if you can't stop smoking or do not feel ready to quit you should try and replace as many cigarettes with Nicorette lozenges as there are many toxins in cigarettes that cause harm to your body. Whereas using Nicorette lozenges provides a safer alternative.
Most people use 8 to 12 lozenges per day. DO NOT USE MORE THAN 15 PER DAY.
If you have any questions about this product or would like to speak to a pharmacist about any queries this product ring Browns Online Professional Pharmacist on 02476 364 586
Ingredients
Active Ingredients: Nicotine 4mg
Other Ingredients: Mannitol, Xanthan gum, Winterfresh flavour, Sodium carbonate anhydrous, Sucralose, Acesulfame potassium, Magnesium stearate, Hypromellose, Winterfresh flavour, Titanium dioxide, Sucralose, Sepifilm gloss, Acesulfame potassium, Polysorbate, Purified water
Warnings
DO NOT USE: If you have an allergy to nicotine or any of the other ingredients. If you are a child under the age of 12. TALK TO A DOCTOR, NURSE OR PHARMACIST. If you are pregnant or breast feeding. If you are in hospital because of heart disease (including heart attack, disorders of heart rate or rhythm, agina, high blood pressure or stroke). In other heart conditions that do not require you to be in hospital, using NRT is better than continuing to smoke. If you have a stomach ulcer. If you have liver or kidney disease. If you have an overactive thyroid gland or have a pheochromocytoma (a tumour of the adrenal gland that can affect blood pressure) - your doctor will have told you this. If you have diabetes, monitor your blood sugar levels more often when using this product as you may find your insulin or medication requirements alter. If you are are taking any other medication such as theophylline, clozapine or ropinirole. Stopping smoking may require the dose of these medications to be adjusted.
If any of these apply and you need to speak to a pharmacist you can call our Online Professional Pharmacist on
02476 364 586.
Delivery
Standard Delivery
Free Delivery on all orders over £35.00
Orders below £35.00 are at charged at just £3.99
Delivery is within 2-3 days via Royal Mail 1st Class post.
Same Day Delivery
Receive your order on the same day, hand delivered by one of our delivery drivers.
A single charge of £5.99 per order
Available Monday to Friday - Cut off for same day delivery require orders to be placed before 3pm
Click and Collect
Order your product for same day collection at the branch closest to you FREE OF CHARGE
This service is currently in the process of being rolled out across all branches, however, during this time certain branches may not appear on the drop down menu.