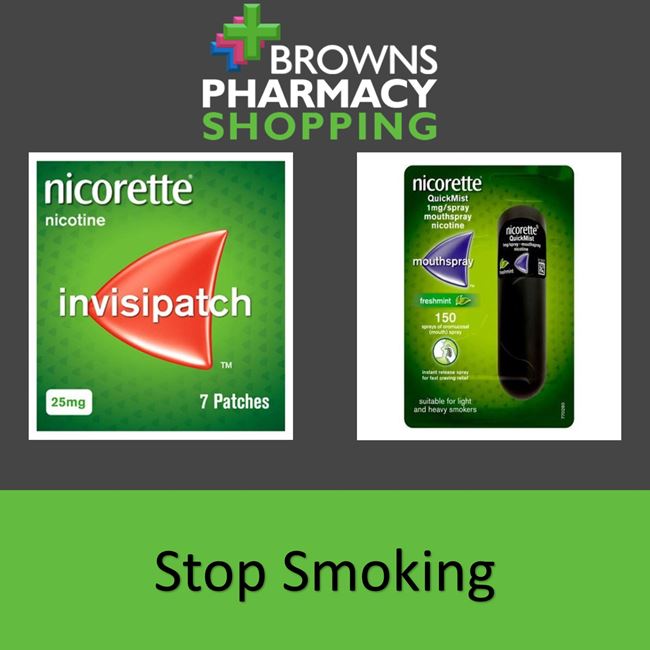 Browns Pharmacy Stop Smoking Package
Browns Pharmacy has put together a package to help you quit smoking
More Details
Product Code:
Browns Pharmacy Stop Smoking Package
Select Nicorette Invisipatch Strength:
Select Nicorette QuickMist Flavour:
Please choose from the options above
WARNING: Do not take more medicine than the label tells you to. If you are pregnant or breast feeding, talk to the doctor, pharmacist or nurse for advice before taking this product. If you need any advice before starting to use this product talk to Browns Pharmacy on 02476 364 586. Do not use if you: Are allergic to any of the ingredients. Are in hospital because of heart disease (including here attack, disorders of heart rate or rhythm, or stroke). Have a liver or kidney disease. Have an overactive thyroid gland or have a phaeochromocytoma. Have diabetes - monitor your blood sugar levels more often when starting to use Nicorette Invisipatches as you may find your insulin or medication requirements alter. Have a skin disorder such as psoriasis, eczema or hives (urticaria) covering a large area of your skin. Are taking other medicines such as theophylline , clozapine or ropinirole. Stopping smoking or cutting down may require the dose of these medicines to be adjusted. This product may initially cause your mouth and throat to be irritated. Do not use if you are allergic to any of the ingredients. Contains ethanol.
Description
Quitting smoking can be hard, but with Browns Pharmacy Online expert support from a pharmacist you will be ore likely to quit. By combining our expansive product range together with our patient specific advise, our aim is to help you to either completely replace or cut down on the number of cigarettes you smoke, saving your health along with your wallet
Our pack not only gives you TWO great products at a discount of 10% compared to buying each product seperately but will also come with a range of helpful guides to help fight the cravings.
In the pack you will get:
Nicorette Invisipatch pack of 7 patches 10mg/15mg/25mg
Nicorette QuickMist single 150 dose Cool berry or Mint
Nicorette Invisipatch
Provide a safer and discreet alternative to smoking cigarettes. A measured continuous dose of nicotine is delivered through a see-through patch to help reduce cravings and withdrawal symptoms. The nicotine provides sufficient relief to the unpleasant symptoms of nicotine withdrawal, while eliminating the toxins in cigarette smoke such as tar, lead, cyanide and ammonia that cause smoking related disease and death
Released over 16 hours the Invisipatch is available in three different strengths, with the strength dependent upon the number of cigarettes smoked daily
If you smoke more than 10 cigarettes a day, then the 25mg patch is a good starting dose for you
Use a new Nicorette 25mg Invisipatch each day for eight weeks
If you successfully avoid smoking during this eight week period, you should then switch to a 15mg Invsipatch each day for two weeks.
If you are successful and avoid smoking over this two week period, then switch to the 10mg Invisipatch each day for a further two weeks
If you smoke less than 10 cigarettes a day, then you should start on the 15mg Invisipatch for 8 weeks, then cut down to the 10mg Invisipatch for 4 weeks
Applying the Invisipatch
Before applying your Nicorette Invsipatch, choose a completely clean, dry area of hairless skin on the front or side of the chest, upper arm or hip
Avoid placing the patch onto any area of skin that is red, cut or irritated
Do not apply oil or talcum powder to the skin before putting on the patch as this may prevent it from sticking properly
It is important that you do not use the same area on two consecutive days to help avoid irritating that site
Wash your hands before applying each patch
Each Nicorette Invisipatch comes in a child resistant satchet which can be opened by cutting along the edge with a pair of scissors
Remove the Invisipatch from its satchet and then peel one part of the silvery aluminium backing away
Avoid touching the sticky surface of the patch with your fingers
Carefully apply the sticky part of the patch to the chosen area of skin and then peel off the remaining half of the silvery alluminium backing foil
Press the patch firmly onto the skin with your palm or finger tips
Run your fingers around edge to ensure it sticks firmly
Removing the Invisipatch after 16 hours
After removal, the patch should be folded in half, sticky side inwards and placed inside the opened sachet or a piece of aluminium foil
The patch should then be disposed of carefully in the household rubbish, out of reach of children and animals
Nicorette QuickMist
Portable discreet packaging, easily fitting into a pocket or handbag, provides a quick and simple alternative to fight the cravings any time and anywhere. The nicotine spray is absorbed through the lining of the mouth offering fast action to the brain to provide your body the feeling of having smoked, without the harmful ingredients of a cigarette.
Cool Berry flavour is perfect for anyone who doesn't enjoy the mint flavours of typical nicotine replacement therapy.
Using Nicorette QuickMist
When first using the mouthspray, point the nozzle away and press the top of the dispenser several times until a fine spray appears. If the spray is not used for 2 or more days this may need to be repeated.
Holding the nozzle as close to the mouth as possible, press in the top of the dispenser to release one fine spray into the mouth, trying to avoid the lips.
DO NOT INHALE. This medication is designed to be absorbed from the mouth so for best results do not swallow.
Users should use 1-2 sprays when they would normally smoke or have cravings to smoke.
Use one spray first and if your cravings do not disappear within a few minutes use the second spray
If 2 sprays are required, future doses may be delivered as 2 sprays
For most smokers this means about 1 or 2 sprays every 30 minutes to 1 hour.
The maximum dose is TWO sprays at a time, FOUR sprays per hour and 64 sprays per day.
Delivery
Delivery and Returns
Postage and Packaging
Postage and packing will be added to the cost of your order and will depend on
The total cost of the items you order
The delivery option you choose
Items may be dispatched separately (P&P only charged once)
Delivery times are estimated. Notify us if your delivery does not arrive within 10 days.
Standard Delivery
Standard postage and packing on all orders up to £35 - £3.99
FREE standard postage and packaging on all orders over £35 (Includes the cost payable for any prescriptions in the same order)
Orders are sent by Royal Mail 1st Class post.
Your delivery may require a signature.
Orders are dispatched within 1 working day and are normally delivered to your chosen address within 3 working days.
Express Delivery
Next Day Delivery will cost £5.99 and will only be offered if all items in your basket are available for Next Day delivery.
Orders placed before 2pm Mon-Fri will be delivered the Next Day,
Orders placed after 2pm Mon-Fri will be delivered the following working day.
Please note Next Day Delivery is only available to mainland UK.
Delivery with your next prescription
Receive your item in your next prescription delivery or collection from one our stores across the West Midlands.
To be eligible for this service you must be signed up to our repeat prescription collection or delivery service with a branch, if you wish to sign up to this service click here
We will send your item to the branch and inform you when it is ready for collection or due to be delivered out with your prescription.