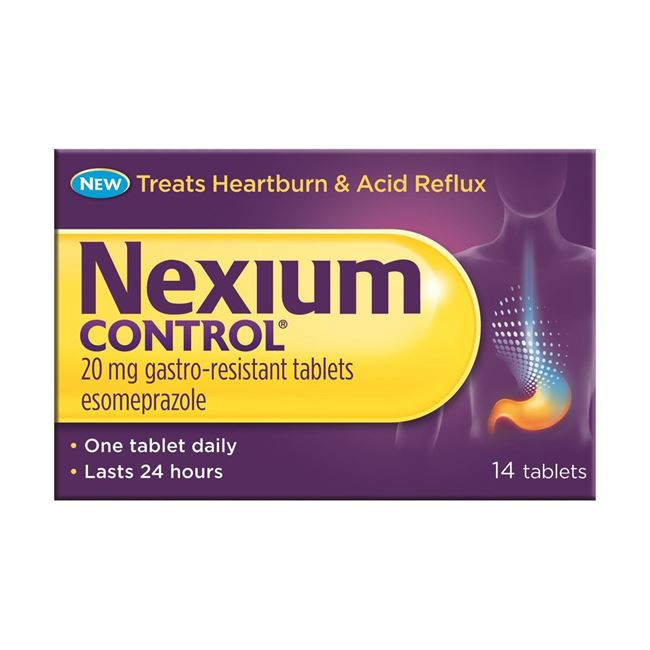 Nexium Control (esomeprazole) 20mg gastro resistant tablets 14
Nexium Control reduces acid production to help alleviate symptoms of acid reflux and heartburn.
More Details
Description
Ingredients
Warnings
Delivery
Description
Acid reflux can cause unpleasant symptoms such as heartburn, a painful sensation in the chest, leading to acid regurgitation.
Nexium Control is for the short-term treatment of reflux symptoms. It contains the active ingredient esomeprazole that belongs to a group of medication called 'proton pump inhibitors' and reduces acid production by the stomach.
How to use Nexium Control Gastro-Resistant Tablets
Swallow whole do not chew or crush the tablet.
Mix the tablet with a glass of still water (no other liquids) until tablet breaks and drink immediately. Rinse the cup out with more water and drink this to ensure the full dose is taken.
Leave mixture for no longer than 30 minutes
Do not chew any small solid pieces left in the mixture
Symptoms may not improve until 2-3 days after treatment
The maximum treatment length is up to 14 days, if symptoms change, get worse or persist, contact your doctor.
Stop taking this medication once symptoms of reflux have been relieved.
Adults and adolescents over 18 years:
ONE tablet (20 mg) daily, can be taken at any time.
Not recommended for children and adolescents under 18 years.
Possible side effects:
Common (may affect up to 1 in 10 people)
Headache
Effects on your stomach or gut: diarrhoea, stomach ache, constipation, wind (flatulence)
Feeling sick (nausea) or being sick (vomiting)
The following could be a sign of something more serious and your doctor should be informed immediately
Excessive weight loss for no reason
Conditions resulting in pain when swallowing
Stomach pain or signs of indigestion such as nausea, fullness, bloating especially after food intake
Begin to vomit food or blood, which may appear as dark coffee grounds in your vomit
Pass black stools (blood-stained faeces)
Severe or persistent diarrhoea; esomeprazole has been associated with a small increased risk of infectious diarrhoea
Rash on your skin, especially in areas exposed to the sun tell your doctor as soon as you can, as you may need to stop your treatment with Nexium Control. Remember to also mention any other ill-effects like pain in your joints
Chest pain with light-headedness, sweating, dizziness or shoulder pain with shortness of breath. Could be a sign of a serious condition with your heart
If you have any further questions about this product call our Browns Online Professional Pharmacist on 02476 364 586
Ingredients
Active Ingredients: 20 mg esomeprazole (as magnesium trihydrate)
Other Ingredients: glycerol monostearate 40-55, hydroxypropylcellulose, hypromellose, reddish-brown iron oxide (E 172), yellow iron oxide (E 172), magnesium stearate, methacrylic acid ethylacrylate copolymer 1:1 dispersion 30 per cent, cellulose microcrystalline, synthetic paraffin, macrogol 6000, polysorbate 80, crospovidone (Type A), sodium stearyl fumarate, sugar spheres (sucrose and maize starch), talc, titanium dioxide (E 171) and triethyl citrate
Warnings
Do not take more than the recommended dose.
Side effects such as dizziness and visual disturbances may occur, do not drive or operate machinery if affected.
Do not take Nexium Control if you:
are allergic to esomeprazole or any of the other ingredients of this medicine
are allergic to medicines containing other proton pump inhibitors (e.g. pantoprazole, lansoprazole, rabeprazole or omeprazole),
are taking a medicine containing nelfinavir (used to treat HIV infection).
Talk to your doctor or pharmacist if you:
have had a stomach ulcer or stomach surgery in the past.
Have intolerance to some sugars (product contains sucrose)
have been taking heartburn or reflux treatment continuously for 4 or more weeks
have jaundice (yellowing of skin or eyes) or severe liver problems.
have severe kidney problems.
are aged over 55 years and have new or recently changed reflux symptoms or need to take a non-prescription indigestion or heartburn remedy treatment every day.
have ever had a skin reaction after treatment with a medicine similar to Nexium Control that reduces stomach acid
are due to have an endoscopy or a urea breath test.
due to have a specific blood test (Chromogranin A)
are pregnant or breast feeding.
Take any of the following medication:
Ketoconazole and itraconazole
Voriconazole
Erlotinib
Methotrexate
Digoxin
Atazanavir, saquinavir
Citalopram, imipramine or clomipramine
Diazepam
Phenytoin
Medicine to thin your blood, e.g. warfarin
Cilostazol
Cisapride
Rifampicin
Tacrolimus
St. John's wort
Delivery
Standard Delivery
Free Delivery on all orders over £35.00
Orders below £35.00 are at charged at just £3.99
Delivery is within 2-3 days via Royal Mail 1st Class post.
Express Delivery (UK Mainland)
Next Day Delivery will cost £5.99
Cut off for Next Day is 2pm (Mon-Fri)
Orders placed after 2pm Mon-Fri will be dispatched the next working day.