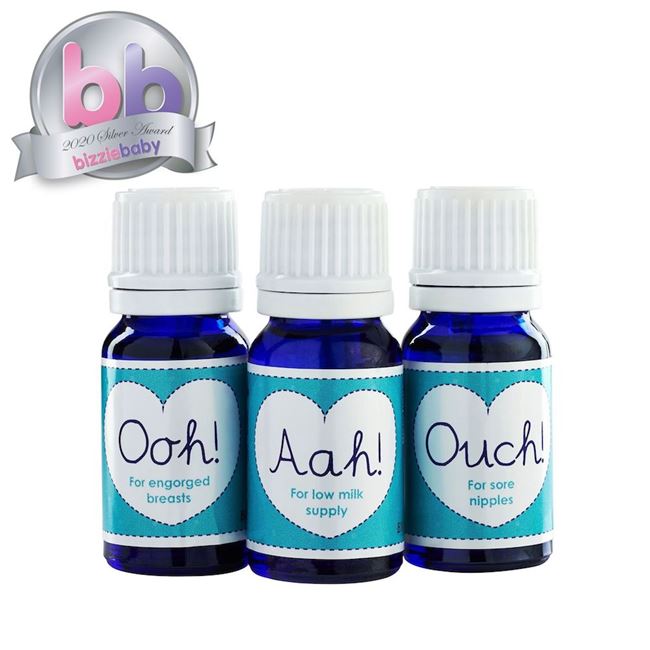 Bosom Buddies Breastfeeding Oils 3x10ml
To help with the discomfort and issues along side breastfeeding.
More Details
Description
Ingredients
Delivery
Description
Soothes Engorged Breasts
Our "Ooh!" blend contains Geranium, Peppermint, Cypress and German Chamomile essential oils to soothe tender, full and heavy breasts, engorged breasts or the symptoms of mastitis. "Ooh" will also calm, relax and uplift any new mummy exhaustion.
Assists in Low Milk Supply
Our "Aah!" blend contains Fennel, Lemon Grass and Mandarin essential oils to support with milk production and flow and relieve any anxiety and stress – perfect for any mummies experiencing low milk supply.
Calms Sore Nipples
Our "Ouch!" blend contains Lavender, Neroli, Mandarin, Frankin- cense and Peppermint essential oils to soothe and calm sore nipples and relax a tired stressed mind.
Directions
Add 2-3 drops of your selected oil to a bowl of water (hot or cold as you prefer) and mix to disperse. Wet two flannels in the solution and apply to the breasts for up to 30 minutes. Wash the breasts prior to a feed.
Ingredients
Geranium; contains diuretic properties which helps reduce swelling, helps to soothe tender, full, heavy breast, engorged breasts and symptoms of mastitis. Also a uplifting ingredient to help with those tougher days.
Lemongrass; is a galactagogue which helps promote lactation and the flow of milk. This is an essential ingredient for women experiencing low milk supply also good for uplifing and increasing self esteem.
Mandarin; contains antiseptic properties which prevent infection also promotes healing which is great for treating and calming sore nipples whilst also relieving stress.
Peppermint; helps relieve stress, depression and mental exhaustion, as well as helping relieve pain, reduce swelling, helps to soothe tender, full, heavy breast, engorged breasts and symptoms of mastitis.
Delivery
Standard Delivery
Free Delivery on all orders over £35.00
Orders below £35.00 are at charged at just £3.99
Delivery is within 2-3 days via Royal Mail 1st Class post.
Express Delivery (UK Mainland)
Next Day Delivery will cost £5.99
Cut off for Next Day is 2pm (Mon-Fri)
Orders placed after 2pm Mon-Fri will be dispatched the next working day.