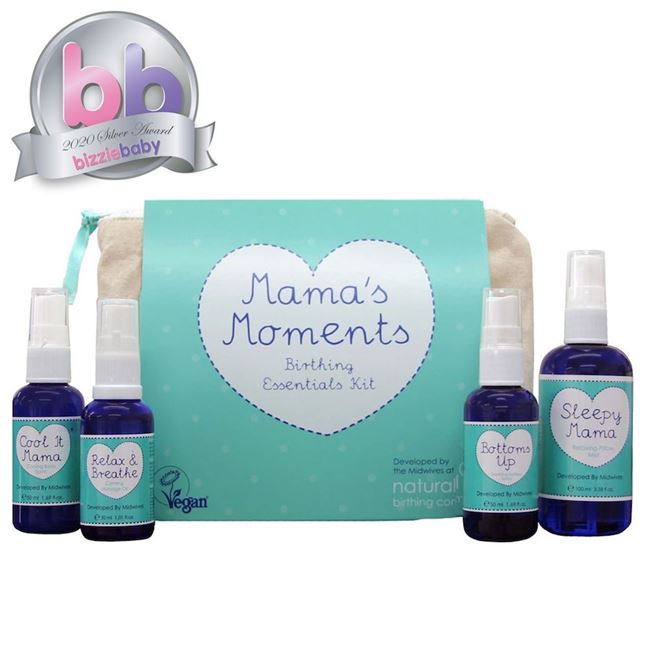 Birthing Essential Kit
Perfect kit for all you go to essentials to help support you in your natural way of giving birth.
More Details
Description
Ingredients
Delivery
Description
Perfect selection of natural birthing company products to help support your natural way of giving birth.
Cool it Mama 50ml
During pregnancy it can be an emotional time with a mix of feelings whilst also having to deal with the struggles of nausea, headaches, restless legs and swollen ankles. Cool it Mama is the perfect spray to carry rounf for when you need a pick me up on those tougher days.
Cools hot flushes; hot flushes are something alot of pregnant women experience especially during the nights. This is due to the increased hormones resulting in a increased blood flow to your skin. The blend of menthol in this cooling spray is perfect with helping with this as it instantly cools you down when having a hot flush episode
Calms mood swings; most pregnant women have experienced some type of mood swings from anxiety to tension, however this is very common during and after pregnancy. With the body spray the blend of ylang ylang and bergamot helps keep your relaxed and calm whilst helping calm anxiety and irritability
Eases headaches; headaches can occur whenever but are very common during pregnancy. Help cool your hot head with neroli and grapefruit blends.
How to use:
Spray the mist on your face, neck, chest, arms, legs, ankles or feet as often as you like for an instant cool and calm feeling. Top tip: place the spray in the fridge for extra cooling
Relax & Breathe 30ml
A exclusive to our birthing essential kit. A beautiful massage oil that contains a blend of essential oils which help to relax, soothe and calm the body and mind.
Bottoms up 50ml
A perfect essential for your hospital bag for after childbirth. After giving birth you can experience some bruising and swelling of the perineum. Bottoms up provides instant releief to your vulva and perineal by soothing , cooling and calming the area down.
Soothing Discomfort, all products contained in this product promote to soothe and calm the skin making it perfect for any tears, cuts and grazez caused by labour or on a caesarean section wound.
Promotes skin healing, lavender promotes skin healing and improves the formation of scar tissue. Also witch hazel helps tighten the tissues which together promotes healing.
How to use:
Mist over perineal arae when experiencing pain/discomfort or spray on to maternity pad and place damp pad over the area. It can be used whenever it is required after birth and however often you feel necessary, especially after using the bath or toilet. Top tip: can be stored in the fridge for extra cooling effect
Sleepy Mama 100ml
During pregnany and being a new mum can leave you tired from sleepless nights to having night trips to your babies room making it hard for you to switch off.
Assists in getting a peacful nights sleep
With blends of lavender,bergamot and chamomile which all help soothe the mind and help your relax.
Contains bergamot which helps elevate your mood and stress levels.. Also chamomile is another essential oil added to help calm the body perfect for when your feeling overwhelmed or in need of relaxation.
Lavender and chamonmile both have effects of relieving anxiety.
How to use:
Can be spritzed onto your pillow before a deep nights sleep, throughout your bedroom or can be applied to your puls epont day or night to help keep you calm
All Natural Birthing Company products are made from naturally derived ingredients, approved by The Vegan Society, contain no sodium lauryl sulphate (SLS), parabens, mineral Oils. Are not tested on animals, no synthetic fragrance, BPA free packaging and are all made in Great Britain
If you have any further questions about this product call our Browns Online Professional Pharmacist on 02476 364 586
Ingredients
Sleepy mama; Lavender. chamomile, bergamot and grapefruit.
Cool it mama; Neroli, ylang ylang, menthol and grapefruit
Bottoms up; Lavender, witch hazel, cucumber and arnica
Relax & breathe; German chamomile, cocoa butter and shea butter
Delivery
Standard Delivery
Free Delivery on all orders over £35.00
Orders below £35.00 are at charged at just £3.99
Delivery is within 2-3 days via Royal Mail 1st Class post.
Express Delivery (UK Mainland)
Next Day Delivery will cost £5.99
Cut off for Next Day is 2pm (Mon-Fri)
Orders placed after 2pm Mon-Fri will be dispatched the next working day.