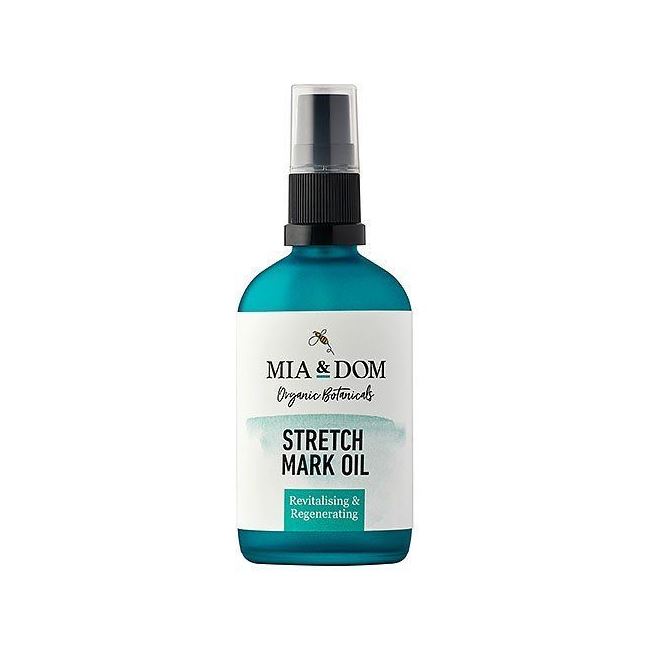 Mia & Dom Organic Stretch Mark Oil 100ml
Revitalising and regenerating stretch mark oil great for pregnant women and afterbirth
More Details
Description
Ingredients
Warnings
Delivery
Description
Mia & Dom have taken the pregnancy and baby care market by storm, offering certified organic vegan products for a range of pregnancy and newborn ailments. Specialising in skin care, Mia & Dom have carefully selected a range of oils, salves and remedies that are delicate on skin, free from any harsh chemicals and 100% natural products, which are not tested on animals.
Mia & Dom Organic Stretch Mark Oil is suitable for preventing the stretch marks that come with pregnancy. The remedy uses baobab oil which soothes and softens the skin and leads to cellular regeneration, combined with calendula which is known for healing scars and damaged skin. Great ingredients are packed into this oil to help your skin stretch and blossom throughout your pregnancy.
How to use Mia & Dom Organic Stretch Mark Oil
Use enough oil to cover the stomach area but not too much
Recommend using before showering
Massage this oil into your stomach before or as soon as your bump starts to grow
Natural product
Certified Organic Product
Vegan
Vegetarian
Non-animal tested
If you have any further questions about this product call our Browns Online Professional Pharmacist on 02476 364 586
Ingredients
Apricot Kernel Safflower Oil Camellia Seed Oil Rosehip Seed oil with 0.5% Vit E Baobab Seed Oil Calendula Oil Vitamin E Lavender Essential Oil Palmarosa Essential oil
Warnings
Not for use on newborn
Delivery
Standard Delivery
Free Delivery on all orders over £35.00
Orders below £35.00 are at charged at just £3.99
Delivery is within 2-3 days via Royal Mail 1st Class post.
Same Day Delivery
Receive your order on the same day, hand delivered by one of our delivery drivers.
A single charge of £5.99 per order
Available Monday to Friday - Cut off for same day delivery require orders to be placed before 3pm
Click and Collect
Order your product for same day collection at the branch closest to you FREE OF CHARGE
This service is currently in the process of being rolled out across all branches, however, during this time certain branches may not appear on the drop down menu.