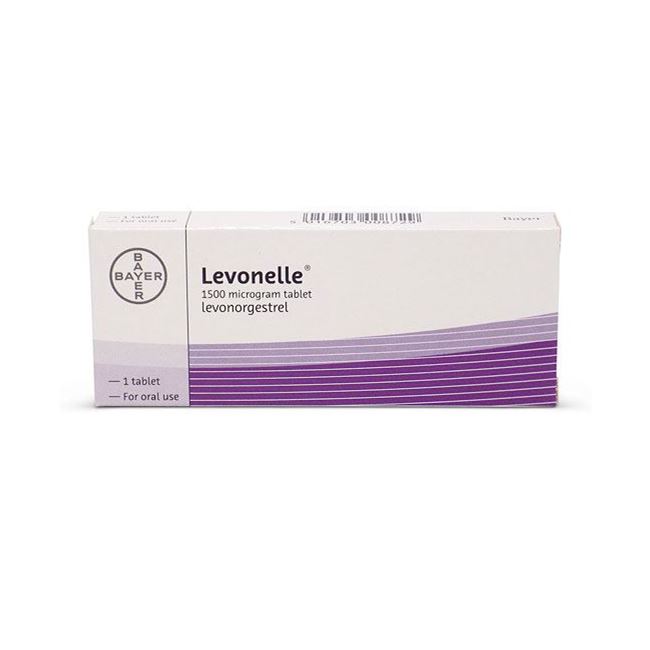 Levonelle One Step (levonorgestrel) 1500 micrograms tablet 1
Levonelle One Step is emergency contraception that can be taken up to 72 hours (3 days) of unprotected sex.
More Details
Description
Ingredients
Warnings
Delivery
Description
Levonelle One Step morning after pill, contains the synthetic hormone like substance called levonorgestrel. It works by:
Stopping your ovaries from releasing an egg
Preventing sperm from fertilising any egg that may have been already released
The contraceptive prevents about 84% of expected pregnancies when taken within 72 hours (3 days) of unprotected sex or if another method of contraception has failed. It is more effective when taken as soon as possible after unprotected sex and is best taken within 12 hours rather than delayed until the third day.
It can only prevent pregnancy if taken within the recommended time frame and it does not work if you are already pregnant or if you have unprotected sex after taking it.
How to use the Levonelle
One tablet should be swallowed whole with water.
If you take the contraceptive pill you can continue to take this at your regular time.
Levonelle One Step is not recommended for young women under 16 years of age.
If you vomit within 3 hours of taking the tablet, you should take another. Contact your pharmacist, doctor, practice nurse or family planning clinic immediately for another tablet.
Contact your doctor:
about three weeks later, to make sure that Levonelle One Step has worked
as soon as possible if your period is more than 5 days late or is unusually light or unusually heavy
if you become pregnant
This medicine will not protect you against sexually transmitted diseases, only condoms can do this. If you are worried about this ask your doctor, nurse, family planning clinic or pharmacist for advice.
Possible side effects
Very common (may affect more than 1 in 10 people):
Feeling sick (nausea)
You might have some irregular bleeding until your next period
You might experience lower abdominal pain
Tiredness
Headache
If you have any further questions about this product call our Browns Online Professional Pharmacist on 02476 364 586
Ingredients
Active Ingredients: One tablet contains 1500 micrograms of levonorgestrel.
Other Ingredients: potato starch, maize starch, colloidal silica anhydrous, magnesium stearate, talc, lactose monohydrate
Warnings
Warnings
Do not take more than the recommended dose.
Levonelle One Step
is not indicated for use before the first menstrual bleeding (menarche).
not recommended for young women under 16 years of age.
Do not use Levonelle One Step if you:
are allergic to levonorgestrel or any of the other ingredients
have a disease of your small bowel (such as Crohn's disease) that inhibits the absorption of the drug
have severe liver problems
have a history of ectopic pregnancy (where the baby develops somewhere outside the womb)
have ever had a disease called salpingitis (inflammation of the Fallopian tubes).
Are intolerant to some sugars: product contains lactose
Talk your doctor or pharmacist before taking this product is the following applies:
are pregnant or think you might be - Levonelle One Step cannot terminate pregnancy only prevent it
breast feeding
if you had unprotected intercourse over 72 hours ago
take other medication, especially the following during the last 4 weeks, as they may prevent Levonelle One Step working efficiently
barbiturates and other medicines used to treat epilepsy (for example, primidone, phenytoin, and carbamazepine)
medicines used to treat tuberculosis (for example, rifampicin, rifabutin)
treatment for HIV (ritonavir, efavirenz)
medicine used to treat fungal infections (griseofulvin)
herbal remedies containing St John's wort (Hypericum perforatum)
ciclosporin (suppresses the immune system): possibly affected by Levonelle One Step.
Levonelle One Step should only be used as emergency contraception and not as a regular method of contraception.
Delivery
Standard Delivery
Free Delivery on all orders over £35.00
Orders below £35.00 are at charged at just £3.99
Delivery is within 2-3 days via Royal Mail 1st Class post.
Express Delivery (UK Mainland)
Next Day Delivery will cost £5.99
Cut off for Next Day is 2pm (Mon-Fri)
Orders placed after 2pm Mon-Fri will be dispatched the next working day.