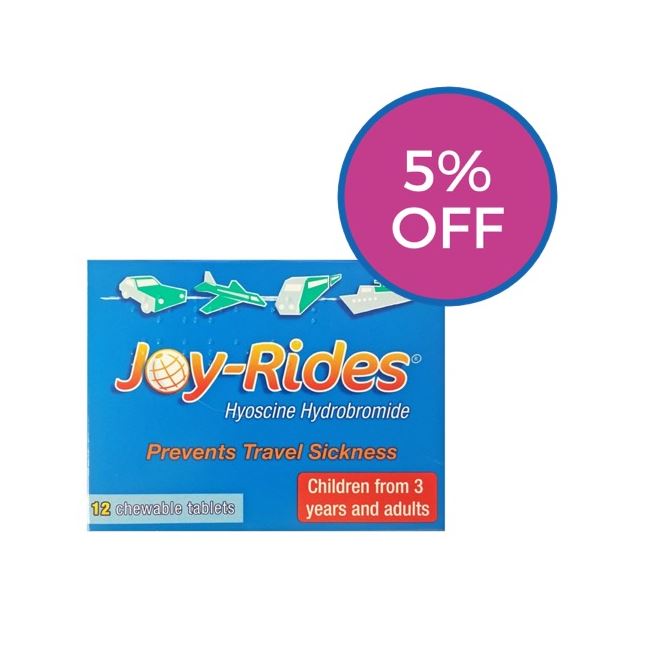 Joy-Rides 0.15 mg Chewable Tablets 12
Fruit flavoured chewable tablets help prevent and treat symptoms of travel sickness in adults and children
More Details
Description
Ingredients
Warnings
Delivery
Description
Joy-Rides relieve symptoms of travel sickness through hyoscine hydrobromide, the active ingredient. It acts on the brain and prevent the signals of nausea reaching the stomach. The chewable tablets are perfect for children who don't like the usual chalky flavour of tablets, making it easier for them to take.
Browns helpful tips to help you avoid travel sickness:
Stabilise balancing mechanism in the ear by sit with the head tilted back
Ventilate the vehicle you are in
Try to have a clear view of the window
To help keep your stomach settled eat a little bit before the journey(avoid greasy food)
When traveling by car take breaks regularlyfor exercise, fresh air and refreshments
Don't read
Avoid strong smells(food, smoke, perfume, or petrol fumes)
How to take Joy-Rides Chewable Tablets
Chew the tablet before you swallow it.
First dose should be taken 20 minutes before start of the journey, then if needed repeat dose after 6 hours.
Adults and children over 13 years
TWO tablets, maximum 4 tablets in 24 hours.
Children 7 - 12 years
ONE or TWO tablets, maximum 2 tablets in 24 hours.
Children 4 - 7 years
ONE tablet, maximum 2 tablets in 24 hours.
Children 3 – 4 years
HALF a tablet, maximum 1 tablet in 24 hours.
Children under 3 years
Not recommended
Possible side effects
Common side effects you may experience include:
Stop taking this medication and let your doctor or pharmacist know if you experience any blurred vision or difficulty passing urine
If you have any further questions about this product call our Browns Online Professional Pharmacist on 02476 364 586
Ingredients
Active ingredient: 0.15 mg hyoscine hydrobromide
Other ingredients: mannitol, erythrosine (E.127), povidone, raspberry flavour, microcrystalline cellulose and magnesium stearate.
Warnings
Do not take more than the recommended dose / Avoid drinking alcohol / Speak to your doctor if you have liver or kidney conditions, pregnant or breastfeeding, Parkinson's disease, fructose and galactose intolerant, epilepsy, or taking medications including tranquillisers, tricyclic antidepressants or hypnotics
Delivery
Standard Delivery
Free Delivery on all orders over £35.00
Orders below £35.00 are at charged at just £3.99
Delivery is within 2-3 days via Royal Mail 1st Class post.
Express Delivery (UK Mainland)
Next Day Delivery will cost £5.99
Cut off for Next Day is 2pm (Mon-Fri)
Orders placed after 2pm Mon-Fri will be dispatched the next working day.