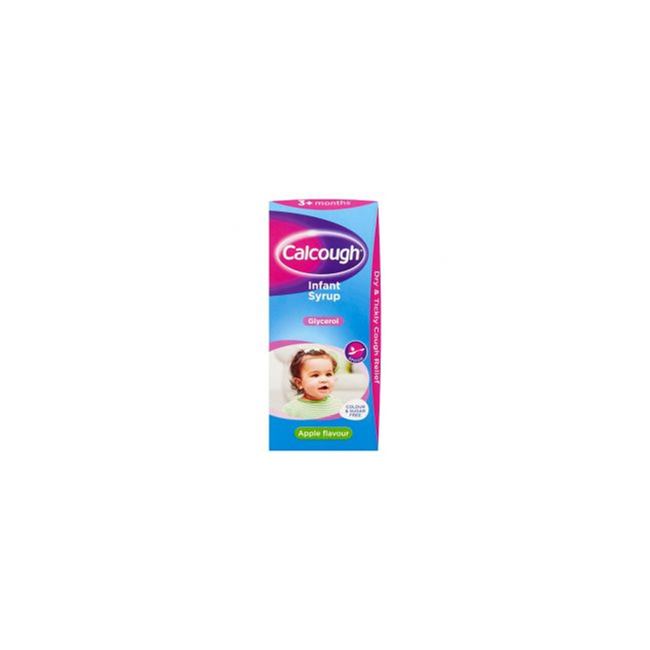 Calcough Infant Syrup 3+ Months Apple Flavour 125ml
Description
Ingredients
Warnings
Delivery
Description
Calcough is a non-drowsy cough syrup which helps to relieve dry, tickly coughs and sore throats
How to use Calcough Infant Syrup:
(Children three months to one years of age)
One 5ml spoonful three to four times within 24 hours if needed
(Children one to five)
Two 5ml spoonfuls three to four times within 24 hours if needed
If you have any further questions about this product call our Browns Online Professional Pharmacist on 02476 364 586
Ingredients
Active ingredients; 0.75ml glycerol
Other ingredients; purified water, maltitol liquid (E965), citric acid, hydroxyethycellulose, sodium citrate and sodium benzoate.
Warnings
Do not give to a child under 3 months old
Do not give to anyone if they are allergic to the ingredients
Talk to tour doctor if your child has an intolerance to some sugars
Always read patient information form
Delivery
Standard Delivery
Free Delivery on all orders over £35.00
Orders below £35.00 are at charged at just £3.99
Delivery is within 2-3 days via Royal Mail 1st Class post.
Same Day Delivery
Receive your order on the same day, hand delivered by one of our delivery drivers.
A single charge of £5.99 per order
Available Monday to Friday - Cut off for same day delivery require orders to be placed before 3pm
Click and Collect
Order your product for same day collection at the branch closest to you FREE OF CHARGE
This service is currently in the process of being rolled out across all branches, however, during this time certain branches may not appear on the drop down menu.