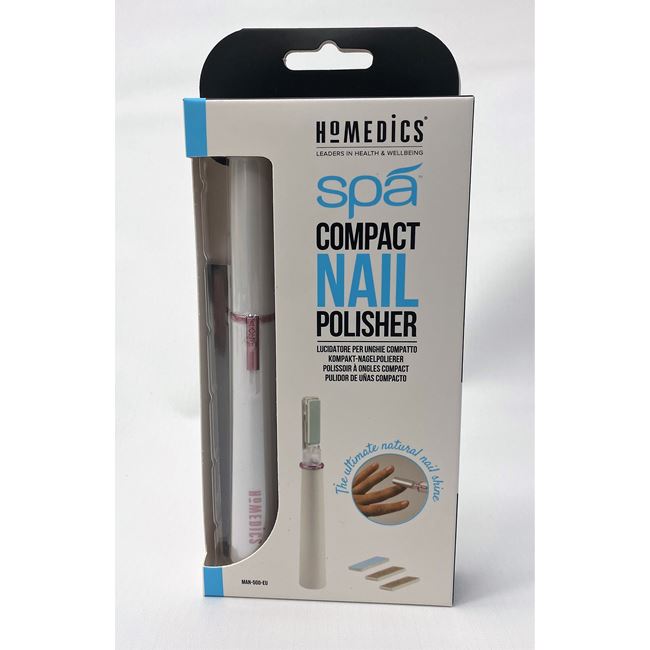 Homedics MAN-500-EU Compact Nail Polisher
A natural shine for your nails at home without the hard work
More Details
SKU Code:
Homedics Compact Nail Polisher
WARNING: When using electrical products, especially when children are present, basic safety precautions should always be followed, including the following; If you have any concerns regarding your health, consult a doctor before using this appliance. Only use appliance for intended use. Can be used by children aged 14 years and above and people with reduced physical, sensory or mental capabilities or lack of experience and knowledge if they have been given supervision or instruction concerning use of the appliance in a safe way and understand the hazards involved. Children should not play with the appliance. Cleaning and user maintenance shall not be made by children without supervision. Should never be used by any individual suffering from any physical aliment that would limit the users capacity to operate the controls. Keep away from heated services. Individuals with pacemakers should consult a doctor before using this appliance. Do not use on a infant, invalid or on a sleeping unconscious person. Do not use on sensitive, very dry or damaged skin or directly on swollen or inflamed areas or skin eruptions. If you have circulatory or skin problems consult your doctor before using. Do not use on irritated, sunburned or chapped skin or on any area with dermatological problems. If you experience discomfort when using this product discontinue use, if a more extreme reaction occurs, consult your doctor. External use only. Non-professional appliance, designed for personal use.
Description
Ingredients
Delivery
Description
The Homedics compact nail polisher is the perfect at home manicure, with a quick and simple 3 step process:
File ridges and shape nail with coarse and fine heads
Buff nail bed with buffing head
Polish to a natural shine with shining head
The perfect compact device to effortlessly buff, smooth and shine nails in seconds on the go
How to use the Homedics Compact Nail Polisher
Ensure the unit is switched off
Remove the lid from the nail file and polisher
Choose one of the interchangeable attachments and gently clip it on the head of the unit
Switch the unit on
Lightly apply the head of the unit to the nail
Periodically stop the treatment to check your results
When finished switch the unit off. Wait for the attachment to come to a stop then remove it for storage or to replace with an alternative attachment
Filing attachment: Choose one of the 2 filling grades, choosing the rougher attachments for thicker nails. Lightly apply the nail file onto the edge of your nail, moving the unit along the side of the nail until you achieve the shape and smoothness you desire, whilst taking care not to file the nail too short
Buffing and polishing attachments: When you have finished filing, lightly buff the nail surface to smooth edges and add shine . Always polish in circular motions do not leave the unit to rest in one place
After you have filed and buffed your nails: After filing and shaping nails, soak your nails in lukewarm water to soften the cuticles, then dry hands or feet completely
To clean: Clean after each use with a damp cloth and dry
Ingredients
Product comes with two buffing and polishing attachements.
Delivery
Delivery and Returns
Postage and Packaging
Postage and packing will be added to the cost of your order and will depend on
The total cost of the items you order
The delivery option you choose
Items may be dispatched separately (P&P only charged once)
Delivery times are estimated. Notify us if your delivery does not arrive within 10 days.
Standard Delivery
Standard postage and packing on all orders up to £35 - £3.99
FREE standard postage and packaging on all orders over £35 (Includes the cost payable for any prescriptions in the same order)
Orders are sent by Royal Mail 1st Class post.
Your delivery may require a signature.
Orders are dispatched within 1 working day and are normally delivered to your chosen address within 3 working days.
Express Delivery
Next Day Delivery will cost £5.99 and will only be offered if all items in your basket are available for Next Day delivery.
Orders placed before 2pm Mon-Fri will be delivered the Next Day,
Orders placed after 2pm Mon-Fri will be delivered the following working day.
Please note Next Day Delivery is only available to mainland UK.
Delivery with your next prescription
Receive your item in your next prescription delivery or collection from one our stores across the West Midlands.
To be eligible for this service you must be signed up to our repeat prescription collection or delivery service with a branch, if you wish to sign up to this service click here
We will send your item to the branch and inform you when it is ready for collection or due to be delivered out with your prescription.