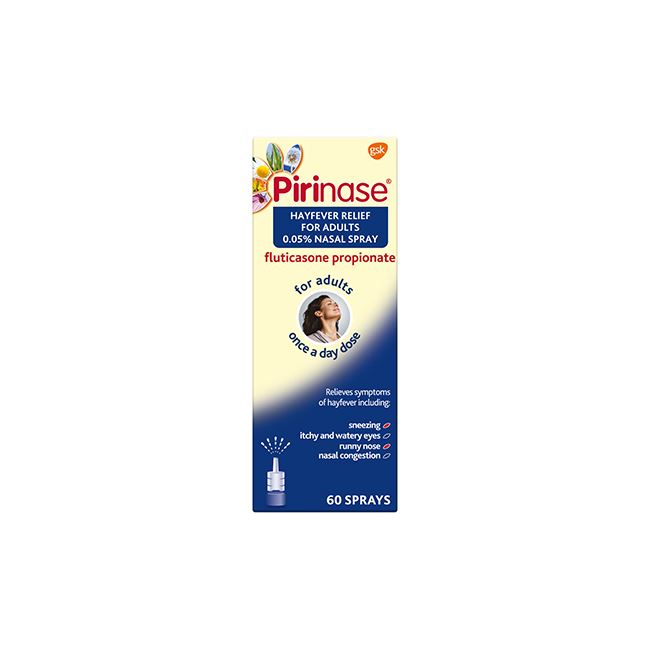 Pirinase Hayfever Relief Nasal Spray 60
Relieves sneezing, itchy eyes, runny nose and nasal congestion from hay fever
More Details
Description
Ingredients
Warnings
Delivery
Description
Treatment of seasonal allergic rhinitis including hayfever. Also provides symptomatic relief of sneezing, itchy and runny nose, itchy and watery eyes, nasal congestion and associated sinus discomfort.
How to use Pirinase Hayfever Relief Nasal Spray
Over 18 years
TWO sprays into each nostril once a day, preferably in the morning. In some cases 2 sprays into each nostril twice daily may be required. Maximum 4 sprays into each nostril in 24 hours. Maximum benefit may require 3-4 days of continuous use. Once symptoms are under control a maintenance dose of one spray per nostril once a day may be used. If symptoms recur the dosage may be increased accordingly. The minimum dose at which effective control of symptoms is maintained should be used.
Under 18 years
Not to be used.
If you have any further questions about this product call our Browns Online Professional Pharmacist on 02476 364 586
Ingredients
Aqueous nasal spray suspension containing per dose:
Fluticasone Propionate 50mcg
Warnings
Always read the patient information leaflet prior to use
Delivery
Standard Delivery
Free Delivery on all orders over £35.00
Orders below £35.00 are at charged at just £3.99
Delivery is within 2-3 days via Royal Mail 1st Class post.
Same Day Delivery
Receive your order on the same day, hand delivered by one of our delivery drivers.
A single charge of £5.99 per order
Available Monday to Friday - Cut off for same day delivery require orders to be placed before 3pm
Click and Collect
Order your product for same day collection at the branch closest to you FREE OF CHARGE
This service is currently in the process of being rolled out across all branches, however, during this time certain branches may not appear on the drop down menu.