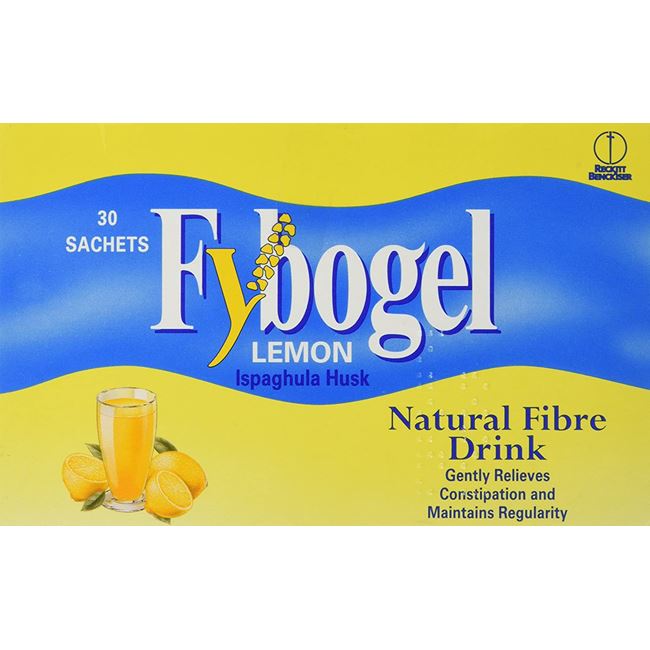 Fybogel Lemon (Ispaghula Husk) 3.5g sachet 30
Fybogel Orange provides a natural remedy for constipation and is suitable pregnant or breastfeeding women.
More Details
Description
Ingredients
Warnings
Delivery
Description
Fybogel is a bulk-forming laxative, working by increasing the amount of water absorbed by the stools in the gut. The increased volume of water allows the digestive system to function more efficiently. Ispaghula Husk, an active ingredient of Fybogel, increases the fibre content in your diet gently relieving constipation. It restores and maintains regularity by helping your digestive system work more effectively.
Due to the natural process Fybogel uses it is available for constipation during pregnancy and to help maintain normal bowel function if you suffer from haemorrhoids (piles).
Browns Pharmacy healthy tips to try to help prevent constipation from happening:
Eat a balanced diet including fresh fruit and vegetables
Drink enough water so that you do not become dehydrated
Keep up your exercise and stay fit
Make time to empty your bowels when your body tells you
How to take Fybogel Sachets
Take this product at least 30 mins before or after taking other medicines and should not be taken immediately before going to sleep.
Mix the required dose with glass of approximately 240ml cold water. Stir well and drink straight away. Do not take without water.
Adults and children over 12 years
Take one sachet in the morning and one in the evening to be taken preferably after meals. If you accidently take more than you should, drink plenty of water.
Children aged 6 to 12 years
Take half to one level 5 ml spoonful depending on size and age, morning and evening, to be taken preferably after meals. If you accidently take more than you should, drink plenty of water.
Children under 6 years of age
Not recommended
Possible side effects
You may experience wind (flatulence) or bloating during the first few days of taking this product, due to the increased fibre intake. This should lessen as you continue to take it.
If you have any further questions about this product call our Browns Online Professional Pharmacist on 02476 364 586
Ingredients
Active ingredient: Each single dose sachet contains 3.5g Ispaghula Husk.
Other ingredients: potassium bicarbonate, sodium bicarbonate, citric acid, riboflavin sodium phosphate, beta-carotene, aspartame (E951), orange flavour, saccharin sodium, polysorbate 80 and silica colloidal anhydrous.
Warnings
Do not take more than the recommended dose / Do not take if you are allergic to Ispaghula husk or any of the other ingredients, have a sudden change in bowel habit that has persisted for more than two weeks, are suffering from a blockage of the bowel (intestinal obstruction, faecal impaction), have a weakness of the bowel wall (colonic atony) / Speak to your doctor if you have phenylketonuria (an inherited genetic disorder) as this product contains aspartame, a source of phenylalanine, are suffering from an undiagnosed rectal bleeding and unable to pass stools following the use of laxatives, have symptoms which worsen or do not improve after 3 days, have difficulty in swallowing or any throat problems.
Delivery
Standard Delivery
Free Delivery on all orders over £35.00
Orders below £35.00 are at charged at just £3.99
Delivery is within 2-3 days via Royal Mail 1st Class post.
Express Delivery (UK Mainland)
Next Day Delivery will cost £5.99
Cut off for Next Day is 2pm (Mon-Fri)
Orders placed after 2pm Mon-Fri will be dispatched the next working day.