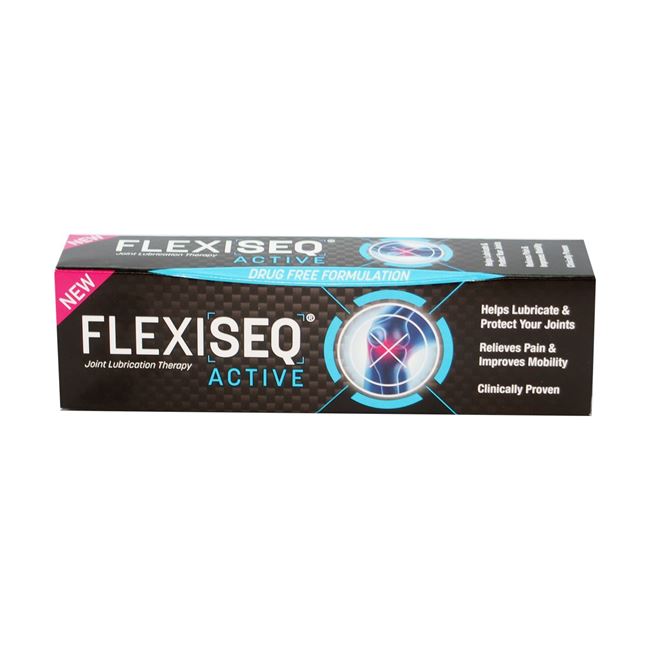 Flexiseq Gel 50g
Flexiseq is a drug free gel that lubricates joints relieving pain and stiffness
More Details
Description
Ingredients
Warnings
Delivery
Description
Osteoarthritis is when the protective cartilage on the ends of your bones breaks down, causing pain, swelling and problems moving the joint. Bone growths can develop, and the area can become red and swollen. The exact cause is not known, but there are a number of factors that can increase your risk.
Joint injury: due to overuse and not allowing it sufficient time to heal after an injury
Age
Family history
Obesity
Suffering from rheumatoid arthritis or gout
Treatment aims to relieve symptoms and reduce the impact that the condition has on everyday life. However, most medications that contain drugs are not always recommended for long term use. Flexiseq is a drug free solution to help ease symptoms and is suitable for the long term.
Flexiseq gel is composed of tiny, oily droplets called Sequessomes. Once applied the gel will dry on the skin and Sequessomes can penetrate through the skin and into the joint below to increase hydration and flexibility. In the joint it builds up on cartilage to create a lubricating layer and with continued application, allows the joint to move more smoothly.
How to use Flexiseq
Apply a quantity suitable for the size of the joint being treated (This information is provided below)
Evenly cover the soft tissue at the front and the back of the joint (do not apply to the kneecap)
Wash hands after application
Allow the gel to dry for at least 10 minutes, or until the skin is dry when touched before covering the area
You can reduce drying time by:
- Warming the skin before applying the gel
- Using a hairdryer on a medium setting after applying the gel
Apply twice daily (morning and evening) to the soft tissues around the affected joint
Personalise the dose to the affected joint:
- For a knee, shoulder or hip, a line as long as your index finger
- For an ankle, wrist or the fingers on one hand, a line as long as half of your index finger
Possible side effects:
minor skin irritations, mainly erythema, dry skin or a rash – usually mild to moderate intensity and should fade over time.
If you have any further questions about this product call our Browns Online Professional Pharmacist on 02476 364 586
Ingredients
Ingredients: Aqua, Phosphatidylcholine, Alcohol, Glycerin, Carbomer, Polysorbate 80, Disodium phosphate, Sodium hydroxide, Benzyl alcohol, Methylparaben, Ethylparaben, Linalool, Disodium EDTA, Sodium phosphate, Sodium metabisulfite, BHT
Warnings
Do not use more than the recommended dose.
For external use only.
Do not use Flexiseq
If you are allergic to any of the ingredients
On open wounds, broken or infected skin or mucous membranes
Let your doctor or pharmacist know if you:
are pregnant or breast feeding
Delivery
Standard Delivery
Free Delivery on all orders over £35.00
Orders below £35.00 are at charged at just £3.99
Delivery is within 2-3 days via Royal Mail 1st Class post.
Same Day Delivery
Receive your order on the same day, hand delivered by one of our delivery drivers.
A single charge of £5.99 per order
Available Monday to Friday - Cut off for same day delivery require orders to be placed before 3pm
Click and Collect
Order your product for same day collection at the branch closest to you FREE OF CHARGE
This service is currently in the process of being rolled out across all branches, however, during this time certain branches may not appear on the drop down menu.