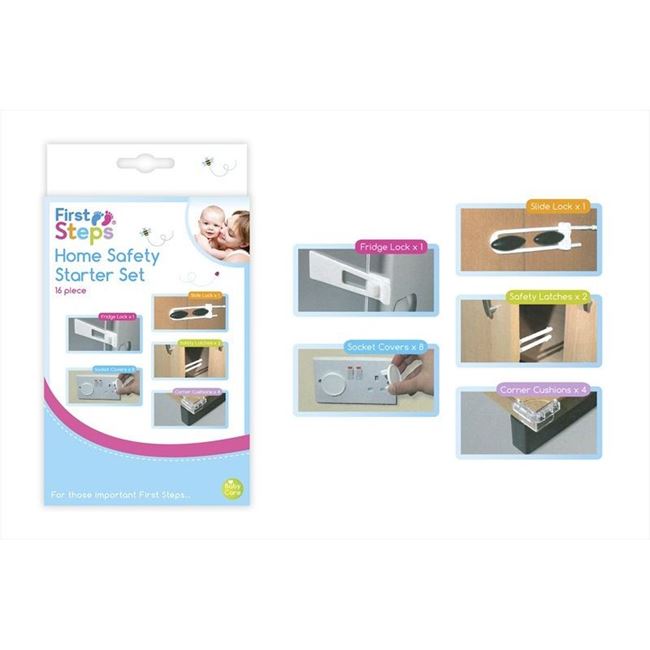 First Steps 16 Piece Starter Home Safety Kit
Make your home safe for little ones with the 16 piece starter home safety set
More Details
Description
Ingredients
Delivery
Description
Keep your little one safe inside of your own home with the Home Safety Starter Pack from First Steps. When your baby starts learning to crawl and walk, it can put you more at ease knowing you have safety procedures in place to help prevent any danger to your child. The set contains a fridge lock, a sliding door lock, two safety latches, eight plug socket covers and four corner cushions.
FRIDGE LOCK
To stop your baby from climbing in the fridge which could cause an accident to happen as well as things dropping from shelves
SLIDING DOOR LOCK
To stop your baby from playing with doors as they could get hit or they're fingers trapped
SAFETY LATCH
To stop them playing with cupboards getting fingers trapped or anything falling from the shelves
PLUG SOCKET COVERS
To stop them poking they're fingers or items in plug sockets
CORNER COVERS
To prevent them from hitting themselves against sharp corner
If you have any further questions about this product call our Browns Online Professional Pharmacist on 02476 364 586
Ingredients
1 x Fridge Lock
1 x Sliding Door Lock
2 x Safety Latches
8 x Plug Socket Covers
4 x Corner Cushions
Delivery
Standard Delivery
Free Delivery on all orders over £35.00
Orders below £35.00 are at charged at just £3.99
Delivery is within 2-3 days via Royal Mail 1st Class post.
Same Day Delivery
Receive your order on the same day, hand delivered by one of our delivery drivers.
A single charge of £5.99 per order
Available Monday to Friday - Cut off for same day delivery require orders to be placed before 3pm
Click and Collect
Order your product for same day collection at the branch closest to you FREE OF CHARGE
This service is currently in the process of being rolled out across all branches, however, during this time certain branches may not appear on the drop down menu.