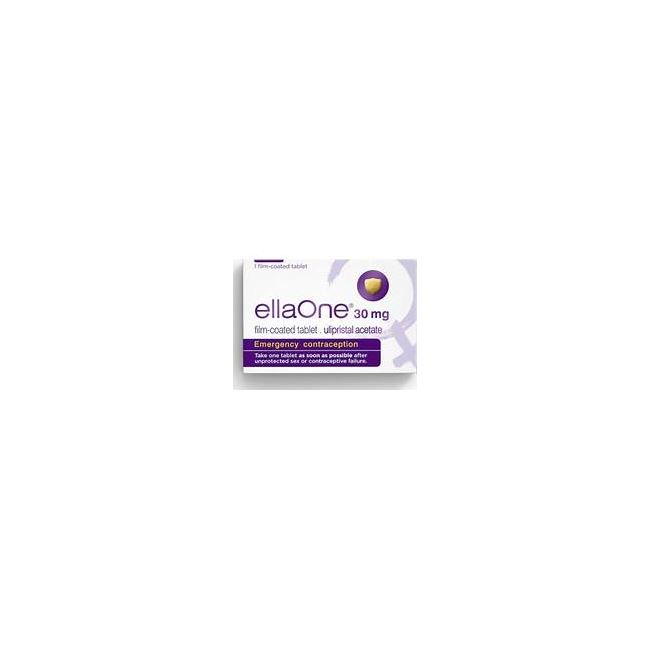 EllaONE (ulipristal acetate) 30 mg tablet
EllaOne is emergency contraception that can be taken up to 5 days after unprotected sex and is suitable for adolescents.
More Details
Description
Ingredients
Warnings
Delivery
Description
EllaOne is an emergency contraception intended to prevent pregnancy to be taken as soon as possible or within a maximum of 5 days (120 hours) of sex without protection.
EllaOne delays ovulation. Ulipristal acetate acts by modifying the activity of the natural hormone progesterone which is necessary for ovulation to occur.
EllaOne cannot be used as a precautionary method and will not prevent pregnancy if you have unprotected sex after taking it. It will not work if you are already pregnant, therefore if your period is late or you believe you may be pregnant (heavy breasts, morning sickness), you should consult a doctor or other healthcare professional before taking the tablet.
Emergency contraception is not effective in every case, out of 100 women who take this medicine approximately 2 will become pregnant.
How to use EllaONE
ellaOne is suitable for any woman of childbearing age, including adolescents.
Take the tablet with water as soon as possible and no later than 5 days (120 hours) after unprotected sex or contraceptive failure.
You can take the tablet at any time in your cycle.
You can take the tablet at any time of the day either before, during or after a meal
If you vomit within 3 hours of taking the tablet, take another tablet as soon as possible.
After 3 weeks, it is advised that you should see your doctor for a follow-up to ensure Ellaone has worked effectively.
Emergency contraception does not protect against sexually transmitted infection, only condoms can protect you from sexually transmitted infections. Ask a healthcare professional for advice if you are worried about this.
It is normal for your next period to be a few days late after taking ellaOne. However, contact your doctor:
if your period is more than 7 days late
if it is unusually light or unusually heavy
if you experience symptoms such as abdominal (stomach) pain, breast tenderness, vomiting or nausea, you may be pregnant
If you have any further questions about this product call our Browns Online Professional Pharmacist on 02476 364 586
Ingredients
Active Ingredients: ulipristal acetate. Each tablet contains 30 milligrams of ulipristal acetate
Other Ingredients: lactose monohydrate, povidone, croscarmellose sodium, magnesium stearate
Warnings
Do not take more than the recommended dose.
Do not take ellaOne
if you are allergic to ulipristal acetate or any of the other ingredients
if you are intolerant to some sugars (product contains lactose)
Talk your doctor or pharmacist before taking this product is the following applies:
Think you might already be pregnant or are pregnant
Take other medication, particularly the following in the last 4 weeks:
treat epilepsy (for example, primidone, phenobarbital, phenytoin, fosphenytoine, carbamazepine, oxcarbazepine and barbiturates)
treat tuberculosis (for example, rifampicin, rifabutin)
treatment for HIV (ritonavir, efavirenz, nevirapine)
to treat fungal infections (griseofulvin)
herbal remedies containing St John's wort (Hypericum perforatum).
ellaOne should only be used as emergency contraception and not as a regular method of contraception.
Delivery
Standard Delivery
Free Delivery on all orders over £35.00
Orders below £35.00 are at charged at just £3.99
Delivery is within 2-3 days via Royal Mail 1st Class post.
Express Delivery (UK Mainland)
Next Day Delivery will cost £5.99
Cut off for Next Day is 2pm (Mon-Fri)
Orders placed after 2pm Mon-Fri will be dispatched the next working day.