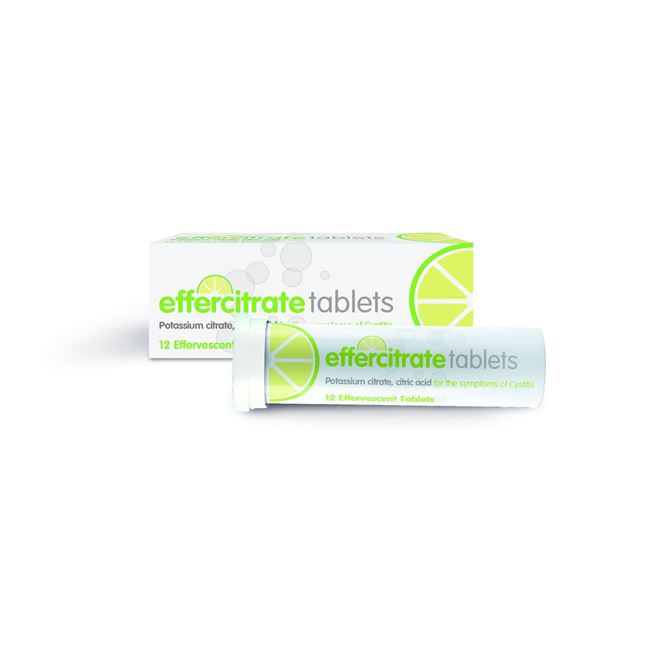 Effercitrate (potassium bicarbonate, anhydrous citric acid) effervescent tablets 12
Effercitrate reduced the acidity of the urine easing symptoms such as burning and stinging pain.
More Details
Description
Ingredients
Warnings
Delivery
Description
Cystitis, the inflammation of the bladder is a common urinary tract infection (UTI), especially in women (occur in 4 out of 5 women at least once in their lifetime). It usually will clear up on its own within about 3 days. It can happen in men and children, but this is rare and more serious and requires medical advice.
Symptoms of cystitis are:
A sharp stinging sensation on passing water
An urge to pass water more frequently
Urine that's dark, cloudy or strong smelling
Pain low down in your tummy
Feeling generally unwell, achy, sick and tired
There are two types
Bacterial cystitis occurs due to bacteria that reach the bladder from the bowel. This could happen during sexual intercourse or be due to ineffective or infrequent hygiene
Non-bacterial cystitis can be due to several triggers including certain soaps, deodorants, insufficient water-based liquid intake, or even tight trousers
Browns tips to avoid cystitis:
Drink plenty of fluids every day
Take care of your personal hygiene. It can help if you and your partner wash carefully before and after sexual intercourse
Always go to the toilet as soon as you feel the need to pass water. Keeping your bladder flushed will help it work normally
Try to avoid washing with perfumed soaps or using deodorants or perfumes around the vaginal area
Effercitrate reduced the acidity of the urine by making it alkaline and reducing the irritation caused to the bladder lining. This provides relief of symptoms.
Read all the warnings above prior to purchase
Browns tips that might ease symptoms:
Take paracetamol or ibuprofen
Drink plenty of water
Hold a hot water bottle on your tummy or between your thighs
Avoid having sex
Pee frequently
Wipe from front to back when you go to the toilet
Gently wash around your genitals with a skin-sensitive soap
Avoid alcohol, fruit juices, coffee and strong tea
How to use Effercitrate Effervescent Tablets
Adults, elderly and children over 6 years:
dissolve TWO tablets in a glass of water up to three times daily
- The tablets will dissolve more quickly in warm water or if stirred
Use with caution if you are elderly, as elderly people react differently to this medicine
It is important to contact your doctor if a child has cystitis
Not recommended for children under 6 years old
Talk to a doctor if you do not feel better or if you feel worse after 4 days
Possible side effects:
Increased urine production (is quite normal, and shows the medicine is working)
Upset stomach (can be reduced by taking it with meals or after meals)
If you have any further questions about this product call our Browns Online Professional Pharmacist on 02476 364 586
Ingredients
Active Ingredients: 1.5g potassium citrate and 0.25g citric acid
Other Ingredients: Saccharin Sodium, Lemon Flavour, Lime Flavour, Macrogol 6000, Copovidone, Magnesium Stearate
Warnings
Do not take more than the recommended dose.
Do not take Effercitrate tablets if you:
are allergic to potassium citrate, citric acid or any of the other ingredients
have high levels of potassium
have kidney disease
have heart disease including an irregular heartbeat.
have Addison's disease
have dark or cloudy urine
are dehydrated
Talk to your doctor or pharmacist know if you:
have high blood pressure
are a male or this product is intended for a child
Have cystitis frequently
Urine that is dark or cloudy, or has blood in it
Unusually heavy vaginal discharge.
Stomach, groin or back pain.
High body temperature and general tiredness.
take other medication, particularly:
containing potassium
diuretics such as amiloride and triamterene
Aldosterone antagonists such as spironolactone
Medication that increase potassium level, e.g. ACE inhibitors or aliskiren, angiotensin-II receptor antagonists (losartan), Cyclosporin and Tacrolimus
Nitrofurantoin or methenamine
Aspirin and other salicylates
Medication to help ease breathing (Salbutamol, ephedrine, phenylephrine).
Stimulants such as amphetamines
Barbiturates (Phenobarbital)
Tetracycline (antibiotic)
Digitalis for heart failure
are pregnant or breast feeding.
Delivery
Standard Delivery
Free Delivery on all orders over £35.00
Orders below £35.00 are at charged at just £3.99
Delivery is within 2-3 days via Royal Mail 1st Class post.
Express Delivery (UK Mainland)
Next Day Delivery will cost £5.99
Cut off for Next Day is 2pm (Mon-Fri)
Orders placed after 2pm Mon-Fri will be dispatched the next working day.