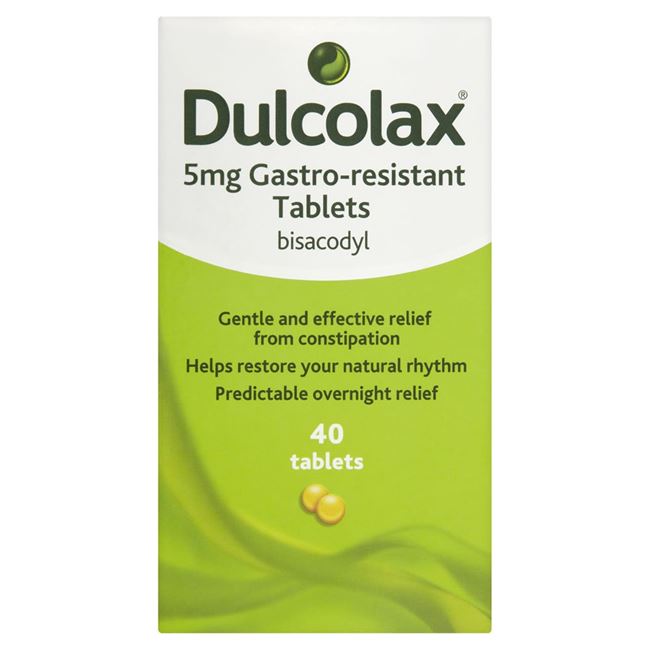 Dulcolax (bisacodyl) 5mg gastro-resistant tablets 40
Description
Ingredients
Warnings
Delivery
Description
Dulcolax tablets contain the laxative, bisacodyl which stimulates the muscles of the bowel (large intestine) providing overnight relief from constipation. The product is only for short-term use from occasional constipation, if you use it more often than this Browns Pharmacy recommend consulting your doctor.
Browns Pharmacy healthy tips to try to help prevent constipation:
Eat a balanced diet including fresh fruit and vegetables
Drink enough water so that you do not become dehydrated
Keep up your exercise and stay fit
Make time to empty your bowels when your body tells you
How to take Dulcolax Gastro-resistant Tablets
Adults and children over 10 years
One or two tablets daily before bedtime. If first time taking it start with one, if required increase to two. You can stop taking it when bowl regulates and return to normal. Should be taken for no more than 5 days.
Milk, antacids or proton pump inhibitors(medicines which reduce stomach acid) can stop the Dulcolax Tablets from working properly. They should not be taken within one hour before or aftertaking Dulcolax Tablets.
Children under 10
Consult your doctor
Children under 4 years
Not recommended
Possible side effects
Common side effects you may experience include:
Abdominal cramps or pain
Diarrhoea
Nausea
Dulcolax tablets do not help with weight loss. Taking too many or for too long can be dangerous and cause:
Fluid and salts imbalancein the body. Which can then affect the tightness of muscles such as those in the bowel.
Low levels of potassiumin the blood (called 'hypokalaemia'). Can cause tiredness, dizziness, make your muscles weak and cause an uneven heartbeat.
Dehydration, leading to feeling thirsty, faint and giving you headaches. Can, also, cause inability to pass enough urine.
Talk to your doctor or go to the hospital if you experience any of these.
If you have any further questions about this product call our Browns Online Professional Pharmacist on 02476 364 586
Ingredients
Active ingredient: Bisacodyl 5mg
Other ingredients: lactose monohydrate, maize starch, sucrose (approximately 21 mg per tablet), glycerol, magnesium stearate, talc (E553b), acacia (powdered), white beeswax (E-901), shellac (E904), carnauba wax (E903}, titanium dioxide (E171), yellow iron oxide (E172), methacrylic acid-methyl methacrylate copolymer, castor oil and macrogol 6000
Warnings
Do not take more than the recommended dose / May make you feel dizzy or faint / Do not take if you are allergic (hypersensitive) to bisacodyl or any of the other ingredients, are intolerant to or cannot digest some sugars, have severe dehydration, have a bowel condition called "ileus" (blockage in the intestine), have a serious abdominal condition such as appendicitis, have severe abdominal pain with nausea and vomiting, have a blocked bowel (intestinal obstruction), have inflammation of the bowel (small or large intestine) / Speak to your doctor if you are pregnant or breastfeeding or taking any other medication, particularly: Water tablets (diuretics) such as bendroflumethiazide or furosemide and steroid medicines such as prednisolone
Delivery
Standard Delivery
Free Delivery on all orders over £35.00
Orders below £35.00 are at charged at just £3.99
Delivery is within 2-3 days via Royal Mail 1st Class post.
Express Delivery (UK Mainland)
Next Day Delivery will cost £5.99
Cut off for Next Day is 2pm (Mon-Fri)
Orders placed after 2pm Mon-Fri will be dispatched the next working day.