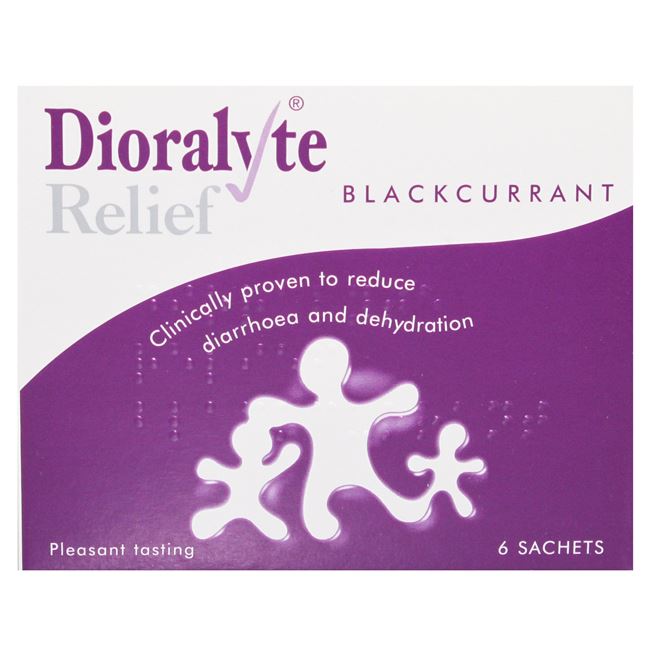 Dioralyte Relief (sodium citrate, sodium chloride and potassium chloride) Blackcurrant sachets 6
Dioralyte prevents dehydration by replacing lost water, salt and electrolyte content required by the body after diarrhoea
More Details
Description
Ingredients
Warnings
Delivery
Description
Dioralyte is an oral rehydration treatment available to help the body recover from dehydration due to diarrhoea. Diarrhoea results in a large loss of water, salt and electrolytes from the body, which can even be life-threatening. Dioralyte provides the body with the required amount of salt and electrolytes to return the body back to normal equilibrium and recover, so that you can get back to what you love doing quicker.
As well as all the benefits of oral rehydration therapy that you get from normal Dioralyte sachets, Dioralyte Relief provides a thickening agent to bulk up your stools, preventing further diarrhoea.
How to prepare Dioralyte Oral Rehydration Relief Sachets
It is important to make the powder up only when you are going to take it, however if it is given to a child or baby over the course of a day, it can be refrigerated for up to 24 hours.
To prepare the sachet, dissolve the powder in either fresh drinking water or freshly boiled water which is allowed to cool. Only use freshly boiled and cooled water for babies aged 3 months to 1 year.
Empty the contents of 1 sachet into a glass of fresh water.
Add 200 ml (7fl oz) of water. Do not use more/less as the drink will become too weak/too strong. It will not work as well and may upset the balance of salts in your body
Stir until the powder dissolves. When the sachet is fully dissolved, the drink will look milky
How to take Dioraltye Oral Rehydration Relief Sachets
Adults, including the elderly, and children over 1 year
One sachet after each loose stool, no more than 5 sachets in 24 hours, for up to 3 to 4 days.
Infants under the age of 2 with diarrhoea should be seen by a health care provider as soon as possible.
Babies aged 3 months to 1 year
Dose is dependant on baby's weight, and therefore should only be given under the guidance of a doctor. 150-200ml per kg of their weight per day, can be given over a period of 24 hours. If the baby is sick give 5-10ml (1-2 teaspoons) every 5 minutes. Gradually increase until they can drink it normally.
Dioralyte contains 2.5 vol % ethanol (alcohol). One dose contains 191 mg of ethanol (about the same amount of alcohol as 4 ml of beer or 1.7 ml of wine). This can be harmful to people who drink alcohol to excess.
If you have any further questions about this product call our Browns Online Professional Pharmacist on 02476 364 586
Ingredients
Active ingredients: pre-cooked rice powder, sodium citrate, sodium chloride and potassium chloride
Other ingredients: hypromellose, aspartame, blackcurrant flavour, purified water and ethanol 96%
Warnings
Do not take more than the recommended dose / Do not take if you are allergic to pre-cooked rice powder, sodium citrate, sodium chloride, potassium chloride or any of the other ingredients, your bowel is partially or fully blocked, you suffer from severe kidney or liver disease or phenylketonuria / Speak to your doctor if you suffer from an 'electrolyte imbalance' (unusual levels of salts in your body), are on a low potassium or low sodium diet, under 1 year old or are pregnant or breastfeeding
Delivery
Standard Delivery
Free Delivery on all orders over £35.00
Orders below £35.00 are at charged at just £3.99
Delivery is within 2-3 days via Royal Mail 1st Class post.
Express Delivery (UK Mainland)
Next Day Delivery will cost £5.99
Cut off for Next Day is 2pm (Mon-Fri)
Orders placed after 2pm Mon-Fri will be dispatched the next working day.