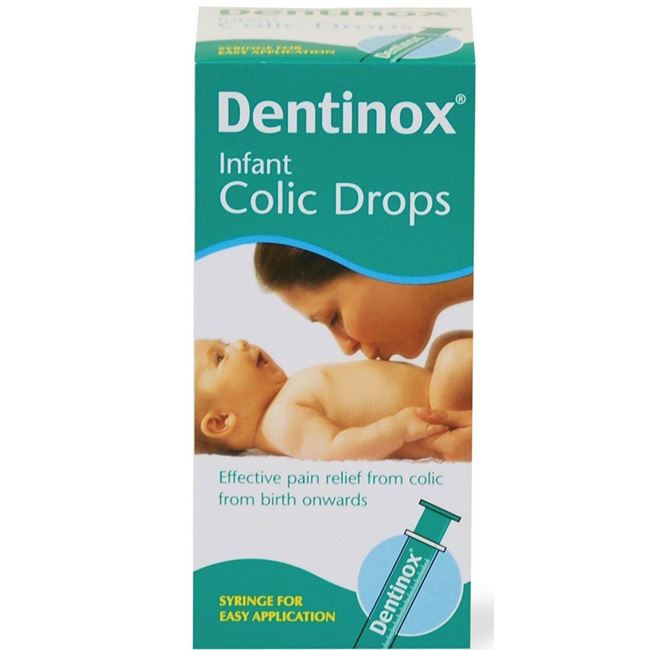 Dentinox Infant Colic Drops 100ml
Gentle treatment for colic in babies and can be used from birth to ease symptoms associated
More Details
Description
Ingredients
Warnings
Delivery
Description
Dentinox colic drops help to provide your baby with extra comfort with alcohol free drops that can be used from birth to help disperse trapped air.
How to use Dentinox Colic Drops
Shake the container well and use the dropper provided to measure 2.5ml of liquid and squeeze into your baby's mouth towards the cheek
(Alternatively you can add colic drops to your little ones bottle)
If you have any further questions about this product call our Browns Online Professional Pharmacist on 02476 364 586
Ingredients
Activated dimeticone, purifed water, suvrose, carbomer, dill oil, sodium hydroxide, methyl parahydroxybenzoate E218, ethyl parahydroxybenzoate E214, and propyl parahydroxybenzoate E216.
Warnings
Speak to your doctor or pharmacist before taking this product if you have any underlying medical conditions, taking any other medication or complementary therapy
If your symptoms get worse after using this product consult a healthcare professional
If you are pregnant, trying to become pregnant or breast feeding speak to your doctor or pharmacist before taking this product
If your suffer from allergies speak to your doctor or pharmacist before taking this product
Keep out of reach and sight from children
Always read patient information leaflet before using this product
Delivery
Standard Delivery
Free Delivery on all orders over £35.00
Orders below £35.00 are at charged at just £3.99
Delivery is within 2-3 days via Royal Mail 1st Class post.
Same Day Delivery
Receive your order on the same day, hand delivered by one of our delivery drivers.
A single charge of £5.99 per order
Available Monday to Friday - Cut off for same day delivery require orders to be placed before 3pm
Click and Collect
Order your product for same day collection at the branch closest to you FREE OF CHARGE
This service is currently in the process of being rolled out across all branches, however, during this time certain branches may not appear on the drop down menu.